Four Food-Filled Days in Skåne
What it's like to eat your way through Malmö and the rest of Sweden's food-obsessed southernmost region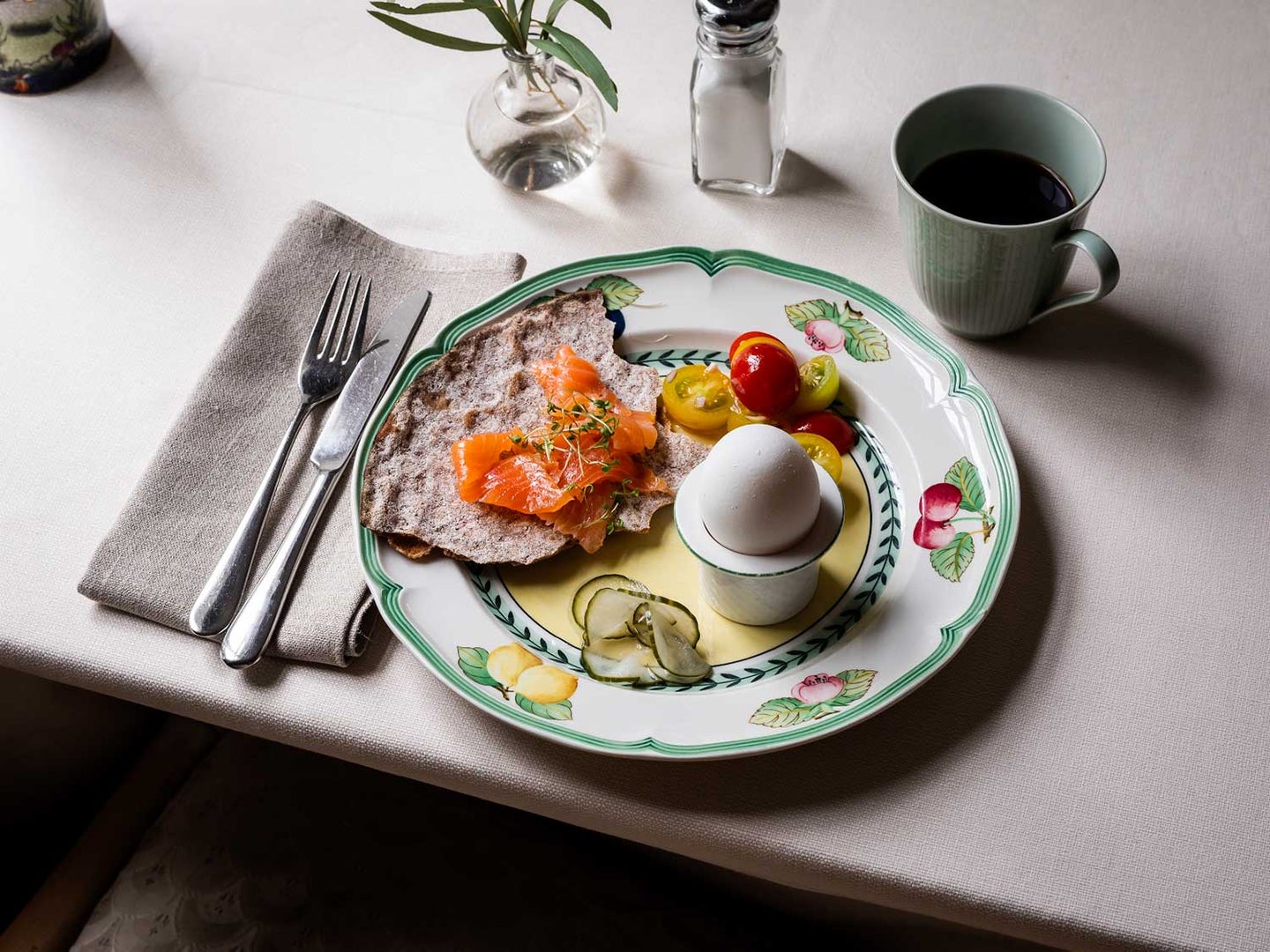 A region known for remarkable food often means a web of invisible, interwoven connections. Case in point: On my last night in Skåne, the region at the southernmost end of Sweden, the entire trip came together in a series of happy coincidences. I was eating at Västergatan in Malmö, Skåne's capital and largest city. It's an unassuming but precise restaurant that serves a nightly tasting menu, tucked on a cobblestone street a few blocks from the city's main train station.
The restaurant specializes in classic Scandinavian flavors but isn't hemmed in by this tradition. Case in point: an early dish of raw pollock featured a sour, creamy sauce with dill fronds scattered on top, but there was also a surprising splash of orange, Chinese chili oil. Its inclusion was not a gimmicky gesture towards cultural fusion—the heat of the oil was a fascinating counterpoint to the sour sauce, and the contrasting flavors struggled against each other until they reached a purely savory resolution.
The dish demanded my full attention, but as I finished it I looked up and was shocked to see a familiar face in a foreign country. I recognized Robert Hägg, a chef who two nights before had blown my mind at the Hörte Brygga Köksbordet, a tiny, wildly ambitious restaurant an hour or so driving to the east. He was on a date with his girlfriend, Josefine Enehall. Then I realized I also recognized her from earlier in the trip: she had given me a spectacularly knowledgeable rundown of French cheeses at Julie, a wine bar in town.
All of Skåne seemed to be magically appearing in one place. As I gave them a wave, a dish landed made with greens from Bokeslundsgården, a bleeding-edge progressive farm and agricultural sanctuary in the region where I had visited just that morning. They tasted incredible.
Since 2000, Malmö—Sweden's third-largest city—has been connected to Denmark via the Öresund bridge, a five-mile cable-stayed structure that moves both cars and trains. This means the busy, well-served Copenhagen airport is now just a short and inexpensive ride away. I had flown in four days earlier, then hopped straight on to a morning commuter train. One of the great pleasures of traveling is watching people take for granted new things you find strange and fascinating. In this case, the train flew across an international border and seemed to levitate off of the churning blue water of the Öresund strait. I was captivated, but everyone else in my car was just commuting to work—reading a book, playing a game on their phone.
I had come to eat my way through the Malmö and the rest of Skåne. I was curious, first of all, whether the New Nordic movement had diffused into the rest of the region's cooking. Epitomized by Noma across the strait in Copenhagen, the movement preaches the use of local products and the revival of traditional preservation methods. Admirable goals! But in a caricature, it's a group of bearded chef-gods who subsist mainly on ants and fermented seaweed. Very serious, maybe not that much fun. My first indication that food was taking seriously in Malmö came when I dropped into Solde, a coffee shop facing one of the city's canals, to try and beat my jet lag. The shop is tiny, but the staff still makes room for a dough sheeter, a bulky device for ensuring the perfect layers of butter and dough that make an ideal croissant. Their pastry was the perfect thing to go with the coffee that the baristas—all wearing matching green work jackets—churned out of a gleaming La Marazocco machine.
The coffee weakened but did not defeat the jet lag, so I made my way to MJ's, a hotel in the center of town. I was barely awake long enough to appreciate what a stylish operation the hotel was, full of animal prints, enormous framed fashion photographs, and heavy wood vintage furniture.
Well-rested, I arrived at Lyran for dinner. I sat at the bar overlooking the tiny kitchen, which looked like one you might find in the Manhattan apartment of a particularly serious cook. What it lacks in space, the team made up for in creative use of induction burners and blowtorches. They made it look casual until I watched one of them form four perfect quenelles.
"My cooking is intuitive, not dogmatic," the chef, Jörgen Lloyd, told me as he cooked. "I'm inspired by the New Nordic movement, of course, but I also want to use the highest quality ingredients. The best capers, for example, come from Pantelleria, an Italian island halfway between Sicily and Africa, so that's what I use." By way of explanation, he served me a locally-grown leek had been burned then stripped of the charred outer layers. Only the soft white smoky innards reamined, which were dressed with highly reduced birch sap and Italian parmigiano.
Even if he doesn't follow all of the New Nordic dogmas, Lloyd's cooking is still very much embedded in the ethic of a restaurant as just one part of a holistic food system. The standout dish was a thin, well-done steak from a very old dairy cow. It had been an extremely dry and hot summer in Sweden, and one of his suppliers had been pushed to slaughter one of his herd for lack of feed. Muscular older cows have a much more pungent flavor than fatty corn-fed commodity beef. Lloyd compensated for this expertly, with a flavorful covering of cabbage and raspberries.
Energized by the meal, I ended my night at Riket. It's an ambitious restaurant that happens to look like a neighborhood bar. I shared a table a guy who was accompanied by his slightly naughty mutt and ate an exuberantly flavored carrot dish, dressed with yogurt, sour blackcurrant, and whole coriander seeds that exploded when chewed. My tablemate was joined by friends for more than a few rounds of drinks. So maybe it's not right to say it Riket looks like a neighborhood bar, because it truly functions as one, too.
On the walk home, I reflected that the food in Malmö had been serious—and both chefs had had beards—but it had also been a ton of fun.
In the morning it was time to leave for the countryside. But first I went to Julie, a French-style wine bar and cheese shop that makes the most of an enormous rotisserie, serving roast chicken dinner nightly and a chicken salad for lunch, Dagens Rätt-style, from the leftovers. Julie has an impressive selection of natural wine, including Loire-valley superstar Thierry Puzelat (on draft, no less!), but I was on the hook to drive. I mentioned my predicament, and a delicious non-alcoholic beer from Mikkeller suddenly appeared. There is something something so civilized about Sweden, I thought as I sipped it. This was a country that could produce a French restaurant better than the French—certainly with better furniture. Unlike so much of Europe, there was no cultural chauvinism (good luck finding French food this good in Italy or Spain). There was just a simple desire to have the best of the best from around the world. This includes the Dolly Parton vinyl record that was spinning during lunch.
On the way out of town I made a quick stop by the Saluhall Malmö, a food hall by the harbor with cheerful long lines for crowd-pleasing food: ice cream, ramen, burgers. I was most compelled by a stand selling Scandinavian specialties, where I bought a old-school looking box of liquorice. "Those are very traditional, but they have just started making them again," I was told as I checked out. "We've had people come in and cry because they are so excited to have found them again."
My stop for the night was Örum 119, a country inn that has been renovated in sleek and modern style. All of the rooms were filled to bursting with beautiful handmade Japanese textiles. Brunch, on the other hand was a procession of tastes grounded in traditional Swedish breakfast foods—lots of fish. My favorite was served in a tiny French carbon steel pan.
After eating, I walked over to Blä Spaden, the hotel's garden store, which sells products picked with the same attention to detail apparent in the rest of the operation: Japanese garden tools and iridescently-glazed flower pots from the English company Whichford. I bought a perfectly-imperfect French work jacket with copper buttons and have barely taken it off since.
That day was, incongruously, very Italian. Within a 12-minute drive of each other are a pair of exceptional restaurants that differ mostly in their relationship to the canon of Italian cooking. At Bella på Österlen, Isabella Morrone serves a decadent four-course set menu. She is something of a celebrity chef in Sweden, but moved to Skåne from Stockholm for a slower pace, to be fully in control of a restaurant, and to be closer to farms. Her cooking skews traditional—she is fully conversant in which region of Italian inspired a particular dish.
Pastafabrikken Ingelstorp, on the other hand, takes a loser approach to Italian inspiration. The name of the restaurant means pasta factory, and this is meant quite literally: there is a big room for rolling, shaping, and extruding, and a small counter at the front sells both fresh and dried pasta. When I visited, I spied big bags of flour from Bornholm, a Danish island in the Baltic Sea off the coast of Skåne. I asked the owners why they didn't use Italian flour, since this is often offered by pasta-makes as a mark of seriousness and quality. They said they didn't buy into that, and the local flour was great.
The three-person crew behind the restaurant has also opened both a popular bakery and pizza operation. "Pasta was the logical next step in our abuse of Italian food," joked Pär Extor, one of the owners. But abuse is certainly not the right word. I sampled three pastas, and though they didn't hew to the strictest Italian tradition, they were all remarkably good. "We aim to do things in the Italian way," said Tilde Möller, another of the owners. "This means using Swedish products."
My stop for the night was the appealingly old-school Karlaby Kro, a compound of farmhouse-style white-washed buildings, complete with thatched roofs. Owners Pär Bonér and Sophie Bonér Hindmarsh, hospitality veterans, had managed the Kro, then done a stint running a hotel in the Hamptons before returning to buy it outright.
Everything was appealingly old-school, from literal scores of candles lighting the dining room to the real-deal smörgåsbord for breakfast the next morning. If I had spent the day before halfway in Italy, I was now firmly back in Sweden.
At many points during my trip I was reminded that Skåne is still a productive agricultural region. The landscape is full of tidy flat fields and wind turbines, with gravel roads running between. This context was on my mind the next day when I visited Åhus, a town on the east coast of Skåne that's the birthplace of Absolut vodka.
Before this visit I had two associations with Absolut: its iconic print advertisements and the cosmopolitan, the pink Absolut Citron cocktail made famous by Sex and the City. And sure enough, at the brand-new Absolut Home experience in Åhus you will see old advertisements and make a cosmo. But after the tour I had to update my idea of Absolut. Most vodka comes from God only knows where, made from God only knows what. Absolut, on the other hand, is all made in Skåne, and from local grain. On the way out of town I drove by the distillery that makes most Absolut today. It was a factory, certainly, but it was also in the middle of the wheat fields that sustained it.
On a much different scale was Bokeslundsgården. It's an experimental farm and refuge for heirloom Swedish breeds of every kind of farm animal. Owner Johan Widing had just gotten back from a run to Noma for a delivery. He showed us a dizzying array of projects he was working on: crop rotations, cider, honey, greenhouse wasabi. He grows specialized produce for restaurants and rents out his goats to landowners who need to clear brush. Widing is a charismatic and inspirational guy, the kind of person who makes previously-remote ideas seem very present: the Svalbard Global Seed Vault, which he works with, or quitting your job to work on an organic farm.
I didn't know it at the time, but he had also just been to Västergatan in Malmö, my stop for the evening's dinner, where so much of Skåne reappeared in the same place.
After that magical meal, I crashed at the Story Hotel Studio Malmö, then was pleasantly shocked at my view the next morning. It's a high-rise hotel with sweeping views of the city and its canals.
Far off in the distance was the Öresund bridge. That morning I rode across it for the second time, once again with my face pressed against the train window.