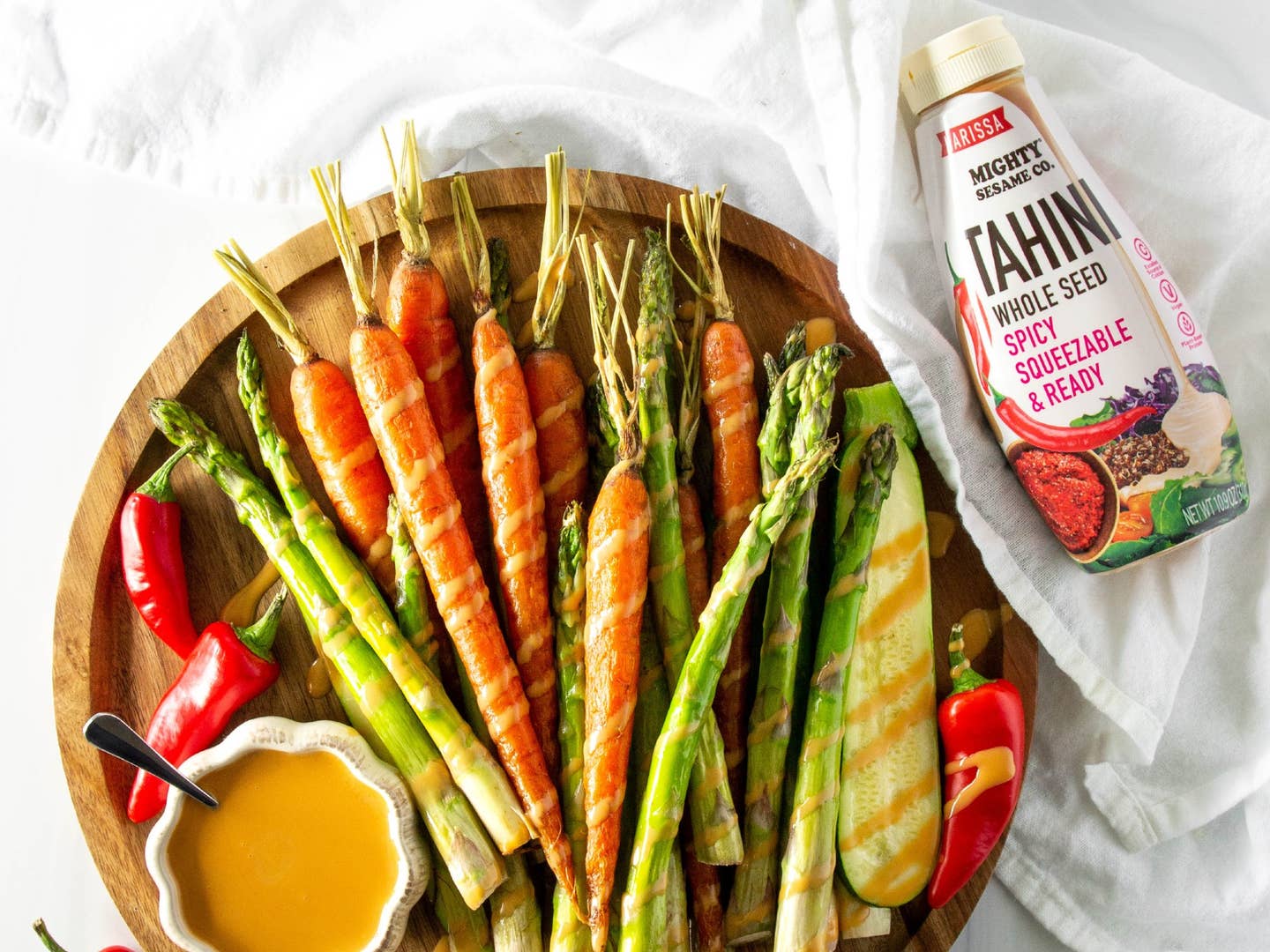 Techniques
Three Easy Ways to Make Tahini the Star of Your Pantry
Give this ancient powerhouse of an ingredient some love with salad dressings and marinades.
The word tahini derives from an ancient Arabic verb, "to grind," a fitting origin for an ingredient as mighty as this pure sesame paste. Made by soaking, toasting, and grinding sesame seeds, tahini unlocks the incredible power hidden in these tiny kernels. In the ancient Levant, only the olive matched the sesame seed's potential for nutrition, flavor, and a potent burst of energy. So if you've been leaving tahini to lurk in the background of your hummus and coast in your kitchen, it's time to give this essential ingredient another look. Here are a few ways to make the most of your tahini.
A Versatile Salad Dressing
Tahini's nutty flavor sings when you add acid and spice. In a mortar, crush two cloves of raw garlic with a pinch of salt and a teaspoon of cumin seeds. The salt and cumin act as abrasives, so after a minute of mashing you'll have an aromatic paste that doubles as vampire repellent. Then, in the same mortar, add a couple spoonfuls of tahini and a squeeze of lemon juice along with a tablespoon of water to loosen everything up. Stir the mixture together and add more lemon and salt to taste, and you've just made a traditional Middle Eastern condiment that's as happy dressing a salad as it is enriching a pot of beans.
Use this dressing on a summer salad of tomatoes and cucumbers, or a winter version with radish, pears, and thinly sliced red cabbage. The tahini brings a nice creamy body while the garlic and cumin keep things punchy; it's even good tossed with mixed greens. But you'll also want to keep this condiment around for your soup pot; that tahini heft makes it a winner in a simple pot of beans or a bowl of pasta e fagioli. You can even mix the condiment with your favorite chile oil to dress an easy take on sesame noodles.
Another way to unlock tahini's potential is to pair it with something sweet. Date syrup, also called silan, is a traditional classic: a dark, almost caramelly molasses that's great with a smear of tahini together on a toasted pita. When the two are drizzled over savory dishes, they function almost like balsamic vinegar and extra virgin olive oil, with a dazzling burst of flavor that highlights the sweet and umami elements of a recipe.
Falafel loves this treatment. So does roasted lamb, chicken, or cauliflower. But the real winner here is cubes of roasted sweet potato, which pair perfectly with nutty tahini and fruity date syrup. Sprinkle on some chopped pistachios for crunch and you have a dish worth adding to your Thanksgiving table.
Tahini readily forms the base of a marinade for meat or vegetables. On the grill or in the oven, the paste develops a satisfying crust that locks in herbs and spices while forming tasty nuggets of extra-browned crackling for the cook to enjoy. Mighty Sesame Co.'s harissa tahini is the perfect thing for such a marinade, as it adds the sunny heat of North African pepper paste right from the start; the brand's convenient packaging makes this versatile ingredient even easier to use—just shake, squeeze, and serve. Start with a quarter cup of harissa tahini and a heavy pinch of salt, then add glugs of lemon juice and olive oil that you measure with your heart, along with your favorite herbs (parsley and cilantro are good starts) and crushed black pepper, cumin, and coriander. Try it with chicken thighs or a nice lamb shoulder, or cubes of liver for skewered kebabs. Chewy, grillable halloumi cheese is also nice. And don't forget carrots! Two of the key spices in harissa—coriander and caraway—belong to the same botanical family as the orange taproots, and they complement each other nicely.