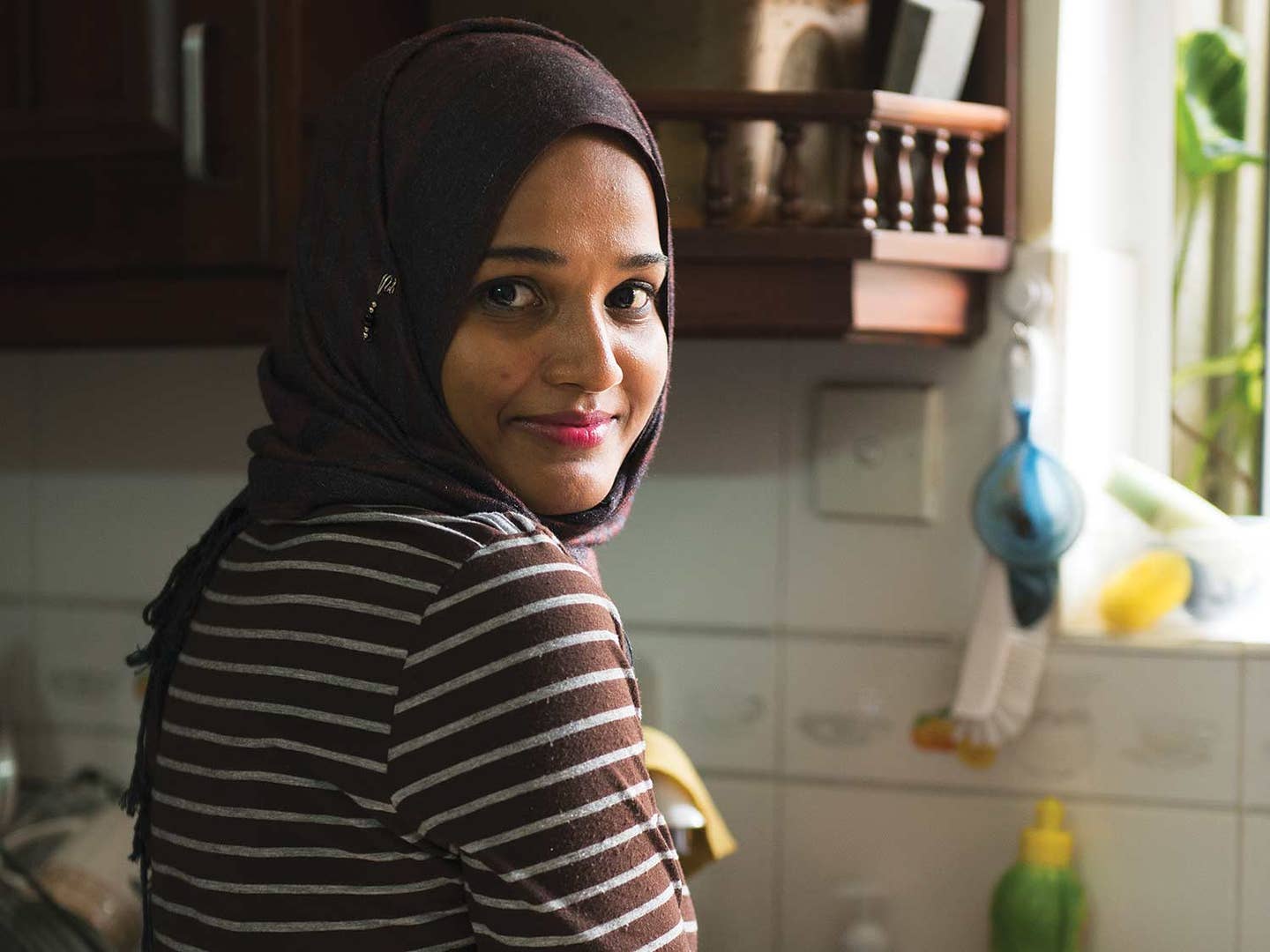 Travel
How to Make Fish Rice Like Sri Lanka's Great Home Cooks
Lessons from a tropical island in the Indian Ocean where exuberantly spiced dishes have been influenced by centuries of colonization, migration, and commerce
There are waves of mise-en-place at the ready. Flat pieces of cinnamon bark, soaked and drained rice, curry leaves, and tiny halved onions. There is freshly grated coconut, a rainbow of ground spices, whole cardamom pods, a glistening slab of skin-on tuna, stalks of lemongrass, and slices of ginger and garlic waiting in a mortar. Sri Lankan dishes come together quickly, once the pan is hot. But the final assembly is preceded by a great deal of soaking, roasting, grating, and pounding. It's 8 a.m. Though I've yet to taste the blistering fish curry that will be my first Sri Lankan cooking lesson (and breakfast), I'm in a full running sweat—more or less my constant state for the next several days, from heat both ambient and on the plate. I'm in Colombo, at the start of monsoon season, in the steamy home kitchen of Seema Ahmed, a distant relative of mine by marriage, and the first of four mothers who will teach me the fundamentals of Sri Lankan cooking. The door is open to Seema's kitchen garden, from which green, yellow, and red chiles, curry leaves, and a gigantic form of oregano can be easily plucked and pulled; the blasting heat and humidity roll into the house, barely pushed back by the ceiling fan, which Seema soon switches off anyway, so as to let the gas range work up to its potential.
Seema is from the nearby Maldives. She moved with her children to Sri Lanka for their higher education and plans to return when her youngest is finished with her studies. One daughter, Yusra, a mother herself, has come with her husband, Ali, and son from Kandy, in the country's mountain interior, for a few days' visit and to help with the cooking lessons.
Seema's oldest daughter, Ely Winkel, is married to my husband's cousin. Judging from the exquisite curries that Ely has prepared for us at their home in New Mexico, recipes she learned from her mother, I know that this family has got serious kitchen skill.
While Yusra and Ali's 5-year-old son, Arsh, scoots up the doorway in a very good imitation of Spiderman, Ali, a professional chef, cooks and stacks hoppers, bowl-shaped pancakes made from rice flour and coconut milk. Ali mixed up the naturally leavened batter the previous night and let it sit out at (very warm) room temperature. My attempts to re-create Ali's hoppers back at home, even with a real hopper pan purchased on the street in Colombo, had proved disastrous and abortive, and led me to believe that hoppers, like tortillas, are best left to skilled professionals.
"Do you know hot spice?" asks Yusra, and I say, "Sure, of course—chili powder, right?" Yusra smiles and shakes her head, reaching into a cabinet for a few small spice containers. She unscrews the lids from three: ground cinnamon and cloves and grated nutmeg. "We use these in equal parts, just a little bit. That's hot spice." (Back in the States, we call it, of course, pumpkin spice.)
Yusra measures out the hot spice mixture, then breaks up a few pieces of cinnamon bark by hand, adds them to the cardamom, ginger, and garlic waiting in the mortar, and pounds them together, then heats a generous glug of coconut oil in a large pan. This is the start of the fish curry—hot and sour, rounded out with coconut milk and turmeric—and of my mouth-scorching, sweat-inducing, haunted-by-indelible-flavors, led-by-the-authority-of-mothers Sri Lankan culinary education, which will fill the next several days as I am invited into a series of kitchens to watch, learn, and cook. After a midday nap at the Galle Face Hotel, a well-preserved colonial relic with exquisite Indian Ocean views and mercifully robust air-conditioning, I return to Seema's house for another lesson, this one focused on the dishes of their native Maldives, about which Ely has said, "Maldivian food is similar to Sri Lankan food. We have short eats—fried finger foods—and curries and sambols, too. But it's different, like the difference between East Coast and Southwest Mexican food."
"The Maldives are so many small islands, and we have very little land to grow rice or raise animals," says Yusra, "so at its simplest, everything is fish and coconut, and then we use the things that are imported." Seema and Yusra teach me to make mas-bai, chunks of tuna cooked together with rice, whole spices, and coconut milk. It's served with rihaakuru, a deeply concentrated, almost black fish-paste condiment, a byproduct of the traditional Maldivian tuna-drying process that results in hard preserved planks of fish as well as Maldive fish flakes (harder and more pebblelike than Japanese bonito flakes), which are used to thicken and add umami to a variety of Sri Lankan dishes. They also cook Maldivian whole mekunu, a type of mullet. Seema works a deeply fiery and flavorful red spice paste into deep slits cut at quarter-inch intervals along the fish's silvery body. "At home, we used to cook this on the beach, over a fire," she says. In Colombo, she still manages to crisp the fish skin nicely in a nonstick pan, over a gas flame.
Crisscrossing spice trade routes and centuries of Portuguese, Dutch, and British colonial occupation have left their marks on Sri Lankan cuisine, as has the influence of Moorish and Malay settlers, Chinese workers, and proximity to India. With its abundance of highly spiced curries, the ubiquity of rice, and its heavy reliance on fish and coconut, this food is clearly related to that of nearby Kerala and its south Indian neighbors. What sets Sri Lankan cooking apart, I am told, is the near total absence of dairy products, in favor of coconut milk, and the intensity of the flavor in a finished dish.
"In Sri Lanka, you have really punchy flavors," says Indian expat Vidya Balachander, a culture and food writer who relocated to Colombo from Mumbai three years ago. "In Sri Lankan curry powder, everything has big, bold flavors, whereas in Indian curries, by compari­son, they're very subtle."
Vidya introduces me to her friend Nimeshan Namasi­vayam, who goes by Nim. He owns and operates Kopi Kade, a hip, minimalist café in Colombo with a serious house-roasted coffee program. "Most cafés here serve Western food—Caesar salad and smoked salmon," Nim says.
While a handful of Colombo restaurants serve traditional Sri Lankan cuisine, such as the excellent Upali's, there's a growing trend of fusion, Western, and Chinese restaurants as the city expands and rebuilds in the post–civil war era.
"The best Sri Lankan cooking happens privately, in the home, and isn't something that locals tend to seek out in a restaurant," Nim says. "We're quite adamant about local ingredients and flavors." This manifests on Kopi Kade's menu in the form of a highly spiced mutton kofta, grilled housemade paneer with chile jam, and an outrageously good sweet and salty rice pudding called sakkarai pongal, made with coconut milk and cream, sweetened with palm sugar, and studded with cashews, yellow raisins, and crunchy, caramelized puffed rice. He calls his approach "good hipsterism," expressed through a respectful and unpretentious allegiance to traditional flavors and preparations, but crafted with maximum aesthetic appeal in mind.
"Sri Lankan food can look very messy on the plate, and I'm a big believer that you eat with your eyes," he says. "If you use edible flowers or make some other effort to make the plate look good and be tasty, it's kind of a win-win."
One afternoon when Kopi Kade is closed, Nim invites me into its compact kitchen to take a cooking lesson, led by his mother, Chandra, whose culinary repertoire is heavily influenced by Jaffna, the northern city where the family has roots, that was at the epicenter of Sri Lanka's 28-year civil war between the Sinhalese majority and Tamil separatists. Nim and his family are Tamils; they left Sri Lanka for India, and eventually Australia, when he was a child, after the headquarters of the family-owned print manufacturing business was burned down in a time of heavy civil rioting. His family has since rebuilt the business; Nim moved back from Australia two years ago to open the café, motivated both by his passion for coffee and by his desire to share his (and his mother's) version of Sri Lankan cuisine with visitors and locals who might not have the opportunity to be fed by a home cook. Unlike most women of her generation, Chandra didn't learn to cook as a girl. "My father wanted my sisters and me to focus on our studies, and to earn college degrees. We never entered the kitchen." It was only when she married that she began to cook, slowly building competency by trial and error. "My idli used to be like rubber bullets," she recalls with a laugh; today, her fingers dance through a small hill of roasted rice flour, water, and coconut to make pittu, a fluffy steamed side dish, akin to couscous, that she packs, gently but firmly, into a bamboo cylinder and places in a steamer basket. As part of a simple curry meal, it's moistened on the plate with puli sothi, a coconut milk–based broth, and it tempers the red-hot fire of Chandra's mutton curry. Jaffna cuisine, and the typical Jaffna curry powder, is distinguished by the use of fenugreek and fennel seeds, as well as by a preference for tamarind over the goraka, also known as Malabar tamarind, brindleberry, or Garcinia cambogia, that is used to sour southern curries. The cuisine makes heavy use of river and lagoon crabs, prawns, and mullet; odiyal kool is Jaffna's special-occasion seafood stew, thickened with flour ground from the palmyra tuber, that Nim calls "Tamil bouillabaisse."
Vidya and Nim have both advised me to seek out the odiyal kool and other examples of Jaffna cuisine at Palmyrah restaurant in Colombo, before journeying north to Jaffna itself by train in a few days, because the classic dishes and flavors are scarce in that city's restaurants, often called "hotels," which tend to focus on simple vegetarian curries and dals; inexpensive and quick, snacky fried foods known as short eats; and intensely sweet ice creams and other confections.
"During the war," says Nim, "Jaffna cuisine became dumbed down. It was hard for restaurants and stores to source ingredients; supply chains became difficult."
"Why can't we get Jaffna cuisine in Jaffna?" asks Vidya. The city was effectively cut off to outsiders during the civil war. The north was heavily occupied by the military, and infrastructure, agriculture, and industry were devastated by the fighting. The area is only now, slowly, beginning to rebuild. "Being in a state of siege, people were always hiding. For 30 years they didn't have the opportunity to showcase their cuisine," she explains. "Where was the tourist traffic? It's only in the last few years that there is even an interest in what Jaffna has to offer. So, in Jaffna, the concept of pleasure itself is so new. A friend told me that, during the war, all they ate was home food, so now, pizza and soft drinks and KFC is what they want."
The subject of traditional food culture in crisis comes up again as Nim takes me to a nearby wet market, an indoor-outdoor warren of produce vendors, butchers, fishmongers, and spice merchants who vend their wares from individual stalls each day. It's hot, of course, and sanitation methods are far from painstaking, but to my eye, the crush of patrons filling bags and baskets with the day's fresh groceries is a visible vote of confidence. Nim points out a distinct lack of younger shoppers.
"Younger people don't want to shop at wet markets anymore," says Nim. "There's a convenience factor with the big supermarkets now, and an ickiness factor—they don't like to see raw meat and the cleaning of seafood." In this, Sri Lankans are no different from anyone in the industrialized world: eager to push away the "ick factor" as soon as we're able. "Husbands and wives both work, and fewer people have maids to do the daily marketing and cooking, because wages are rising. Now, people want that clean, air-conditioned, sterile experience. It's an aspirational middle-class mentality." Colombo real estate values are on the rise as old markets succumb to the wrecking ball. Increasingly, it's only chains and franchises, like Starbucks and Cosi, that can afford to pay the rent.
The next day, an early-morning visit to Colombo's massive, open-air Manning Market, in operation near the Fort Colombo train station for over 100 years, finds it chaotically thriving, though government plans are in motion to move it to Peliyagoda, a western suburb, then redevelop the land for more lucrative purposes. For now, from stalls built into a series of Roman-Dutch barns, vendors sell dried fish, nuts, spices, tobacco, betel leaves, papayas, coconuts, taros, pomelos, wood apples, drumsticks (Moringa seed pods), ash plantain, bitter melon, limes, chiles, mangoes, mangosteens, jackfruit, breadfruit, onions, garlic, and more.
I'm being led through the market by Jerome La'Brooy and Nishad Jayawardena, chefs at Asylum restaurant, so named for the former function of the space it occupies in a government-owned series of arcades in a posh part of town. Jerome is Sri Lankan and has spent more than 30 years cooking and leading kitchen crews all over the Middle East, South and Southeast Asia, and Australia; Nishad, also Sri Lankan, has been his trusted executive chef at Asylum and another restaurant, Urban Kitchen, for 10 years. Asylum serves a Western menu, catering to the expat community, though they also offer fusion specials and a full Sri Lankan curry lunch.
Yesterday, the pair taught me to make ambul thiyal, a sour marinated fish curry; plus cashew curry; a sweet and hot onion sambol; and kiribath, a luxurious coconut milk rice. Today, Nishad has recruited his mother-in-law, Ruweena Deen, into the Asylum kitchen to teach me her version of chicken buriyani, a special-occasion dish and an excellent reflection of the centuries-old Moorish and Malaysian influences that have left their marks on Sri Lankan cuisine.
Despite his long professional experience, Nishad says of his mother-in-law, "I learn constantly from her in the kitchen, and I regard her as one of my mentors. I've been able to take what she's taught me about Malay cuisine and apply it to the menu at Asylum."
Though we're in the middle of a busy restaurant kitchen, Ruweena, a self-taught cook who specializes in Malay cuisine, works with the kind of quiet confidence earned through many years of feeding a family. "Three of my four [adult] children still live at home, and I cook their lunches for work every day," she says with pride.
While the chicken and potatoes rest in a spicy yogurt marinade, she drains the rice and massages it with more yogurt, deeply caramelizes sliced onions, and infuses ghee with whole cloves, gamely accepting help from me and the handful of professional cooks nearby, though it's clear she could do this alone, without breaking the sweat that continues to plague me as I stir the chicken and more whole spices into a cavernous pot.
After adding the rice and leaving the whole thing to cook together, she shows me how she rolls hard-boiled eggs in shimmering ghee, and makes quick work of the Malay pickle, sweetened with dates and made tart with vinegar, along with a mint and green chile sambol.
For dessert, we begin to prepare wattalapan, a lightly spiced coconut milk and jaggery custard, ubiquitous in Sri Lanka. As she cracks each egg into a bowl, Ruweena fishes out and discards the stringy connective cord that holds the yolk in place. "It tastes like the ocean," she explains, "and it will ruin the flavor."
Once the custards are cooled, and the chicken and its accompaniments plated, we sit and enjoy it in the cool of the dining room. The celebratory buriyani is the perfect last lesson of my crash course in the flavors of this delicious island, and the first thing I'll cook for my own family back in New York.