Recipes
Sticky Rice and Almond Cake (Nian Gao)
Serves

serves 6 to 8

Cook

4 hours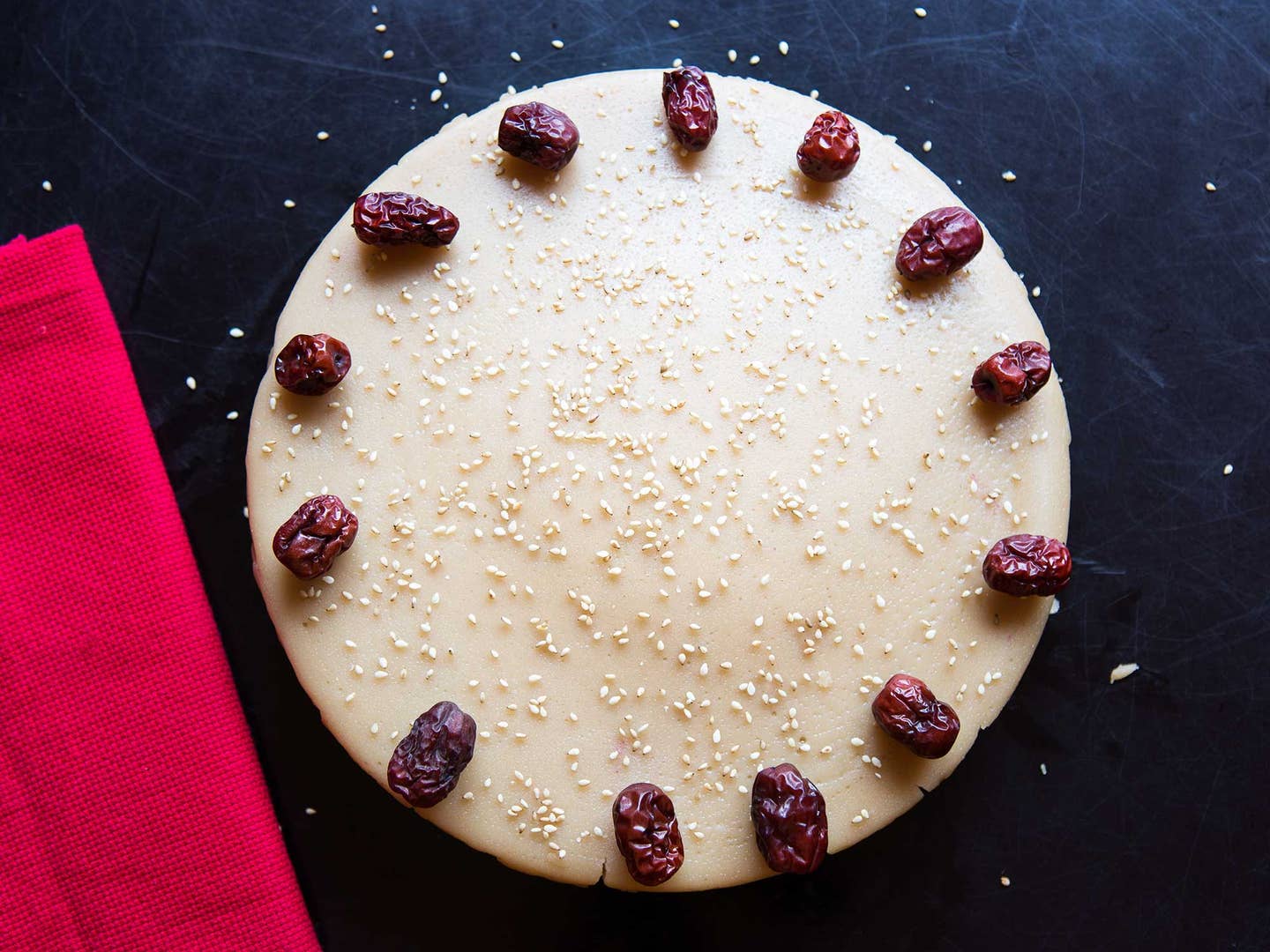 This chewy steamed cake, with flavors of almond and caramel, is traditionally eaten for the Lunar New Year. Eat it warm or let the cake cool completely, then cut into slabs, batter with beaten egg, and fry them until crisp.
Ingredients
1 (1 lb.) package Chinese brown sugar or 2 cups packed light brown sugar
3 cups (1 lb.) sweet (glutinous) rice flour
5 tbsp. vegetable oil, plus more for greasing
2 tsp. almond extract
1 large egg, lightly beaten
Toasted sesame seeds, to garnish
Instructions
Step 1
In a small saucepan, combine the sugar with 2 cups water over medium-high heat and cook, stirring occasionally, until the sugar dissolves, about 8 minutes. Remove the pan from the heat and let the syrup cool.
Step 2
Place the rice flour in the bowl of a stand mixer fitted with a paddle. With the motor running on medium-low speed, slowly drizzle in the syrup and mix until smooth. Pour in 2 tablespoons oil and the almond extract and continue beating until the batter is evenly combined.
Step 3
Grease a 9-inch cake pan with oil then pour in the batter. Set a bamboo steamer over 1 inch of simmering water in a wok, and place the cake pan in the steamer. Cover and steam the cake, replenishing water as needed, until the cake is firm, about 3 hours. Uncover the steamer, transfer the cake to a rack, and let cool until cake can be handled. Slice the cake into wedges and serve. half then cut each half crosswise into 1⁄2-inch-thick slabs.
Step 4
For leftover cake, cool completely, then cut into 1⁄2-inch-thick slabs. In a large nonstick skillet, warm the remaining 3 tablespoons oil over medium-high heat. Working in batches, dredge the cake slices in the egg and cook, flipping once, until golden brown on both sides, about 1 1⁄2 minutes. Transfer the slices to a serving platter, sprinkle with sesame seeds, and serve while hot.