Recipes
Wok-Fried Brussels Sprouts and Bacon with Crispy Chestnuts
Serves

serves 6-8

Cook

25 minutes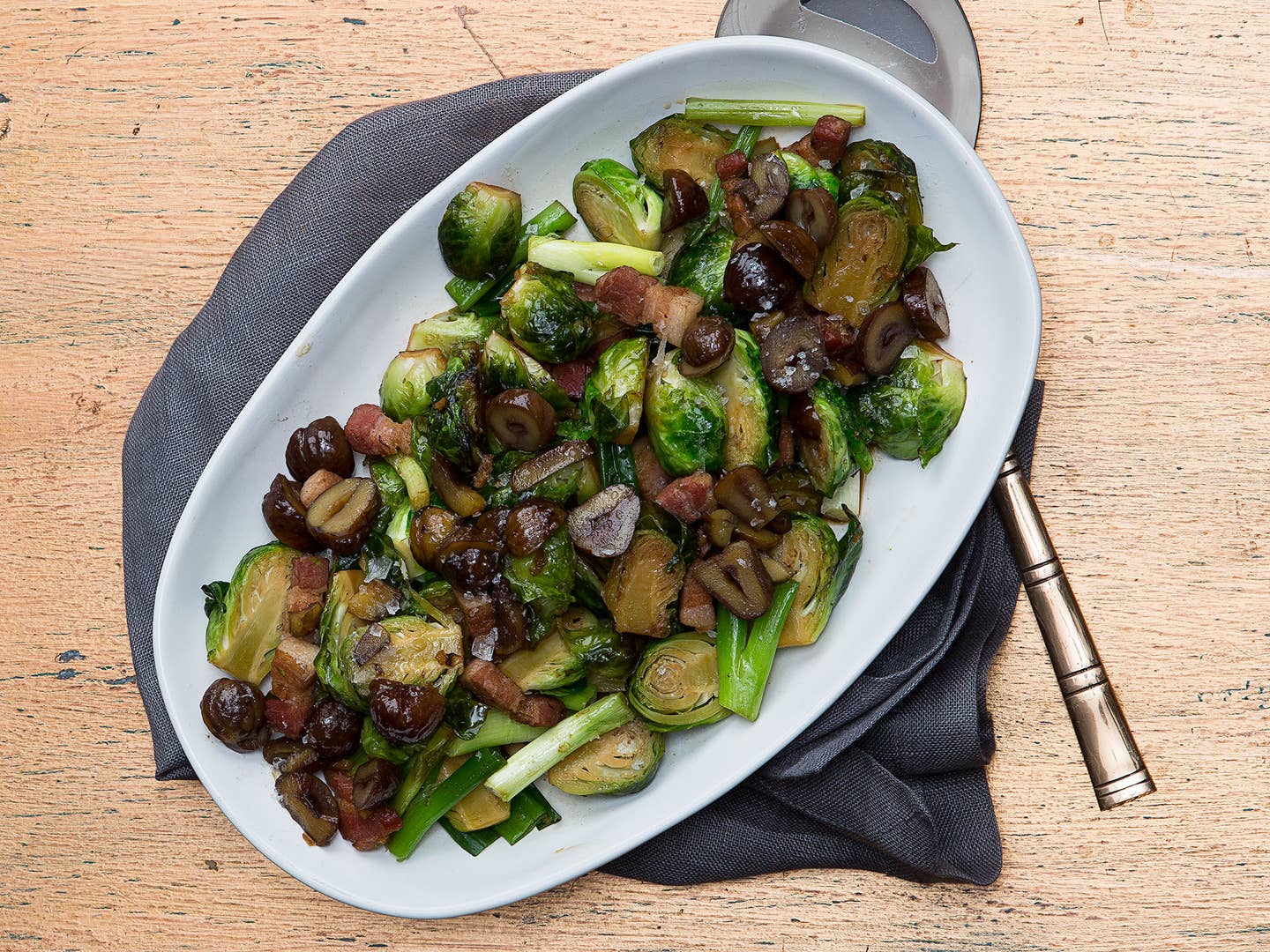 Chef Cara Stadler of Tao Yuan, in Brunswick, Maine, puts a Thanksgiving spin on one of her favorite Sichuan stir-fries by replacing the traditional cauliflower with Brussels sprouts. They are wok-fried with bacon, ginger, and garlic until crisp-tender, and garnished with thinly sliced chestnuts.
Ingredients
2 tbsp. vegetable oil
1 lb. Brussels sprouts, end trimmed, halved lengthwise
4 oz. slab bacon, cut into 1/2-inch lardons
2 tsp. minced garlic
2 tsp. minced ginger
2 tsp. sugar
1⁄4 cup chicken or vegetable stock
2 tbsp. soy sauce
8 scallions, cut into 2-inch pieces
3 tbsp. unsalted butter
1⁄2 cup vacuum-packed cooked chestnuts, cut into 1/4-inch slices
Flaky sea salt
Instructions
Step 1
In a large wok or high-sided skillet, heat the oil over high until it begins to smoke. Add the Brussels sprouts and bacon and cook, tossing occasionally, until browned, 3 to 4 minutes. Stir in the garlic, ginger, and sugar and cook, tossing, for 2 minutes. Pour in the stock and soy sauce and cook, tossing, until almost evaporated, about 2 minutes. Stir in the scallions and cook, tossing, until bright green and crisp-tender, 1 to 2 minutes. Transfer to a serving dish and return the wok to high heat.
Step 2
Add the butter to the wok, and when it melts, add the chestnut slices and cook, tossing, until crisp, 2 minutes. Using a slotted spoon, lift the chestnuts from the butter and scatter over the Brussels sprouts and bacon. Sprinkle the chestnuts with sea salt before serving.