Recipes
Breakfast Without Borders
Scrambled eggs and pancakes may be lovable, but they score zero points for creativity. This year, tear up (what's left of) the script—with morning fare from farther afield.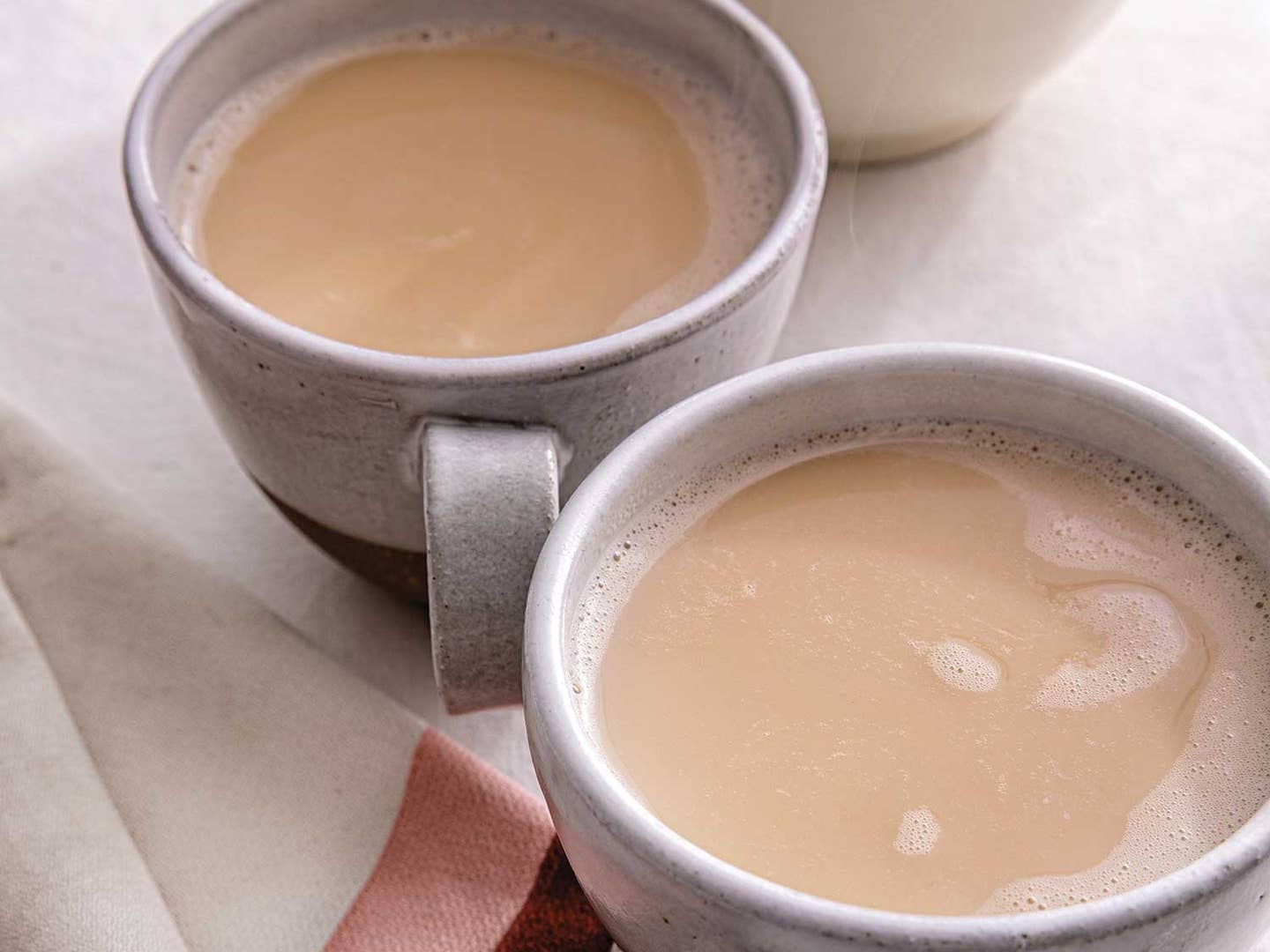 If breakfast is the most important meal of the day, as America's powerful packaged-foods lobby would have us believe, then why so few options? Sure, you can take your eggs fried, poached, or scrambled, but they will be offered with hash browns, pork (bacon or sausage), and toast—maybe a bagel, or biscuit, as regional proclivities allow. Health nuts must decide between cold and hot cereals. And even unapologetic dessert-at-dawn devotees are likely to confront choices limited to pancakes versus French toast.
Consider cooking the aforementioned made-to-order fare for a crowd, and you'll grasp the popularity of quiches and casseroles—as well as an opportunity worth seizing. Holiday open houses are so 2019. With fewer mouths to feed this year, why not try your hand at that endangered Chinese-takeout classic, egg foo yung? Or attempt the truly French toast called bostock? Eggnog? Expected. But not milk punch, the icy bourbon-dairy concoction that comforts the southernmost regions of the southern United States.
On New Year's Day, we heartily recommend incorporating another down-South tradition: Eating black-eyed peas for luck, especially if consumed as a part of a custardlike cornbread that also incorporates chile peppers and cheddar cheese. What better way to stack the deck in favor of good things to come?
In April 2007, Singaporean writer Christopher Tan introduced Saveur readers to the city-state's best restaurants, snack stalls, and signature fare, including Teh Halia, a soothing ginger tea that's finished with sweetened condensed milk—an enduring colonial import throughout Southeast Asia. Tan, who still lives in Singapore, continues to sing the beverage's praises: "The soulful marriage of tannic tea and ginger's slow burn, officiated by syrupy dairy, is a universally calming panacea," he says.
Line a small pot with several large layers of cheesecloth. Finely grate 1 14-inch piece of fresh ginger over the cheesecloth; bring the edges up to form a purse, then squeeze the purse over the pot, extracting as much ginger juice as possible (you should have about ½ cup). Discard the solids. Add 1 cup of sugar to the pot and cook over medium heat, stirring occasionally, until the sugar just dissolves (about 2 minutes). In a large pitcher, stir together the ginger syrup, 7 cups strongly brewed, strained black tea, such as assam, 1 cup whole milk, and ½ cup sweetened condensed milk. Serve hot or over ice.
"Egg foo yung is the most exotic and dangerous thing I have ever tasted," says Chinese American writer Mei Chin of this fried egg, pork, and shrimp delicacy. Developed in the United States during the mid-1800s by Cantonese immigrants, the dish didn't pass Chin's lips until she was 21 years old. As she explained in our April 2013 issue: "A first-generation, American-born Chinese, I was banned from certain things as a child. Television. Dating. Action movies. Then there was Chinese American food, of which egg foo yung is an icon."
Ingredients
For the sauce
1 cup low-sodium chicken broth
1 tbsp. dry sherry
3 tbsp. soy sauce
2 tbsp. oyster sauce
1 tbsp. cornstarch
2 medium garlic cloves, thinly sliced (about 2 tsp.)
1 piece ½-in. piece of fresh ginger, peeled and thinly sliced
For the egg foo yung
1⁄2 lb. ground pork
1 /12 tsp. rice vinegar
1 tsp. dry sherry
1 1⁄2 tsp. rice wine vinegar
1 tsp. dry sherry
3 tbsp. soy sauce, divided
Kosher salt and ground black pepper
3 tbsp. cornstarch, divided
1 tbsp. plus 1 tsp. sesame oil, divided
Kosher salt
Freshly ground black pepper
1 tsp. canola oil, plus more for frying
6 raw shrimp, peeled, deveined, and finely chopped
1⁄2 cup canned water chestnuts, drained and finely chopped
1⁄3 cup bean sprouts
2 medium scallions, thinly sliced (about ⅓ cup), plus more for serving
6 large eggs, lightly beaten
Instructions
Step 1
In a small pot over high heat, combine all the sauce ingredients and bring to a boil. Cook, whisking frequently, until thickened, 2-3 minutes. Remove from heat, strain, and cover to keep warm.
Step 2
In a medium bowl, stir together the pork, vinegar, sherry, 2 tablespoons soy sauce, 1 tablespoon cornstarch, and 1 teaspoon sesame oil. Season lightly with salt and black pepper, then set aside to marinate for 10 minutes.
Step 3
In a medium, nonstick skillet over medium-high heat, heat 1 teaspoon canola oil until it shimmers. Add the pork mixture and cook, breaking up the meat frequently, until it is no longer pink, 3-4 minutes. Using a slotted spoon, transfer to a large bowl and allow to cool slightly. Add the remaining soy sauce, cornstarch, and sesame oil, as well as all other remaining ingredients, to the pork; season lightly with salt and black pepper, and stir to combine.
Step 4
To a large, heavy pot fitted with a deep-fry thermometer, add enough canola oil to reach a depth of ¾ inch. Cook over high heat until the oil reaches 350°F. Meanwhile, preheat the oven to 200°F. Using a ladle or measuring cup and working in batches, carefully pour ½-cup scoops of the egg mixture into the oil. Cook, flipping once, until the omelettes are puffed and brown, 1½-2 minutes. Transfer the omelettes to a paper-towel-lined baking sheet and place in the oven to keep warm while you continue cooking the rest of the egg mixture. Drizzle with the reserved sauce, garnish with scallions, and serve hot.
Intended for cooking beans and simmering stews, the Mexican earthenware pot known as an olla is said to distribute heat evenly and lend a unique earthy flavor to any preparation. Which, in this case, applies to coffee boiled with cinnamon and the raw sugar called piloncillo or panela. Notably, the drink does not contain milk. We learned about it from cooking teacher Kate Hill, who included this recipe in her Fall 2018 story on the indigenous Tsotsil Maya of Chiapas.
In a small olla or medium pot over medium heat, add 8 cups cold water to ⅔ cup tightly packed piloncillo (or dark-brown sugar); ½ cup dark-roasted, medium-ground coffee; and 2 small sticks of canela (Mexican or Ceylon cinnamon). Stir until the piloncillo has dissolved and bring to a boil, then remove from heat and let steep for 5 minutes. Set a fine mesh strainer or coffee filter over a large, heatproof pitcher and strain the coffee. Serve hot.
For the October 2004 issue, Saveur sent Carolynn Carreño to cover the extravagant tailgating scene at a University of Mississippi football game. She made her way through sausage biscuits, caramel cake, cream-cheese crab dip, and a pork loin with horseradish-pineapple sauce—all before noon. Yet it was this cornbread that Carreño still considers the standout. As the writer explains, "You can put 'cornbread' in quotes, because this is more puddinglike, and stuffed with black-eyed peas, sausage, and cheddar." The genius behind it? A retired home-ec teacher named Becky Miller Tollison, whose late husband, Edward "Bubba" Tollison, played football at Ole Miss in the 1970s.
Ingredients
Unsalted butter, for greasing
1 lb. spicy pork sausage meat
1 medium yellow onion, chopped (about 2 cups)
1 cup white cornmeal
1⁄2 cup all-purpose flour
1 tsp. kosher salt
1⁄2 tsp. baking soda
2 large eggs
1 cup buttermilk
1⁄2 cup vegetable oil
8 oz. cheddar cheese, grated (about 2 cups)
1 15-oz. can black-eyed peas, drained
3⁄4 cup canned cream-style corn
1 4-oz. can diced green chiles
1⁄2 cup drained, sliced pickled jalapeños, chopped
Instructions
Step 1
Position a rack in the center of the oven and preheat to 350°F. Grease a 9- by-13-inch baking dish with the butter and set aside.
Step 2
In a large skillet over medium heat, combine the sausage and onions, and cook, breaking up the meat frequently, until it's cooked through and the onions have softened, 10-11 minutes. Transfer to a paper-towel-lined plate to drain and set aside.
Step 3
In a large bowl, whisk together the cornmeal, flour, salt, and baking soda. In a medium bowl, whisk together the eggs, buttermilk, and oil. Pour the egg mixture into the cornmeal mixture, and use a silicone spatula to fold together until just combined (the batter will still be lumpy). Fold in the reserved sausage mixture, cheese, black-eyed peas, corn, green chiles, and jalapeños. Pour the batter into the prepared baking dish, and smooth the surface with the spatula. Bake until golden brown, 50-60 minutes. Allow to cool for 10 minutes before serving.
Sicilian Blood Orange and Red Onion Salad
"Dolcissimi!" is the cry vendors use to hawk sweet blood oranges at the daily winter market in Catania, a city on the eastern coast of Sicily. Pomologist David Karp, who wrote about the fruit in our January/February 1999 issue, says of this simple salad: "It's perhaps the most classic dish made with Sicilian citrus, a favorite in both the trattorias and home kitchens of the region."
Ingredients
8 medium blood oranges (about 3 lb.)
2 small red onions, halved and thinly sliced against the grain (about 1 cup)
Flaky sea salt
Coarsely ground black pepper
1⁄2 cup extra-virgin olive oil
Instructions
Step 1
Using a sharp paring knife, remove and discard the skin and as much pith as possible from the oranges. Slice the fruit crosswise into ¼-inch-thick slices, then arrange on a serving platter. Scatter with onion slices, then season with flaky sea salt and black pepper. Drizzle with olive oil and serve at room temperature.
Every Christmas Eve, Bill and Rebecca McGeehee of Natchez, Mississippi, drive all over town, delivering ice-cold jugs of this creamy, bourbon-spiked slush to their friends and neighbors. Saveur's former editor-in-chief, Sarah Gray Miller, who grew up in Natchez, probably sampled the eggnog alternative more than a few years shy of age 21, and gave it a shout-out in the inaugural Saveur 100 (January/February 1997). "Because of the pandemic, this may be the first year in memory that I won't get a sip of the stuff," she says. "In my hometown, they tend to wean you onto Coca-Cola and, shortly thereafter, bourbon."
In a large glass pitcher, stir together 7 cups whole milk, 1 cup half-and-half, 1½ cups bourbon, 2 cups powdered sugar, and 2 tablespoons vanilla extract. Transfer to the freezer to chill until the mixture turns slushy, about 1 hour. To serve, pour into chilled julep cups and garnish with freshly grated nutmeg.
In an ode to bacon titled "The Best Food in the World" (March 2005), Colman Andrews, one of Saveur's founding editors, boldly proclaimed, "A proper serving of bacon is six slices." His first encounter with this brown-sugar-coated version occurred at one of our staff holiday parties, catered by the Manhattan restaurant Mortimer's. "A big platter of the bacon, frequently replenished, was in the dining room," Andrews recalls. "It was so popular that you had to wait in line to grab a few pieces."
Ingredients
1 lb. thick-sliced bacon
1 1⁄2 cups light-brown sugar, tightly packed
Canola oil, for greasing
Instructions
Step 1
Preheat the oven to 425°F. Separate the strips of bacon and blot dry with paper towels. Pour the brown sugar into a wide baking dish, and spread out into an even layer. Dredge the bacon in the brown sugar, coating both sides of each strip, before laying the strips on a wire rack set atop a large rimmed baking sheet. Cook for 8 minutes, then rotate the baking sheet and use tongs to flip the bacon strips. Continue cooking until the bacon is evenly browned and lacquered, about 8 minutes more. Use tongs to transfer the bacon, in a single layer, to a second large rimmed baking sheet that has been lightly greased with canola oil, and let cool to room temperature before serving.
Bostock is not a concoction short on sugar. Executive editor Kat Craddock honored the French toast's Normandy roots by adding Calvados and apple butter to this recipe, published online in January 2017. She also swapped out the traditional brioche for white bread. Why do such a thing? According to Craddock, the chewier crumb of a plain white loaf stands up to—don't be alarmed—a heftier helping of filling.
Ingredients
For the frangipane:
1 1⁄2 cups sliced almonds
3⁄4 cup sugar
3 large eggs
12 Tbsp. unsalted butter (1½ sticks), softened
3⁄4 tsp. kosher salt
1 1⁄2 tsp. vanilla extract
1 Tbsp. plus 1½ tsp. Calvados or spiced rum
For the toast:
Nonstick cooking spray
2 cups sliced almonds
9 1-inch-thick slices milk bread or other enriched white bread, lightly toasted
1⁄2 cup plus 1 Tbsp. cinnamon syrup, store-bought or homemade
1⁄2 cup plus 1 Tbsp. apple butter, store-bought or homemade
Powdered sugar, for serving
Instructions
Step 1
Make the frangipane: In a food processor, pulse the almonds and sugar until finely ground. Add the eggs, butter, and salt, and process to a smooth paste. Drizzle in the vanilla and Calvados, pulsing to incorporate. Transfer to a bowl and refrigerate for at least 30 minutes or overnight.
Step 2
Position a rack in the center of the oven and preheat to 375°F. Line a large baking sheet with parchment paper and lightly oil the paper with nonstick spray. Place the remaining 2 cups sliced almonds in a shallow dish.
Step 3
Brush both sides of the bread slices with cinnamon syrup. Spread 1 tablespoon apple butter, followed by ¼ cup frangipane, atop one side of each slice, and press that side into the dish of almonds. Transfer, almond-side-up, to the prepared baking sheet. Bake until the almonds are golden and the frangipane is slightly puffed and set but still soft, 18-20 minutes. Dust with powdered sugar and serve warm or at room temperature.