Happy Pi Day! Here Are 15 Places Offering Pie Specials
From pizza pies to apple pies, these are the deals you can get on 3/14.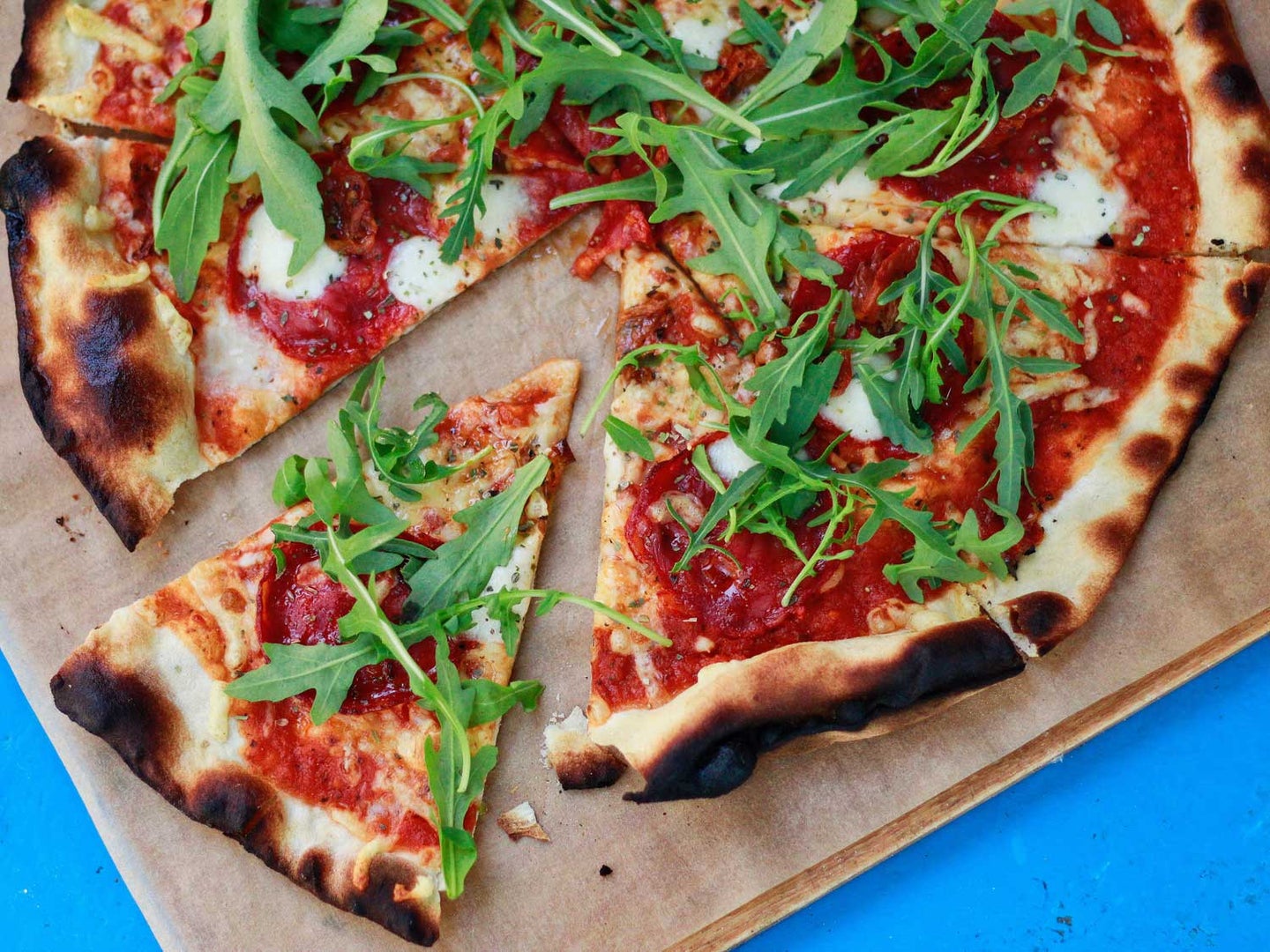 We may earn revenue from the products available on this page and participate in affiliate programs.
Tomorrow, March 14, is Pi Day. It's the day in which we celebrate the infinite mathematical constant 3.14159…well, you get it. For the many establishments across the nation that love a good pun, it's also a day to celebrate, y'know, pie. Here, 15 places to enjoy pizza pies, pot pies, cookie pies, and pie pies this Saturday. Know of other celebratory specials? Leave 'em in the comments!
1. Papa John's
This national franchise is celebrating with a buy one, get one deal: buy one large pizza and get the second for only $3.14.
2. 7-Eleven
At 7-Eleven, you can get whole pizzas for $3.14 in store or delivered at home with the 7NOW app.
3. California Pizza Kitchen (and Postmates)
Use the code "CPKDAY" to order California Pizza Kitchen through Postmates and get $10 off your order of $30 or more.
4. Outer Aisle
Gluten-free? Keto? You can still celebrate! From March 11th through March 21st, use code "PIDAY" for 20% off your entire order at this online grocer.
5. Lou Malnati's Pizza
If you live in Chicago, Phoenix, or Milwaukee, head to Lou Malnati's for a $3.14 (plot twist!) chocolate chip pizookie.
6. Boston Market
With this coupon, buy a drink and a pot pie to get another pot pie free. Pi symbols—?—will be baked into the crusts!
7. DiGiorno
"What makes your favorite pizza?" DiGiorno wants to know. Between 9am and 9pm, tweet your answer with the hashtags #sweepstakes and #NationalPiDay. Three people will win "14 VIP coupons" for free pies.
8. Centre Street Kitchen
This Chicago restaurant is celebrating Pi Day with a 3.14159 menu: 3 small plates, 1 salad, 4 wines, and 1 entrée for $59. Make a reservation for Saturday between 4pm and midnight.
9. BJ's Restaurant and Brewhouse
For the deep-dish lovers out there, BJ's is offering a mini one-topping pizza for, you guessed it, $3.14.
10. Pieology
Now for the thin-crust lovers, buy one pizza and get another for $3.14. Plus, Pieology Pie Life Rewards members who download the Pie Life Rewards app on Pi Day will be entered to win free pizza for a year.
11. Papa Murphy's
Use code "PIDAY," for 31.4% off orders over $20.
12. Bubby's
This New York City brunch favorite will sell their famous pie for $3.14 a slice. Look out for Michigan sour cherry, local New York apple, and banoffee pie.
13. &pizza
At exactly 3:14pm on 3/14, pizza lovers will have 3 minutes and 14 seconds to text #314 to 200-03. For the following hour, speedy texters can cash in on any pizza for $3.14.
14. Bojangles'
Grab three sweet potato pies for (yet again) $3.14 at this Southern chicken 'n biscuit haven.
15. Fresh Brothers
This California chain is celebrating with $3.14 personal pies in three flavors: cheese, pepperoni, and in very West Coast fashion, vegan pepperoni.