Caldo Verde (Portuguese Potato and Collard Green Soup With Chouriço)
Fresh greens, potatoes, and piquant pork sausage take center stage in this comforting Portuguese classic.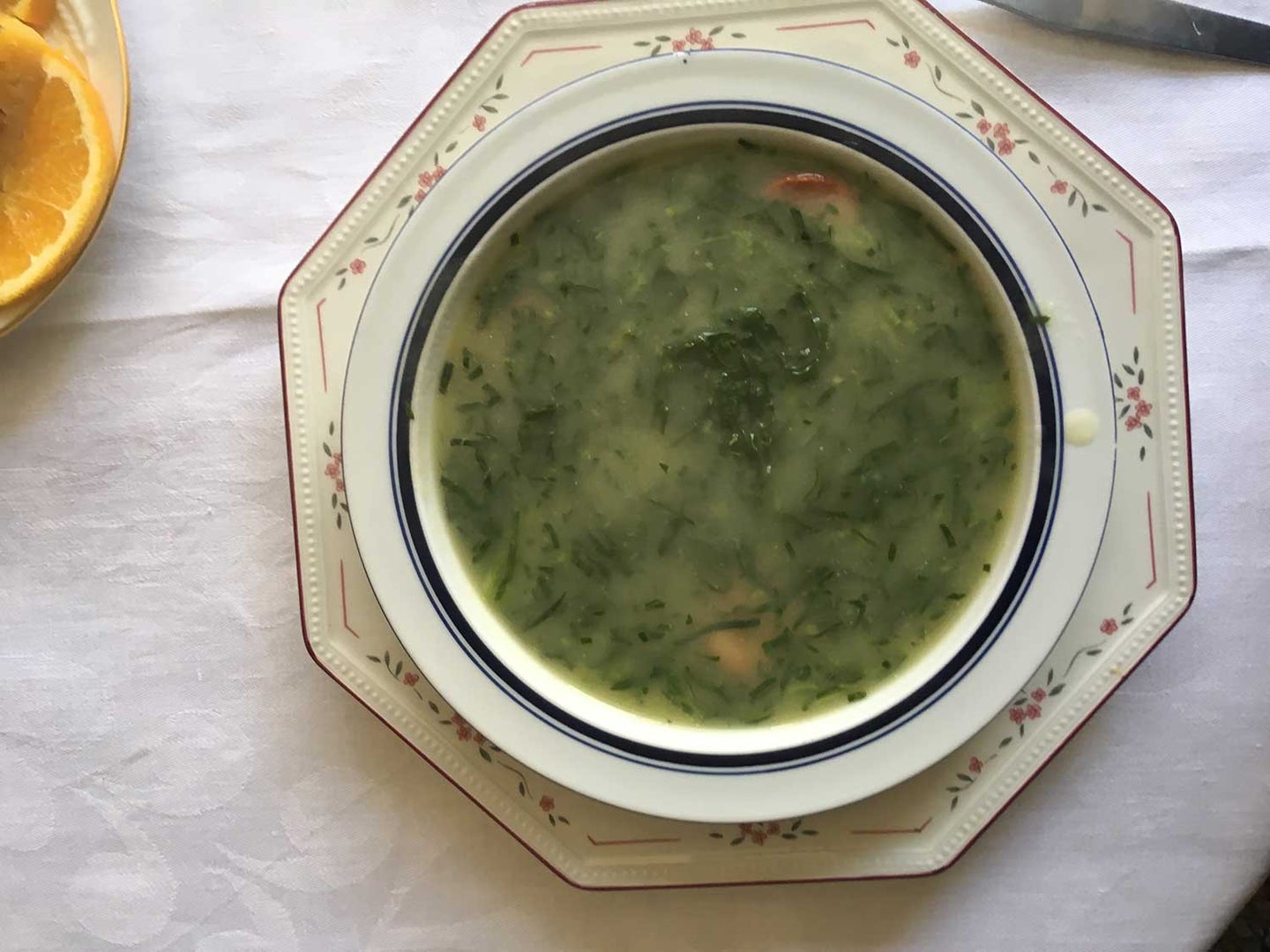 Author Kitty Greenwald learned to make this simple, soothing soup from her childhood nanny, a Portuguese woman named Olivia Ferreira.
For the most authentic results, seek out Portuguese-style chouriço which is available online from the domestic brand Michael's or from Portugalia Marketplace. This sausage is neither as firm nor as cured as Spanish-style chouriço; to ensure that the meat holds together in rounds, Olivia advises slicing the sausage before removing its casing. This sausage contributes a fair amount of salt to the broth; to avoid overseasoning, refrain from adding additional salt until just before serving.
Featured in: Caldo Verde: A Soup Full of Life
Equipment
Caldo Verde (Portuguese Potato and Collard Green Soup With Chouriço)
Caldo verde—one of Portugal's most recognizable dishes—is a simple potato soup, enlivened with vibrant slivers of collard greens and slices of spicy chouriço. The simple recipe, from author Katherine Greenwald's childhood nanny, makes for an easy and soul-soothing weeknight supper.
Time: 45 minutes
Ingredients
1 lb. collard greens, thick stems cut away and discarded
4 medium yellow potatoes (2 lb.), peeled and sliced ½-in. thick
2 medium yellow onions (1 lb. 4 oz.), ends trimmed and halved
Kosher salt
2 Tbsp. plus ¼ cup olive oil, divided
One 5-inch link Portuguese chouriço (6 oz.), sliced into ¼-inch thick rounds
Crusty bread or Portuguese rolls, for serving
Instructions
Stack the collard greens atop one another, then roll the leaves into a tight cylinder. Using a sharp knife, very thinly slice the roll crosswise to create fine strands. Rinse and dry the shredded greens, then set aside.
Meanwhile, to a medium pot, add the potatoes, onions, and enough cold water to cover the vegetables by 2 inches. Place the pot over medium-high heat and bring the liquid to a boil. Pour in 2 tablespoons of olive oil, lower the heat to simmer, and cook until the potatoes are tender when poked with a fork and the onion is completely soft, 25-30 minutes. Remove from heat and then, using a handheld blender, puree the vegetables and their cooking liquid until the soup is completely smooth and creamy. Return the soup to a low simmer.
Meanwhile, bring a medium pot of water to a boil over high heat. Place the slivered greens in a colander in the sink. Once the water is boiling, remove from heat and immediately pour it over the greens so that they collapse, soften, and turn a vibrant green. Set the hot, wilted greens aside to steam and drain in the colander for 5 minutes.
Add the chouriço slices to the soup and cook gently until their flavor infuses into the base, 5-10 minutes. Stir in the remaining ¼ cup olive oil and the reserved greens and continue cooking until the greens are tender but still green, 2-3 minutes more. Season to taste with salt just before serving.