Easy Pumpkin Pie with Press-In Oat Crust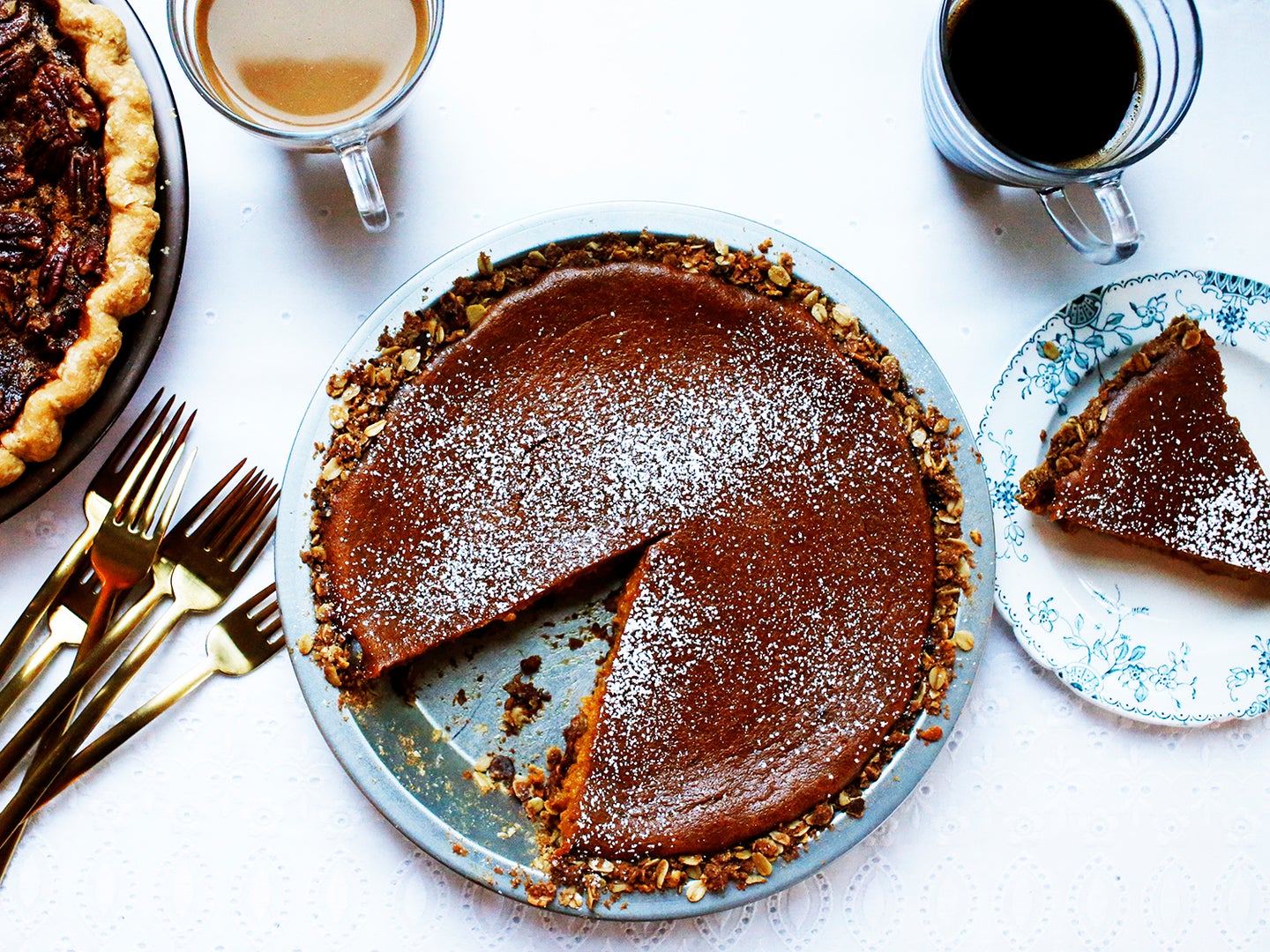 Thanksgiving has a way of creeping up on us. Here's the solution to an empty pie plate seeking inspiration. This recipe boasts a rolling-pin-free pie crust, a bounty of warm spices, and can be prepared days in advance or the morning of. To test doneness, touch the center of the pie with the tip of your finger: the filling should feel soft and gelatinous, but when you remove your finger, there shouldn't be any raw batter attached.
Featured in: This Last-Minute Pumpkin Pie Will Save Your Thanksgiving
Equipment
Yield: makes one 9-inch pie
Time: 4 hours
Ingredients
For the crust:
4 Tbsp. unsalted butter, melted and cooled, plus more for greasing
¾ cup old-fashioned rolled oats
⅓ cup white whole-wheat flour
¼ cup dark brown sugar
3 Tbsp. pumpkin seeds, toasted, cooled and coarsely chopped
2 Tbsp. granulated sugar
½ tsp. kosher salt
¼ tsp. ground cardamom
¼ tsp. ground cinnamon
¼ tsp. freshly grated nutmeg
For the filling:
1½ cups pumpkin purée
½ cup brown sugar, packed
1 tbsp. all-purpose flour
½ tsp. cinnamon
½ tsp. ginger
¼ tsp. cloves
¼ tsp. freshly grated nutmeg
¼ tsp. kosher salt
⅛ tsp. freshly ground black pepper
¼ cups maple syrup
¼ cup unsulfured molasses (not blackstrap)
1 Tbsp. unsalted butter, melted
2 Tbsp. bourbon (or substitute 1 Tbsp. apple cider)
1 tsp. pure vanilla extract
½ tsp. grated orange zest
1 cup heavy cream
1 large egg, lightly beaten
Confectioners' sugar, for sprinkling (optional)
Instructions
Make the crust: Lightly butter a 9-inch glass or aluminum pie plate. Preheat the oven to 350°F, with a rack in the center.
In a medium bowl, add the oats, whole-wheat flour, brown sugar, pumpkin seeds, granulated sugar, salt, cardamom, cinnamon, and nutmeg; stir to combine. Drizzle in the melted butter, then use your fingers to mix until the mixture is thoroughly combined and holds together in moist crumbs when squeezed in the palm of your hand. Crumble the mixture over the bottom of the prepared pie plate, then lightly pat and press the crumbs into an evenly packed layer along the bottom and up the sides. (If you find the mixture is sticking to your fingers, place a piece of plastic wrap over the mixture, then press the crumbs into place.) Freeze until the crust is solid, about 15 minutes. Transfer to the oven and bake until just set and lightly browned, 12–15 minutes. Set aside to cool to room temperature.
Meanwhile, make the filling: In a large bowl, whisk together the pumpkin, brown sugar, flour, cinnamon, ginger, cloves, nutmeg, salt, and pepper. Add the maple syrup, molasses, butter, bourbon, vanilla, and orange zest; whisk to combine. Whisk in the cream, followed by the egg. Place the cooled pie shell on a large, flat rimmed baking sheet. Pour the filling into the shell and bake until the filling is set, firm to the touch at the edges, and slightly jiggly in the center, 55–60 minutes. Transfer the pie to a wire rack and let cool to room temperature, then cover and refrigerate for at least 2 hours and up to 3 days. (The filling will continue to firm up as it cools.) Dust with confectioners' sugar (if desired), then cut into wedges and serve cold or at room temperature.