Recipes
Italian-Style Smoked Trout Dip
A smoky, New York City-inspired riff on Italy's baccalà mantecato.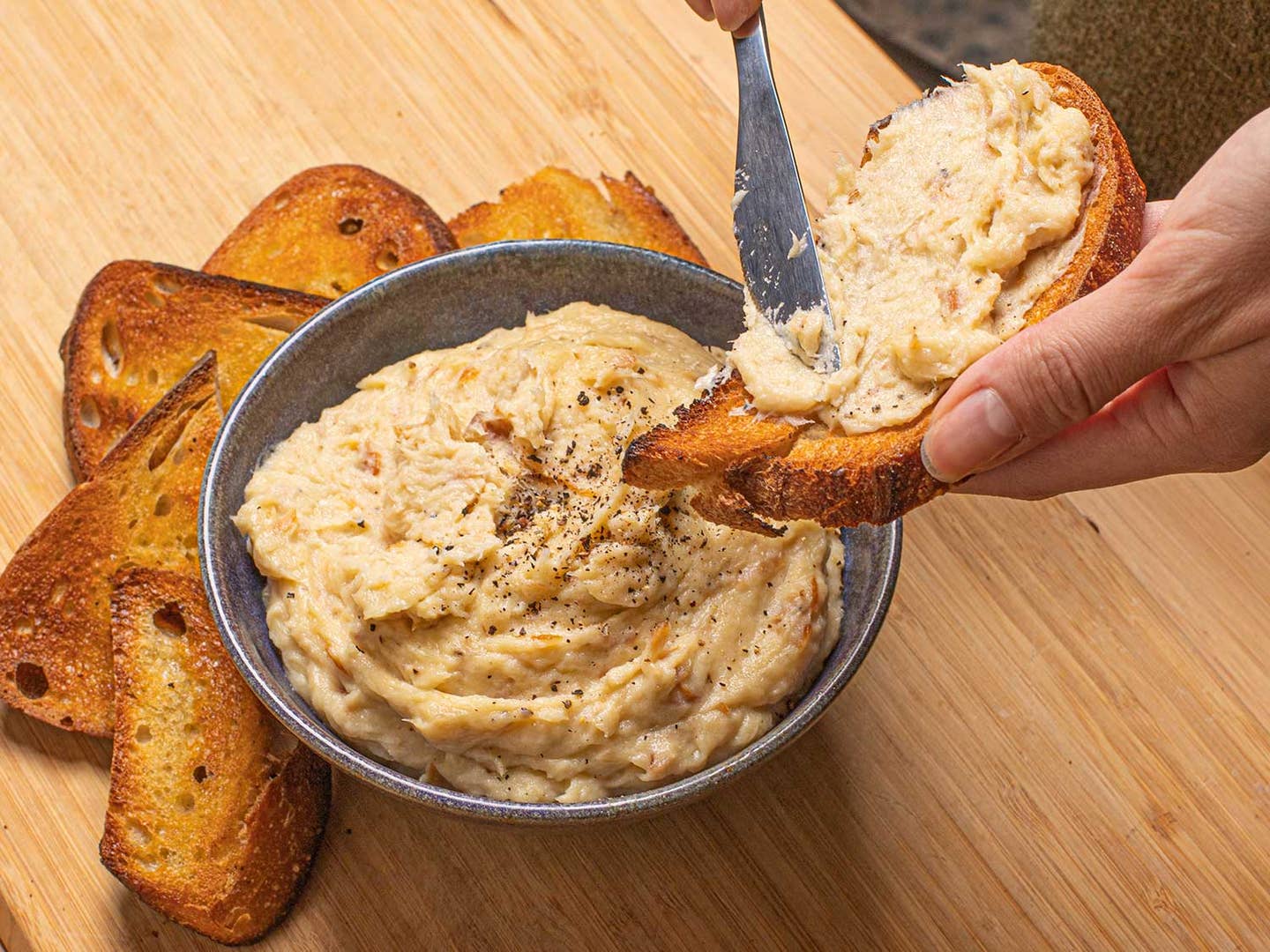 This dip, inspired by the Venetian classic baccalà mantecato, is characterized by a light, airy texture and a deep, savory flavor. The traditional version of the dish is an appetizer made with unsalted dried cod, known as stockfish, which must be soaked and then simmered before using. Chef and recipe-developer Josh Cohen swapped that classic cod out for ready-to-eat smoked trout, which not only cuts down on prep time, but also lends a unique and smoky depth to the dish.
The first key to success with this recipe is to use the highest quality extra-virgin olive oil you can find. Something with grassy and peppery notes will balance out the flavor of the fish to create a dynamic bite. For easy prep, purchase boneless skinless trout fillets. The last detail to focus on is the texture of the potatoes: They must be truly tender before whipping them with the fish. If your potatoes are slightly undercooked, then you won't achieve the ethereal texture that makes baccalà mantecato so memorable.
Crostini and crudité are both excellent vehicles for serving alongside this dip. Traditionally, baccalà mantecato is served with grilled polenta, so that is also an option. If you've prepared this dish ahead of time and stored it in the refrigerator, then bring to room temperature before serving so the texture is soft and easily spreadable.
Ingredients
1 medium russet potato (about ½ lb.), peeled and cut in 1-inch pieces
1 3⁄4 cups whole milk
1 bay leaf
1⁄4 tsp. kosher salt, plus more to taste
3 medium garlic cloves, peeled and divided
8 oz. smoked trout
3⁄4 cup extra-virgin olive oil
Freshly ground black pepper
Crostini or crudité, for serving
Instructions
Step 1
To a small pot, add the potato, milk, bay leaf, and salt. Smash 2 of the garlic cloves and add them to the pot as well. Set over medium-high heat and cook, stirring occasionally, until the milk just reaches a simmer. Lower the heat to maintain a gentle simmer and cook, stirring occasionally, until the potatoes can be easily broken with a fork, 35-40 minutes.
Step 2
Remove the pot from the heat. Place a fine mesh strainer over a medium bowl. Strain the potatoes and garlic, reserving their cooking liquid. Remove and discard the bay leaf. Transfer the potatoes and cooked garlic to the bowl of a stand mixer fitted with the paddle attachment. Add the smoked trout, then mix on low speed until the potatoes begin to break down. Increase the speed to medium and continue mixing while slowly drizzling in the olive oil. (The fish-and-potato mixture will absorb the oil and begin to take on a fluffy, whipped texture.) When all of the oil has been added, drizzle in ½ cup of the reserved cooking liquid and continue mixing on medium speed until fully incorporated. Finely grate the remaining clove of raw garlic into the bowl, season to taste with additional kosher salt and black pepper, and mix well to combine. Transfer to a small bowl and serve warm or at room temperature, with crostini or crudité on the side. This dip can be stored in an airtight container in the refrigerator for up to 72 hours.