Recipes
Nicaraguan-Style Carne Asada
Bittersweet Seville Oranges lend bright acidity and complex perfume to this Nicaraguan fritanga staple.
Serves

serves 4-6

Cook

10 hours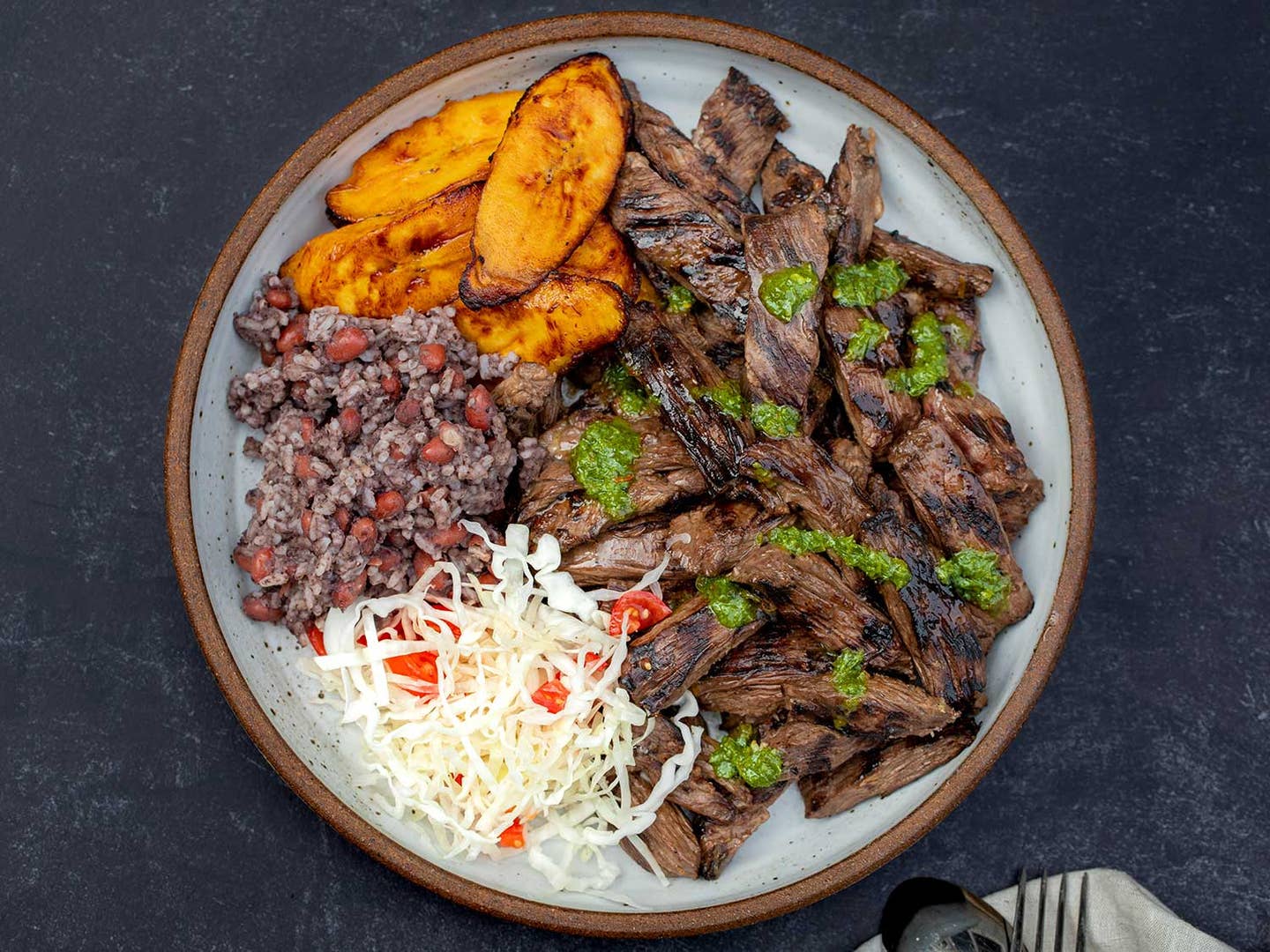 This preparation of carne asada is quite a departure from the grilled beef you might find at a Mexican taco stand. In this Nicaraguan-inspired version, the bitter-sour flavor of Seville orange complements and amplifies the rich, charred meat. Find Seville oranges (also known as sour or bitter oranges) for sale at well-stocked Latin and Caribbean grocery stores, or online from Chef's Collective.
Carne asada is a particularly popular dish at informal Nicaraguan eateries called fritangas, which have also become late-night dining institutions in Miami, home to the largest Nicaraguan community in the United States. Skirt steak—cut from around the diaphragm of the cow, just under the ribs—is the most commonly used cut for this dish, but the marinade is excellent on just about any meat.
At more formal Nicaraguan steakhouses, carne asada is often grilled and plated in large pieces, but at more casual fritangas, the meat is often cut into strips for speedier cooking. When grilling these smaller pieces, be sure to lay the strips on the grill perpendicular to the grates to avoid losing your feast in the fire. Nicaraguan-style carne asada is fantastic on its own, but if you like a little sauce with your meat, drizzle on a few spoonfuls of homemade chimichurri, which Nicaragua claims as its own, as does Argentina.
Ingredients
1 large yellow onion, thinly sliced (3½ cups)
2 tsp. kosher salt
1⁄2 cup Seville orange juice, strained, from 2–4 oranges
1 tsp. beef bouillon powder (optional)
1⁄4 tsp. freshly ground black pepper
3 large garlic cloves, lightly smashed
1 1⁄2 tsp. finely grated Seville orange zest
2 lb. skirt steak, cut crosswise into 1-in. strips
2 Tbsp. vegetable oil
Instructions
Step 1
To a large bowl, add the onion and salt and massage gently with your hands to soften the onion. Add the Seville orange juice, bouillon powder (if using), black pepper, garlic, and orange zest and stir well to combine. Add the steak and use your hands to massage the marinade into the meat. Cover the bowl with plastic wrap and transfer to the fridge to marinate for at least 8 hours and up to 24 hours.
Step 2
Prepare a grill to cook over medium-high heat. Alternatively, heat a grill pan over medium-high heat.
Step 3
In the meantime, use your hands to wipe off any solid onion or garlic pieces from the beef and transfer it to a second large bowl, discarding the marinade. Use a few dry paper towels to pat the meat dry, then add the vegetable oil and toss to evenly coat.
Step 4
Lay the strips of beef onto the grill or grill pan and cook until browned and evenly charred on one side, 2–3 minutes. Use tongs to flip the strips once and continue cooking until the meat reaches your desired doneness, 1–2 minutes for medium rare, or 3–4 minutes for a more traditional medium-well. Transfer to a large plate, tent loosely with foil, and set aside to rest for 5 minutes before serving.