Recipes
Orange- and Herb-Roasted Spatchcock Chicken
Get ready for the juiciest chicken dinner of your life.
Serves

serves 4-6

Cook

1 hour 10 minutes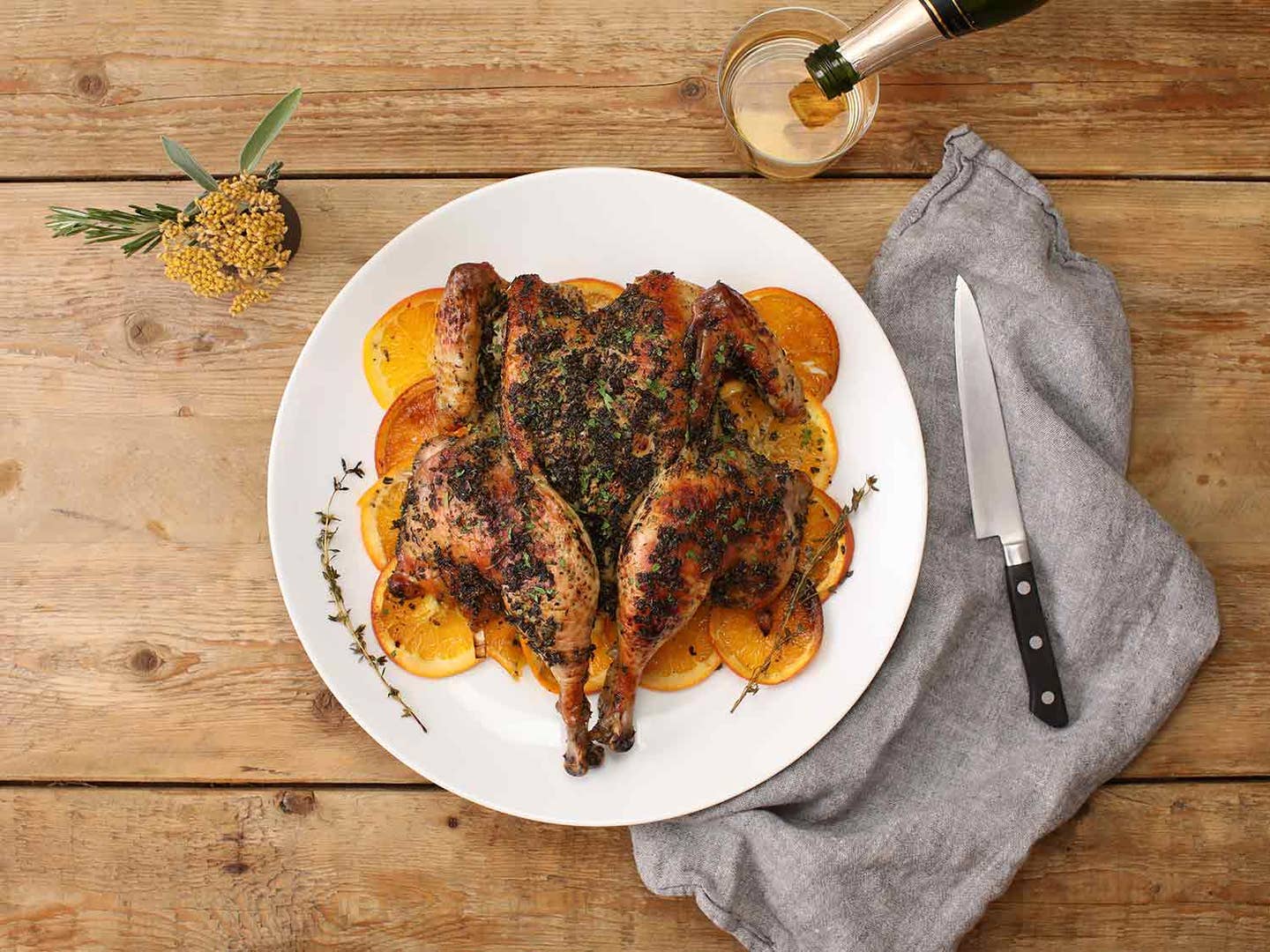 Spatchcocking chicken—removing the bird's backbone in order to flatten the body—allows the meat to roast evenly and quickly, resulting in tender, juicy breast meat, with evenly crisped and golden skin.
Ingredients
For the wet rub
3 Tbsp. packed light brown sugar
1 tsp. finely grated orange zest
2 Tbsp. coarsely chopped fresh sage, plus more for garnish
2 Tbsp. fresh thyme leaves
1 Tbsp. coarsely chopped fresh rosemary
1 garlic clove, minced (1 tsp.)
1 tsp. freshly ground black pepper
1 Tbsp. kosher salt
1⁄4 cup extra-virgin olive oil
1½ tsp. Worcestershire sauce
1 Tbsp. sherry vinegar
For the chicken
6–8 sprigs of fresh thyme
One 3–3¼-lb. chicken, spatchcocked* and pat dry
3 medium oranges (1 lb.), thinly sliced
1 medium yellow onion (9 oz.), halved and sliced ¼-in. thick
2 Tbsp. melted unsalted butter
Instructions
Step 1
Preheat the oven to 450°F.
Step 2
Make the wet rub: In a small bowl, use your fingers to rub the brown sugar and orange zest together to release the fruit's essential oils. Stir in the sage, thyme, rosemary, garlic, salt, and pepper until combined, then add the olive oil, sherry vinegar, and Worcestershire sauce to make a thin paste. Set the wet rub aside.
Step 3
Prepare the chicken: Line a large, rimmed baking sheet with parchment paper. Scatter the thyme sprigs over the paper, then cover with the orange slices. Distribute the onion slices over the oranges, then add the chicken, skin-side down. Brush the bird with roughly ⅓ of the reserved wet rub, then flip the chicken over (so that it is skin-side-up), and brush with the remaining wet rub. Transfer to the oven and roast until the juices are sizzling and the chicken skin is just beginning to brown, 25–30 minutes. Begin basting the chicken with the melted butter every 5 minutes while you continue cooking, until the skin is golden brown and the meat reaches an internal temperature of 160°F, 10–15 minutes more. Remove from the oven. Tent the chicken loosely with aluminum foil, and set aside to rest for 15 minutes before carving.
Step 4
Transfer the roasted chicken, onions, and oranges to a large platter. Garnish with fresh herbs if desired.