Sarah Gray Miller's Croissant Bread Pudding with Bourbon Sauce
The Mississippi-raised editor douses her flakey raisin-and-pecan bread pudding with buttery hard sauce in this grown-up take on a cozy classic.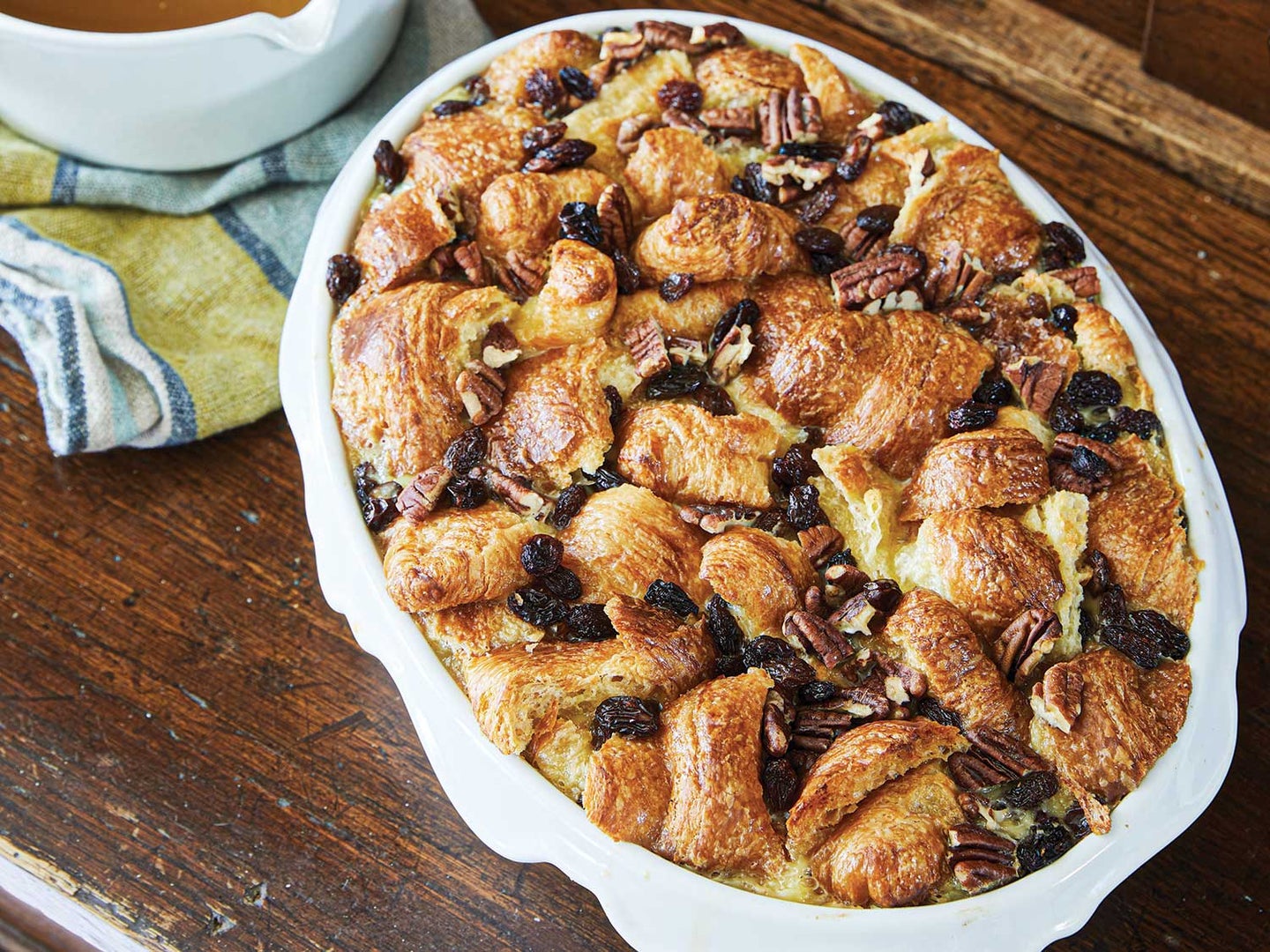 Check out all items from the Saveur 100 »
Bread pudding is meant to be a decadent dessert. Using croissants—and a heavy hand with the heavy cream—doubles down on the extravagance. The good news: This recipe is also ridiculously easy to prepare. Soak the raisins in the bourbon while you assemble the rest of the dish.
Featured in: The 2020 Saveur 100: 21-30
Equipment
Sarah Gray Miller's Croissant Bread Pudding with Bourbon Sauce
Buttery croissants and a healthy glug of Old Charter bourbon are the secret to our Editor-in-Chief's show-stopping bread pudding.
Time: 1 hour, 20 minutes
For the pudding
1 cup raisins
1⁄2 cup bourbon
1 lb. croissants (about 6 medium croissants), split lengthwise
3 large eggs
3⁄4 cup sugar
2½ cups heavy cream
2 Tbsp. vanilla extract
1⁄2 tsp. kosher salt
1⁄2 cup coarsely chopped pecans
For the sauce
1 cup sugar
6 Tbsp. unsalted butter
1⁄2 cup heavy cream
1⁄4 cup reserved bourbon
1 tsp. kosher salt
1 tsp. vanilla extract
Whipped cream or ice cream, for serving
Instructions
Preheat the oven to 375°F. Place the raisins in a small bowl and cover with the bourbon. Set aside to soak. Place the croissants, cut side up, on a baking sheet and toast 8-12 minutes.
Meanwhile, in a large bowl, whisk together the eggs, sugar, cream, vanilla, and salt, and set aside.
After removing the croissants from the oven, lower the heat to 350°. Once the toasted croissants are cool enough to handle, tear them into bite‑size pieces. Drain the raisins, reserving ¼ cup of the bourbon for the sauce.
Cover the bottom of a 10-inch (8-cup) round baking dish or cake pan with half the croissant pieces, then sprinkle with half the raisins and pecans. Repeat with the remaining croissant pieces, raisins, and pecans, then pour the egg mixture over the top. Transfer to the oven and bake, rotating halfway through, until the custard is set and the top is golden, 45-50 minutes.
Meanwhile, make the bourbon sauce: In a small pot over medium heat, combine all the sauce ingredients and bring to a boil, whisking frequently to melt the butter and dissolve the sugar. Immediately remove from heat and set aside.
Drizzle the warm bread pudding with the bourbon sauce, and serve with whipped cream or ice cream, if desired.