Surullitos
Puerto Rico's cheesy cornmeal fritter fingers.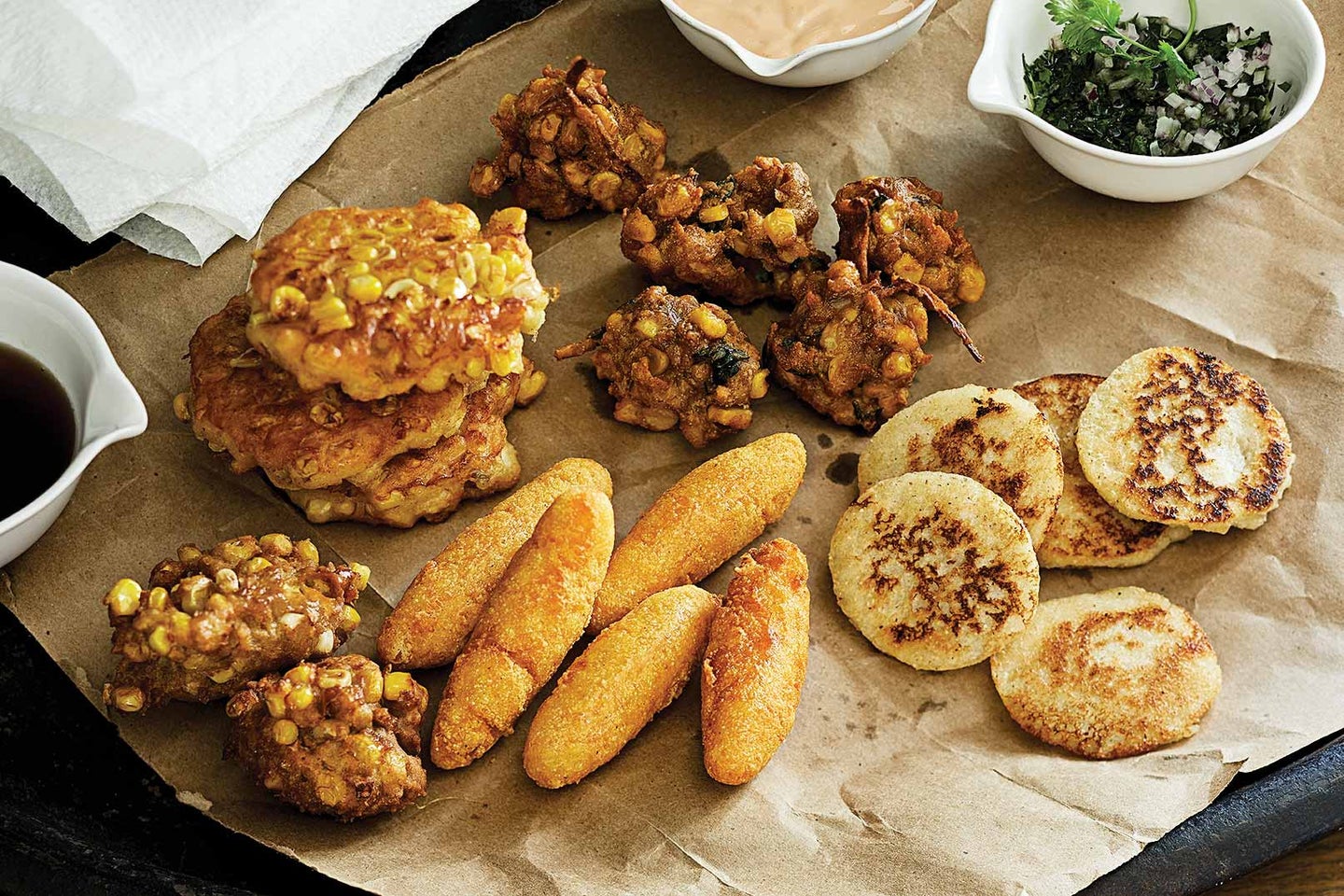 Get the recipes for A) Shane Mitchell's Southern Corn Fritters, B) Romy Gill's Sweet Corn Pakoras, C) Rhode Island Johnnycakes, D) Puerto Rican Surullitos, and E) Perkedel Jagung (Indonesian Corn Fritters) » Maura McEvoy
Check out all items from the Saveur 100 »
Surullitos—cheesy, fried cornmeal sticks—are a popular snack in Puerto Rico. Dunk them with homemade or store-bought mayoketchup.
Featured in: The 2020 Saveur 100: 81-90
Equipment
Surullitos
Puerto Rican surrullitos—cheesy fried cornnmeal sticks—are often slathered in the island's beloved mayo-ketchup sauce.
Time: 1 hour
Ingredients
2 tsp. kosher salt
1⁄2 tsp. sugar
1 1⁄2 cups (8 oz.) fine yellow cornmeal
2 3⁄4 oz. finely shredded edam or young gouda (1 cup)
Corn oil, for frying
Mayoketchup, for serving (optional)
Instructions
Bring 2 cups of water to boil in a medium pot over medium-high heat. Add the salt and sugar, then lower the heat to medium-low and slowly whisk in the cornmeal. Cook, whisking constantly, until the water is absorbed and a stiff dough pulls away from the sides of the pot, 1-2 minutes. Remove from the heat, switch out the whisk for a wooden spoon or silicone spatula, then add the cheese and continue mixing until completely incorporated. Transfer the mixture to a large bowl and set aside at room temperature until cool enough to handle, or cover tightly with plastic wrap and refrigerate overnight.
When you are ready to fry the surullitos, fit a medium, heavy bottomed pot with a deep-fry thermometer and add enough oil to reach a depth of 1½ inches. Cook, over medium-high heat, until oil reaches 350°F.
Meanwhile, divide the dough into 25 equal pieces (a scant 1 ounce each). With wet hands, roll each piece into a 2½- by ¾-inch log.
Carefully slide the surrilitos into the hot oil, one at a time. (Avoid crowding the pot.) Fry in batches, stirring occasionally, until crispy and golden, 3-4 minutes. Using a slotted spoon, transfer surullitos to a paper-towel-lined baking sheet to drain. Serve hot, with mayoketchup on the side, if desired.