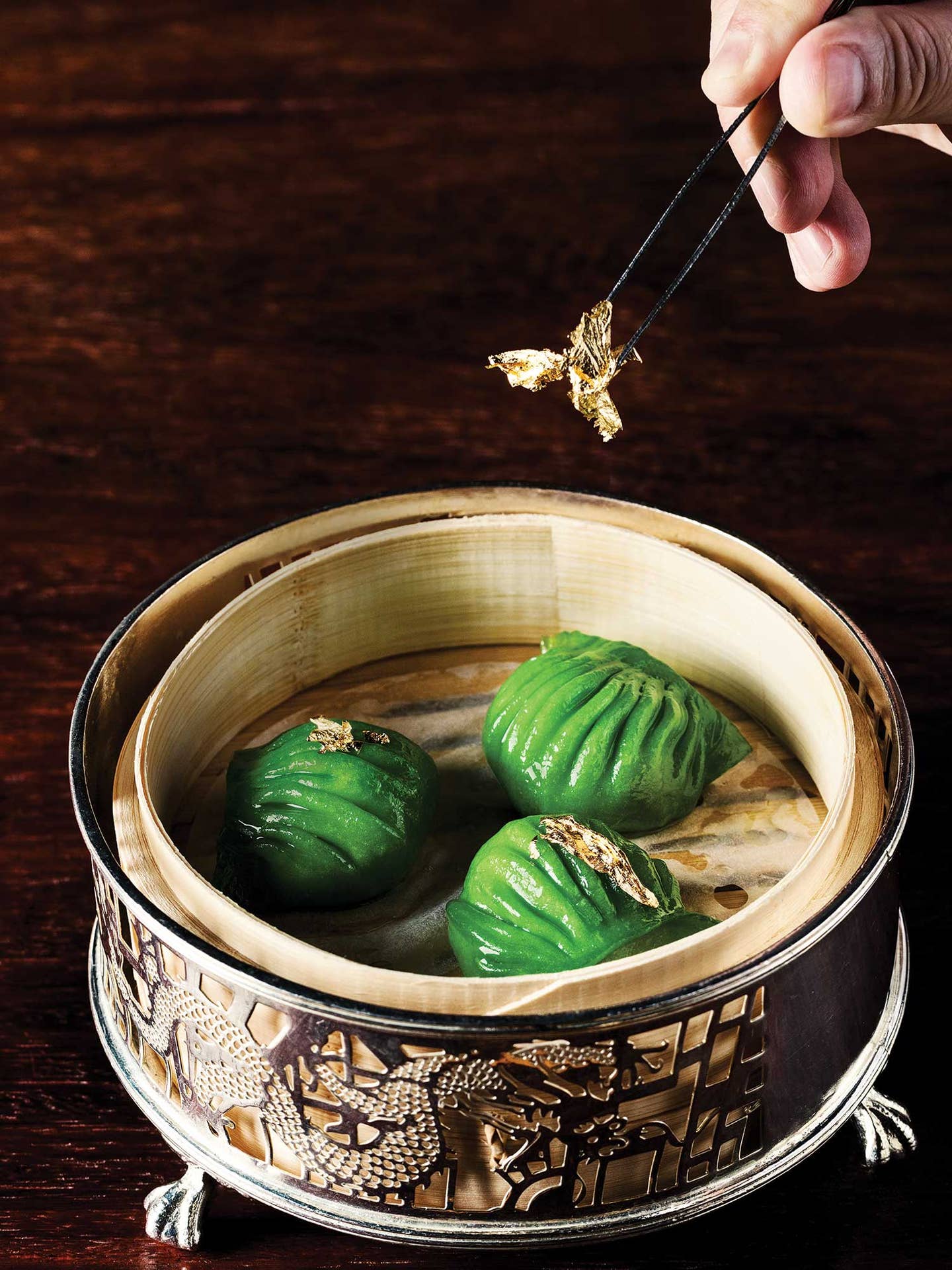 Travel
Macau Is Home to a Cuisine Found Nowhere Else On Earth
In this gambling mecca on the southern coast of China, the food is a singular mash-up of Portuguese and Chinese influences
It appeared at first that I had arrived in Macau by time machine. The hotel's name, Morpheus, seemed picked to evoke either Greek mythology or The Matrix, but the exterior of the $1.1 billion building makes it clear the proprietors had chosen science fiction. Designed by the late Iraqi-British architect Zaha Hadid, it looks as though a black block of liquid metal had three holes melted through it before it was wrapped in a fishnet exoskeleton. It's even more difficult to describe the avant-garde dream space once you've stepped inside the lobby. Imagine a glass church built from fractals expanding skyward in chaotic harmony. It's a bit like the city itself: ostentatious and awe-inspiring, a place that can bankroll wild ambition.
A tiny peninsula across the Pearl River Estuary from Hong Kong, Macau was a Portuguese colony for nearly five centuries. Twenty years ago, the city reverted to Chinese rule, and construction cranes quickly crowded its skyline. Gambling—thanks in part to American corporations such as Wynn Resorts and the Las Vegas Sands Corporation—boomed so unfathomably fast, it now makes Las Vegas seem like the nickel slots. The only territory under the Chinese flag with legalized gambling, Macau now brings in seven times more gaming revenue than Vegas. And so, new casino resorts keep shoehorning in; Morpheus is barely a year old, and it's not even Macau's newest hotel.
With only 12 square miles of land, virtually all of it developed, there's no room for local farms for livestock or produce. Like the trading post it was during its 442 years of Portuguese colonial rule, Macau today is a crossroads where cooking traditions from all corners of the globe converge. Like much of traditional Macanese cooking—a hybrid of Portuguese and Chinese, with sprinklings of Indian, Malay, and East African—Macau is a stew of influences, a place that looks like Europe and sounds like China. But everything here is flown in internationally or trucked from mainland China, and any dish from any cuisine could magically appear before you—provided you have the means.
These days, the greatest demand is for high-roller Chinese food. On the second floor of Morpheus, the Cantonese restaurant Jade Dragon is a kaleidoscope of gold, silver, and crystal, all undulating walls and 12-foot-wide chandeliers. Thumbing through the menu, the existence of a $1,850 fish maw made me shudder at the items marked "market price." But in Macau, a restaurant like Jade Dragon is not an exception but increasingly the rule. The restaurant was awarded its third Michelin star in December 2018, which automatically warrants a reservation among a certain set of wealthy Chinese visitors. Macau, a city with a population equal to Louisville, Kentucky, has eight restaurants with two or more Michelin stars—more than Chicago or Los Angeles. Cooks who swing for the fences have a receptive audience here.
Kelvin Au Yeung, the 39-year-old chef at Jade Dragon, took me back to his spotless glass-wrapped kitchen. He showed off a brick oven more suited to a Naples pizzeria, where a row of glistening barbecue pork char siu hung, glowing in the flames of lychee wood. While other Cantonese siu mei chefs might use pork loin, Au Yeung uses the marbled pork collars from acorn-fed Spanish Iberico pigs. What emerged from the lychee wood embers, my very first bite after arriving in Macau, was a sweet, crusty, luscious piece of pork char siu good enough to make my eyeballs roll toward the back of my skull and ruin all other Cantonese barbecue for me forever.
Around the corner from the Cartier and Prada billboards, the water-and-light shows, and faux Venetian canals is a sweltering Macau with a soundtrack of Cantonese, honking horns, and air-conditioner hums.
At the entrance of one alley was an orange sign advertising Riquexo, a restaurant that serves homestyle Macanese cooking from the ground floor of an apartment complex. It is not Portuguese or Chinese cooking, or even a straightforward fusion, but a singular cuisine formed over five centuries that uses Portuguese ingredients (olive oil, chouriço) alongside Cantonese (soy sauce, ginger, lap cheung sausage), and marries the two with flavors that have their roots in Portugal's historical link to the spice trade.
With the notable exception of Fat Rice, the James Beard Award–winning Chicago restaurant, Macanese cooking is rarely found in restaurants, even in Macau—it is a culinary tradition of the home cook, kept alive by the precious few ethnic Macanese living here today. One of the last places to find it is Riquexo. Inside, an elderly woman named Dona Aida de Jesus sat by the cashier, sipping the murky broth of a lotus-root soup. At 103 years old, she's at the restaurant most days as both an ambassador and for quality control.
All around de Jesus were black-and-white photographs from the Macau of yore. She spoke in a whisper, in short declarative sentences. I told her I came halfway across the world to meet her. She flashed a wide smile and asked a server to bring me a bowl of what she was eating.
"Macanese food isn't like French cooking, which is pleasing to the eye," said De Jesus' daughter Sonia Palmer, who owns Riquexo with her husband. "It's very down-to-earth." On the top of my food list was minchi—every family has its take, but it is universally a humble minced-meat hash with crispy potatoes, sometimes with a fried egg on top, and almost always served with rice. The bacalhau à brás was more classically Portuguese, a scramble of salt cod and eggs. And the greatest revelation at Riquexo was galinha à Africana, or African chicken, a local dish of crispy boneless chicken thighs smothered in a sophisticated sauce of coconut milk, garlic, and peanuts. It conjured up the complexity of Oaxacan mole, but made from ingredients that arrived from Mozambique, Goa, Malaysia, and Southern China.
These days, the Chinese population greatly outnumbers the ethnic Macanese and, at least culturally, tends to not veer outside what's familiar. I grew up 40 miles to the east, in Hong Kong, and used to take the hourlong ferry to Macau with my family, yet this was the first time I was tasting most of these dishes.
When I was growing up in Hong Kong, Macau was a Cantonese Key West—a sleepy resort town that took Hong Kong's frenetic pace and slowed it down to half-speed. There were the seaside shanties hung with ropes of fish that were salted and drying the way they had been for centuries. I remember the pastel de nata egg tarts, subtly different from the ones I was used to, with caramelized patches of burnt sugar against the smooth, sunflower-colored tops.
But my most indelible memory of Macau happened at my family dining-room table. The Hong Kong people have a beloved dish called Portuguese chicken, something you would never find in Portugal. But the reference was clear: It came from our Macanese neighbors—baked chicken and rice with a curry–coconut milk sauce. It was just exotic enough for Chinese sensibilities that labeling it "Portuguese" sounded right, and it became the Cantonese equivalent of mac-and-cheese, a comfort food for generations in Hong Kong and abroad. I requested the sweet-and-savory casserole no less than once a week from age 7 through 17.
Before I left Riquexo, I asked where in town served a Portuguese chicken like the one I grew up eating. I was led next door to a place called Associação dos Aposentados, Reformados e Pensionistas de Macau. Better known as APOMAC, it's a senior activities center for pensioners of the Macau government. Inside, you could tell from the hailstorm-like clacking that there was a game of mahjong underway. And then it appeared way in the back: a real-deal restaurant, open to the public, inside a social club for retirees, apparently serving the finest Portuguese chicken in town. APOMAC acts as a link for Macanese in ways greater than its original intention: It helps pensioners fill out paperwork and unearth the taste memories of their childhood.
In the case of Portuguese chicken, it was my childhood too. I last had the dish in high school. Several decades later, it sat before me, in a creamy turmeric-yellow gravy studded with potatoes and bony hunks of chicken. You can tell the story of the Portuguese explorers in that clay pot: Portugal to India, then around the Malay Peninsula to arrive in China. There was a plate holding papo secos, yeasty Portuguese rolls with a crackly crust that begged to be torn apart and sloshed through the curry–coconut milk sauce. I did just that, and one bite of comforting, delicious Portuguese chicken dialed back time.
One night I met up with a former Fat Rice cook named Rich Wang. He grew up in suburban Chicago, earned a law degree, and found himself miserable at his job. He sold a plan to his parents that one day he'd open a fine-dining Taiwanese restaurant in Chicago, but first he needed to walk away from his lucrative law career and learn to cook. Macau, a rapidly growing playground of immense wealth, beckoned.
Wang works at one of the largest casino resorts, at a luxury Chinese restaurant striving for Michelin stars. He had been in Macau for three months, living like a college student in a shared dorm with Filipino, Nepalese, and Thai cooks. I tagged along with Wang to dinner on his day off. Dona Aida de Jesus's African chicken was five minutes away, as was $285 beef chateaubriand at Joël Robuchon's place, but our destination was his favorite hole-in-the-wall Chinese restaurant, Fei Chai Man.
"Macau is, oddly, very open to outsiders like myself," Wang said. "For a Chinese city, definitely. Because they need people like us." By "us," Wang meant workers who'd arrived to Macau with certain skills, English speakers preferably, and could cater to big spenders.
A simple plate of noodles arrived at our table. They were topped with a layer of shrimp roe from the brackish waters of the nearby Pearl River Delta. Locals say the shrimp roe here are brinier and more intense, and indeed, these noodles bore magnificent pungency, something like blue cheese from the sea. Wang ordered another local Chinese-Macau favorite, water crab congee, a thin, light-colored rice porridge with a bright-orange crustacean shell lurking beneath the surface.
"You'll see that in Macau, there is no limit," Wang said. "The prices they are charging here would not work for people in New York City or Paris. There are places that use A-5 wagyu in a stir-fry. I mean, who does that?"
The next morning, a deluge of rain seemed to affect everyday life not one bit. It certainly didn't keep drenched customers from patronizing a covered stall called Sun Sin It Lat—"Fresh and Hot"—where a mountain of fried chicken was piled high next to rows of lotus-leaf-wrapped sticky rice, pork chop buns, and stacks of dumpling-filled bamboo steamers. Both styles of egg tarts were on offer: the Hong Kong style with glossy canary-yellow tops, and the Macau version, closer to Lisbon's, with a flakier crust and tops pockmarked with caramelization.
The Macau pork chop bun is just that: a slab of fried pork chop nestled in a roll. The innovation at work is sandwiching the pork chop inside a pineapple bun, the much-loved Cantonese breakfast pastry. (No pineapples are involved—it's named for the diamond pattern crowning the buns.) It's a Macau specialty that's both cliché tourist food and something locals actually eat. If you can appreciate the novelty of a doughnut burger or a McGriddle, the appeal of the pineapple bun pork chop sandwich is evident: meat meets sugar, fried meets baked, and crisp meets pillowy, a contrast upon contrast in hand-held form.
A few blocks away at Sun Hong Fat—a Cantonese-style cha chaan teng, a casual diner-style restaurant with a split Chinese and Western menu—the pineapple bun pork chop sandwich was made even richer, with cheese and an omelet also packed between the bread. Just as over-the-top was Sun Hong Fat's take on French toast, stacked and fried to the height of a Kleenex box, the bread pieces held together with a layer of peanut butter. At a diner like this, you might find hints of the colonial past—maybe the spiced Portuguese sardine bun, quite simply two canned sardine fillets on a toasted bun. But most people living in Macau have Cantonese ancestry, and it's a safe bet most have never heard of minchi or bacalhau à brás. They're certainly not regularly ordering the prix-fixe menu at the casinos. In some sense, Macau could be a satellite neighborhood of Hong Kong. So, it's not incorrect to say that for the majority of people who live here, casual Chinese—stir-fried beef noodles, macaroni and ham soup, wonton noodles with beef brisket—is the true food of Macau.
What doesn't exist in Hong Kong, however, is the type of elevated Macanese food served at La Famiglia, in the village of Taipa. Its chef, Florita Alves, calls Riquexo's Dona Aide de Jesus her hero. Alves, third-generation Macanese, only pursued cooking professionally after her retirement from a 30-year career monitoring Macau's central bank. One of her sons was a partner in a struggling Portuguese-Italian restaurant, and Alves had earned enough renown as an interpreter of Macanese cuisine to do monthlong guest-chef stints at the Four Seasons. And so La Famiglia was reborn as a Macanese restaurant last year with Alves and her husband, Vitor, at the helm.
As a steady lunch crowd filled the restaurant downstairs, Alves brought me to her third-floor private dining room and gave me a crash course on the home-cooked dishes of her youth. Alves's take on minchi had pork marinated with three soy sauces, pan-fried in olive oil—a Portuguese touch—cooked to caramelized crispness, then served on shoestring and cubed potatoes, and topped with a sunny-side-up egg. There was tacho—a generous winter stew of chicken, cabbage, salted duck leg, Chinese lap cheung sausage, jiggly hunks of pork knuckle, skin, and beef brisket. The broth tasted of its color, gold. Roasted chicken, deeply marinated in a garlic-and-pimento rub, had been perched upon a bed of Moorish-style rice with sultanas, hard-boiled eggs, and crispy shallots. But her pièce de résistance was the capela ("chapel" in Portuguese), a meatloaf meant to resemble—if you squint your eyes—the top of a church dome. It was a combination of pork, chouriço sausage, olives, bread, and character," said Alves as we dug into serradura, a local cream dessert topped with crumbled cookies meant to resemble sawdust. "When the people lose their identity and culture, they are empty, like a body with no soul." Money means convenience, and in Macau, virtually any food is one phone call away—sushi, pad thai, burgers, pastas, anything.
But the story of Macau has always been about money, and how it changes a place. The Portuguese were not motivated by altruism when they came here to trade. And though the city is far from the worst of the ills colonialism has brought into the world—no major settlement existed here until the Portuguese arrived—its political history is still marked by coercion, and it was an important node in an unjust system for centuries.
For a time, the flows of capital and power meant it was a town where Macanese, Portuguese, Chinese, and outsiders could coexist in shared prosperity, a place to raise children and where a home-cooking culture could flourish—but one ruled by a tiny European country halfway around the world.
Most recently, money has created a place where casino restaurants can charge four figures for a single serving of abalone and, for at least a little while longer, kitchens like that at La Famiglia can serve a cuisine that could come from no place else on Earth.