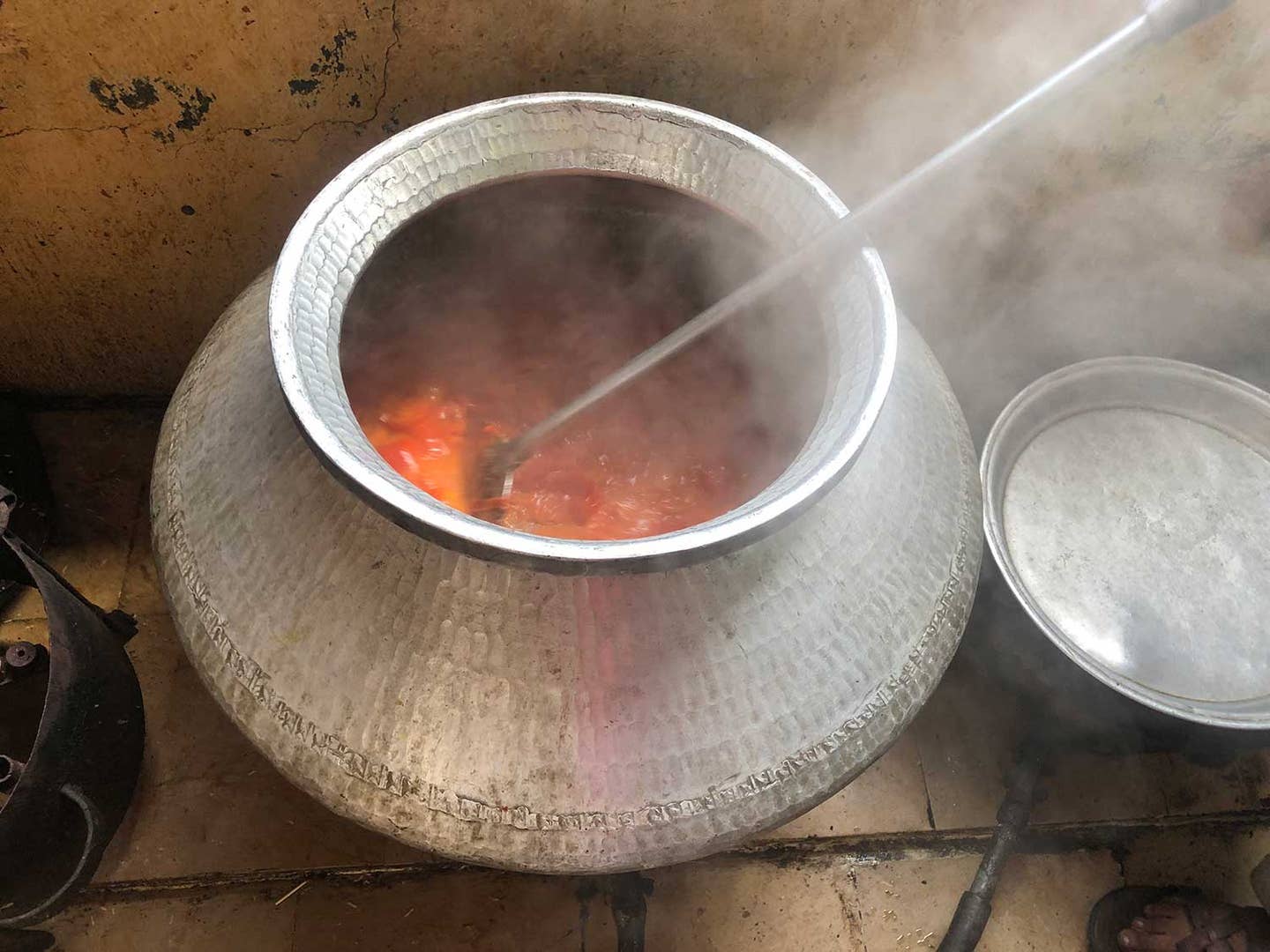 Travel
In Karachi, a Biryani for Hundreds to Celebrate the Full Moon
How one priest churns out cauldrons of food for Purnima, an auspicious day in the Hindu faith
On a searingly hot summer afternoon in Karachi, Pakistan, Pandit Arjun Maharaj stood in a tiny, crowded kitchen and added chopped tomatoes into a cauldron. The tomatoes sizzled as they began to meld with the oil. Maharaj was cooking biryani for 200 people—or as many as God had told him would show up that evening.
Maharaj, 32, serves the Sri Laxmi Narayan temple in Karachi, Pakistan, and every month, he and two helpers cook up a feast at the Hindu temple for the purnima service to mark the full moon. In Hinduism, several key celebrations are linked to the full moon. Priests at Hindu temples prepare prasad, which is food that is made in the service of God and then distributed to worshippers.
This temple is unlike others in Karachi: it's the only one that looks out onto the sea, so it serves as a site for religious rituals around water, and the only one where you can see the full moon over this city of 15 million people. A set of steps leads down to the creek that opens out into the ocean, and everywhere, someone is feasting or feeding: crows flying to bowls of birdseed and water set out on the walls; people pouring offerings made in God's name, and for the fulfilment of wishes and prayers, into the sea; and women looking for the last remnants of biryani outside the temple kitchen. Hindus are a minority in Karachi, and this is one of the few major temples where larger prayer services are conducted. According to Maharaj, it has the largest statue of the goddess Lakshmi, and the water around the temple wields a special strength.
"If people do a Qur'an recitation service in their home, they take water from here, from the sea," says Maharaj. "If someone becomes impure, he is restless. Bathing in the sea takes away the impurity."
I was there to watch Maharaj cook, as he set about making vegetable biryani, chana dal mixed with spinach, as well as semolina halwa, which called for five kilos of semolina, and as much sugar and ghee. Temple bells chimed outside, heralding people entering the inner sanctums of the temple, while Maharaj stood guard over the cauldrons, stirring with a long-handled ladle. Sacks of rice were propped up against the wall. There were baskets and bowls and buckets of ingredients everywhere: fenugreek, to add flavor and fragrance to the food; rice soaking for the biryani. Daya Ram, one of his teenage helpers, sat outside, peeling potatoes to add to the biryani.
Making food to distribute is a mainstay of religious rituals in the Indian subcontinent. "It became a very integral part of activities. It's a part of celebrations across all of the religions—food was an integral part of the customs, of the celebrations," says Varud Gupta, the co-author of Bhagwaan Ke Pakwaan (Food of the Gods), a book on culinary rituals at religious sites in India, including the Jagannath temple in Odisha, which serves up to 10,000 people every day.
The purnima service fell during a searing heatwave in Karachi, when the thought of being in a hot kitchen is challenging enough, let alone having to cook for two days straight as Maharaj had that week. The temple's tiny, grimy kitchen is ventilated by a large, noisy pedestal fan that Maharaj turns on when the oppressive heat gets to him. Beyond the kitchen window, you can see the creek, and bridges, one of which predates India's independence from British colonial rule in 1947 and the creation of Pakistan.
Maharaj was born in Tharparkar, a district of the outlying Sindh province that borders India. He came with his father to serve at this temple in Karachi when he was 15 or 16 years old, he says. He wasn't trained to cook. Maharaj's wife knew how to cook, and in his earlier years he'd call up a couple of people to cook for the prayer services.
At temples, priests do double duty as cooks but don't see themselves as chefs. At Jagannath, Gupta says, preparing food isn't seen as a job, but as a form of worship and a sign of devotion to an individual life. Even though it might seem far more convenient to have the food catered, this isn't an option for the temple. For one, Maharaj says, food for religious services is usually made on site. Secondly, the food has to be vegetarian, and ordering out carries the risk of contamination with oil or utensils used to cook meat. They had a bad experience once, when someone specified potatoes and peas to be used in the biryani to a caterer, and mutton biryani arrived instead.
Maharaj has to deliver on a few fronts: quantity, quantity, and popularity—which is why biryani is a fixture. He also eschews onion and garlic, as part of his religious teachings. According to Maharaj, onions are considered a vegetable that generates heat, while garlic gives a bad mouth odor. (Jain Hindus also do not use onion and garlic.) Instead of relying on those aromatics for curries, Maharaj depends on the vegetables and spices to bring out the flavor. He uses a liberal amount of curry leaf, which he points out that people often omit to save themselves the trouble of picking it out later.
Maharaj lifts the lids of the cauldrons to check on the tomatoes, and then calls out to Daya to bring him the daal, the chopped up spinach, and the potatoes.
"The thing about food is that when it is ready it tells you," Maharaj says, somewhat obtusely. I ask him to explain. "Like we've put this biryani on, and I will add the boiled rice to it. Even if I go away for a bit, the biryani will say to me, 'I'm ready; take me off the flame.' It is a feat of nature. Even I can't understand it."
Maharaj notes how a purnima service has special significance—it is a day when people hope for their prayers to come true. His food has to match up to the occasion.
"It is my principle, that whatever we make, we do it well, and we also use good-quality rice," Maharaj says. "We could put broken rice, people wouldn't know. We can lie to people, but we cannot lie to our creator."
When I left the temple, Maharaj was taking a breather while waiting for the dal and spinach to cook. In another hour or so, more people would arrive for the rites and prayer, and then the inevitable chaos of distributing rice and halwa would begin. "From any shrine, temple, church—people should get prasad from there so that their stomach is also nourished," Maharaj says. "How can the body thrive if it has no sustenance?" The answer to that is in the cauldron.
Saba Imtiaz is a freelance journalist and author currently based in Karachi, Pakistan.