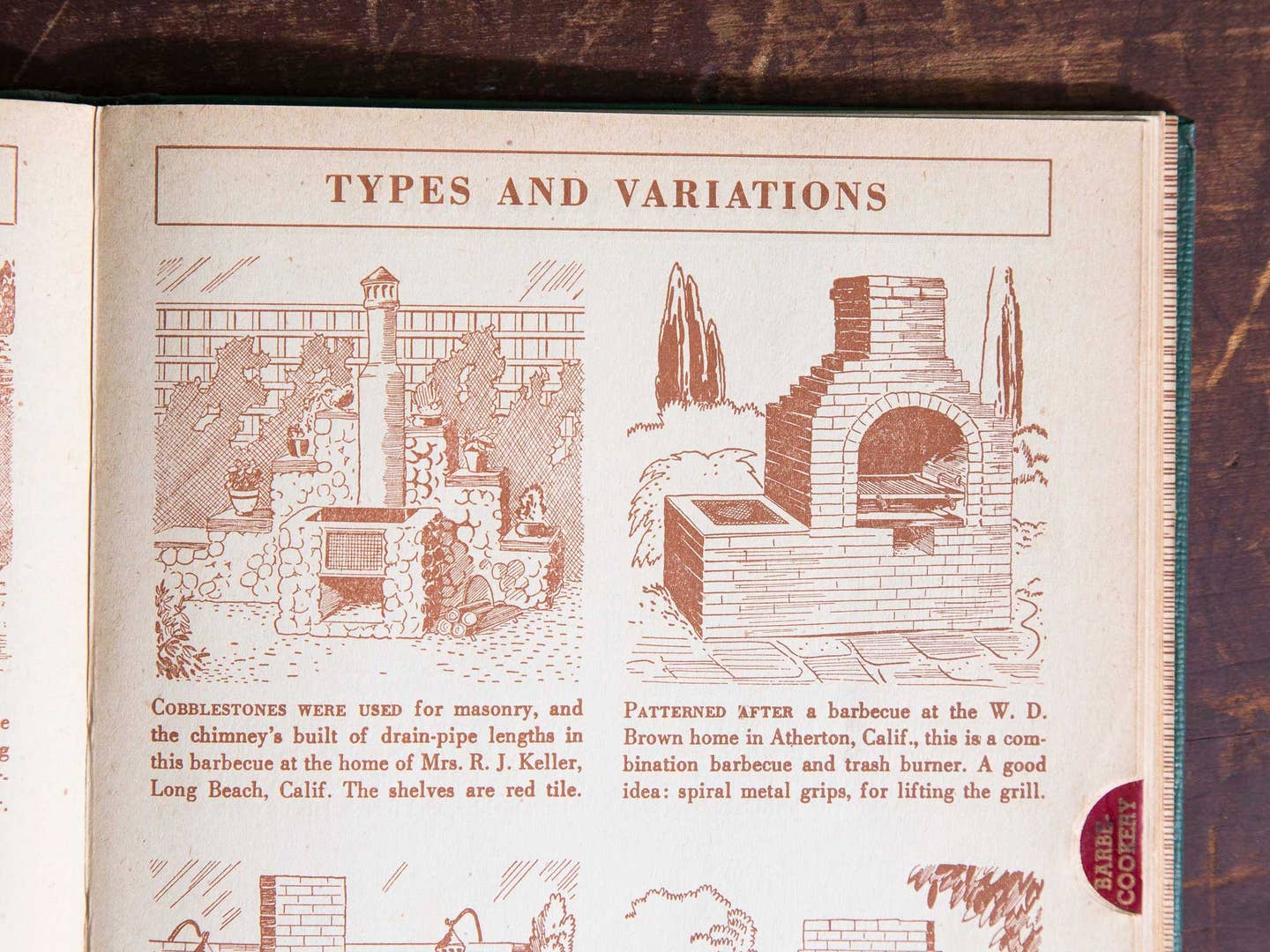 Culture
Pore Over the Meticulous Diagrams in the Original Barbecue Cookbook
Sunset's Barbecue Cookbook, published back in 1938, didn't cut any corners
There's no shortage of grilling cookbooks these days. Just a quick search in Amazon turns up a list of 100 books—and that's only their "best sellers." But one you won't find on Amazon is what just may be the very first grilling cookbook, entitled Sunset's Barbecue Book. In the first edition of our new cookbook column, bookworm Russ Parsons makes the case for why this unsung book remains one of the most essential texts in the genre. And if that's not enough, he points out that "you could use the [real wood] cover for kindling."
The book, printed in 1938, was designed as a comprehensive guide to grilling. Says the foreword: "Sunset's Barbecue Book is planned to help every barbecue enthusiast, whether he's a died-in-the-wool veteran or a neophyte." It does so not just with written instructions, but gorgeously detailed diagrams and blueprints for everything from tending a fire to building a whole fire pit.
It starts with a detailed guide on how to scope out a location for your barbecue. Do you want it built into your house wall? Or would you rather have it sit by itself in a garden? And once you make that decision, what kind of grill should you spring for? A pit? One with a u-shaped masonry wall?
Once you get those little details nailed down, Sunset goes on to tell you exactly which materials you need, and how to lay them out to build the grill of your dreams. One of the best diagrams in the book shows how to install various metalwork no your grill foundation.
So the next step is the plan for the entire grill. There are 14 drawings that show you precise measurements for your homemade barbecue. If you want to mix and match, the next section describes types and variations, apparently inspired by actual barbecues found across the U.S.
Have you thought about what you would sit on after working up a masonry-induced sweat? This book has. It provides specifications for a picnic table and a barbecue wagon.
The last step in setting up your barbecue is picking out the necessary accessories. Sunset lists a cart for wood, asbestos gloves, long forks, and a creative barbecue couch made from a discarded car seat.
But you're far from done, even after all that initial work. The book acknowledges that perhaps you may be getting a feeling of grilling dread, instilled in you by various "barbecue authorities," and offers some reassurance: "Take heart, Western comrades! Don't let the self-styled experts get you down. Just remember this one comforting truth: Cooking is cooking, be it over a campfire in the mountains, over your kitchen range, or over your brand new beautiful barbecue."
Sunset concludes with some general cooking advice (such as how to start the fire and what plates you should use), then moves on to a list of "barbecue menus," such as "Sunday Barbecue Breakfasts" consisting of chilled melon wedges, grilled ham, fried eggs, hot coffee cake, and donuts. It shows you how to make a "Camp Kabob," describes the necessary steps to get the best venison hamburger, and encourages the particularly intrepid chef to try barbecued oysters. If you're having a party, that's covered too—no endeavor is too big for this book to cover.