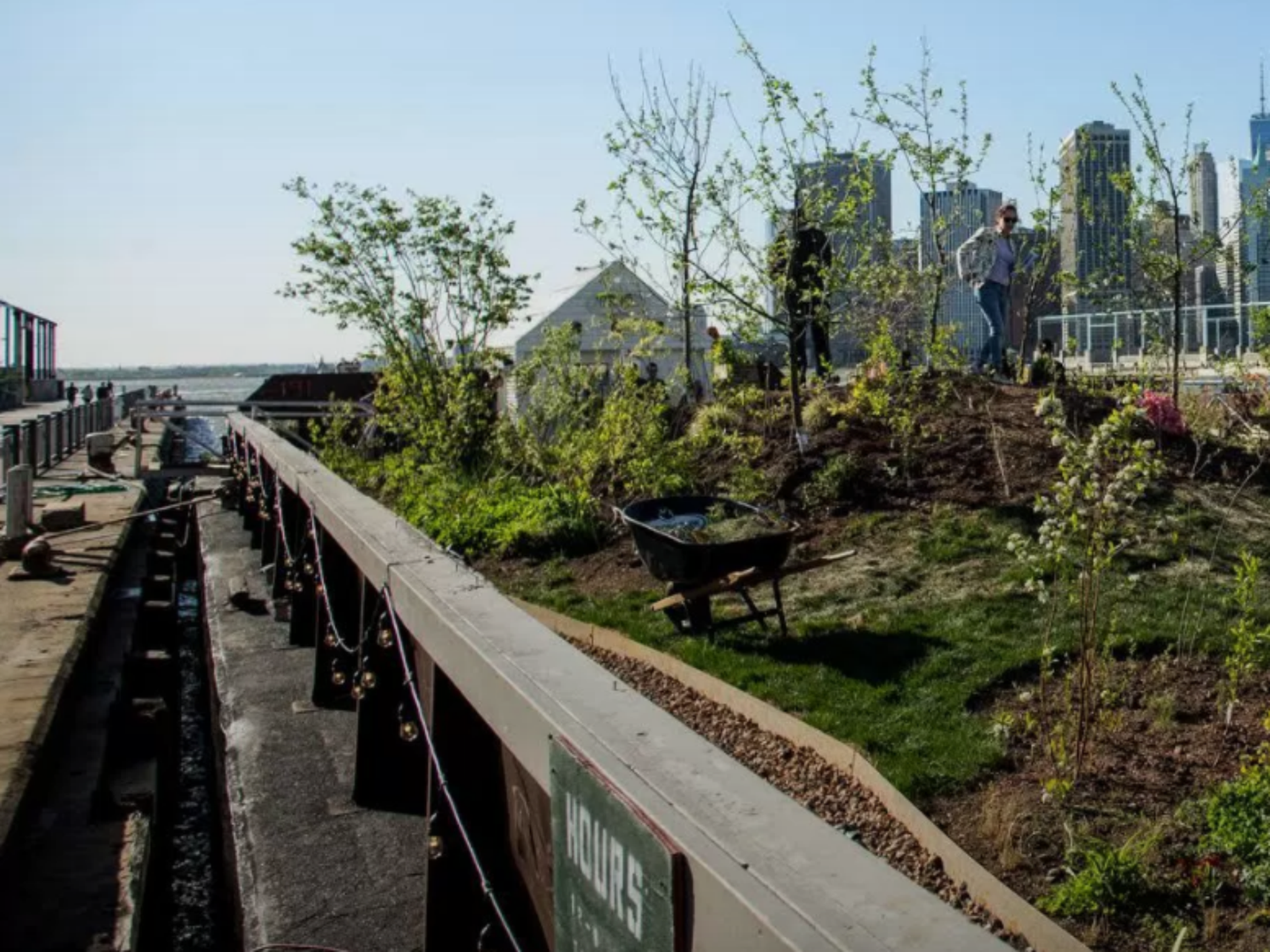 Culture
This Barge is Fighting Food Deserts With a Floating Forest
Bronx-based garden-barge Swale offers hope for city-dwelling foragers
A Bronx artist has launched a project to help urbanites think about the food in their backyards—and it floats.
Ever wonder why you can't go apple picking in Central Park? Or grab some thyme or fresh basil in Washington Square? The answer: in New York City, foraging and growing food in public parks is outlawed by the Parks department. Artist Mary Mattingly is trying to change that mindset, as The Verge reports on her river-faring project, Swale, a floating food forest built on a barge
Mattingly's dream was to make an art project that would shed light on the dearth of farming and foraging opportunities available to city-dwellers. According to Swale's website, the group is aiming to "shift policies that will increase the presence of edible perennial landscapes" with their free agricultural space. Open to the public, and making stops in piers all over the city, this massive floating garden welcomes New Yorkers aboard to pick and forage for fresh food they might not otherwise be able to get in the grocery store. Although though Swale receives funding from the Parks department, the group circumvents their no-foraging law by lazily floating along both the Bronx River and the East River—since foraging isn't illegal on the water.
However, Swale knows that a floating fleet of forests can't be a practical, long-term fix to New York's dual problems of food deserts—regions without access to fresh produce—and lack or urban agriculture. "We don't see this as a solution," Lindsey Grothkopp, Swale's external affairs handler, tells The Verge. "As an art project, it's here to just propose new models and new ideas."
And yet—powered by solar panels and complete with its very own water filtration and desalination systems, Swale is totally self-sustaining. Mattingly hopes that the Parks Department will one day take control of the barge, allowing her to focus on other ways she can promote city-foraging. In fact, Mattingly has recently teamed up with the Parks Department to help open the Bronx's first edible garden in a public park, located steps away from the South Bronx port where Swale is currently docked. But it's not just about New York. Mattingly thinks Swale could be applicable in other cities as well. She told The Verge that many other cities are home to their own host of food desert issues, and that in colder climates, the barge could be modified to be a greenhouse.
So the next time you're taking a stroll along the pier, or jogging down the East River Greenway, keep an eye out for a small forest floating down the river.