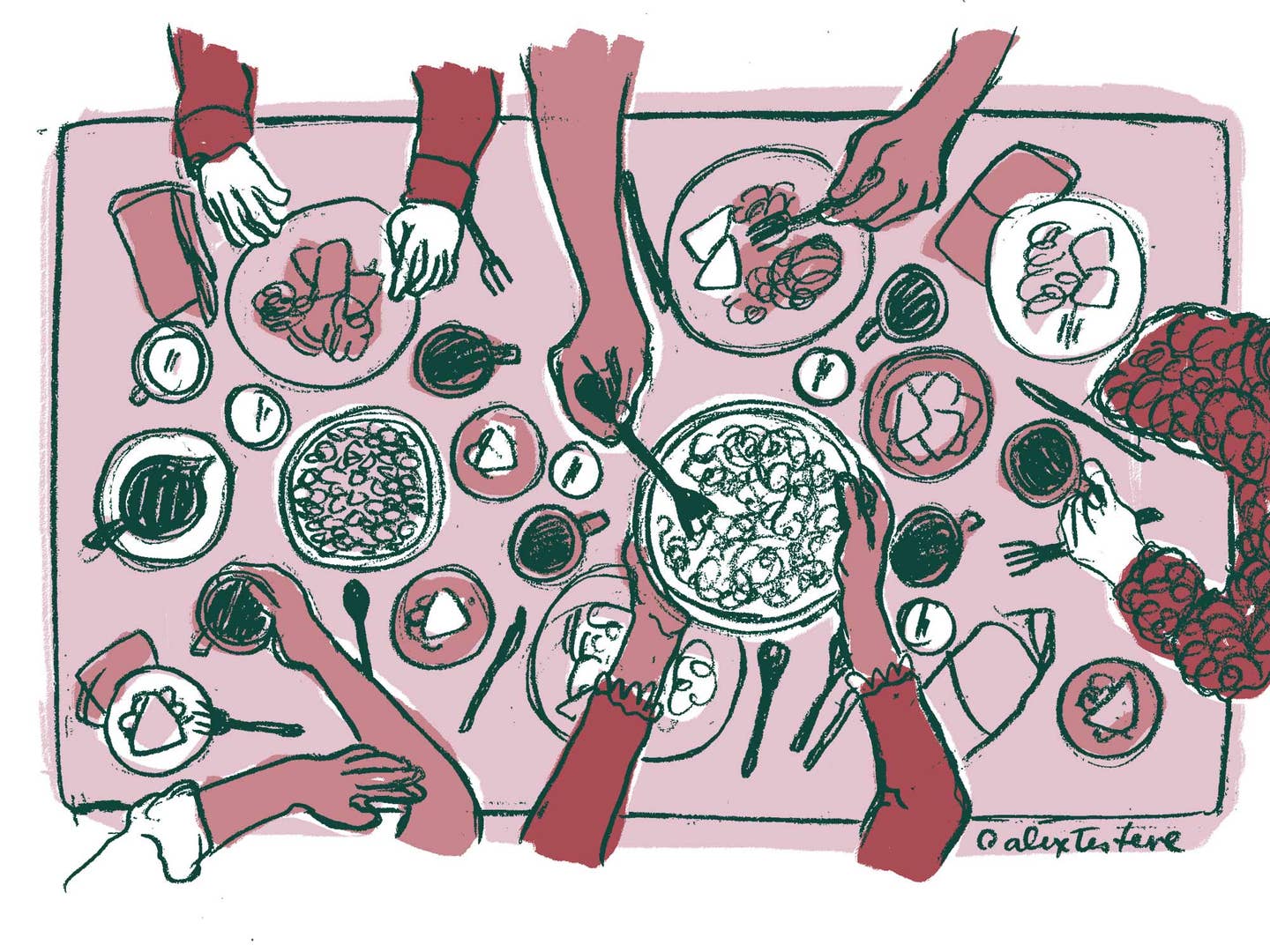 Culture
One Year Later, Canada's Syrian Refugee Welcoming Committee is Cooking Up a Storm
When the Canadian government accepted 25,000 refugees into the country, community groups paired arriving families with domestic hosts to show them the ropes. Here's how one pair of families came together over pita and shawarma
Zoe and Jeff don't drink coffee. But the newly arrived Syrian family they'd volunteered to help had invited them into their apartment. Prepared in the Syrian way, the coffee was wickedly strong. In those early days, the language barrier was formidable and so, not wanting to offend, they drank the coffee. That was one year ago. With the exception of visits to Sara and Amjad Wassouf's house, they still don't drink coffee.
In September of 2015, the image of a lifeless three-year-old Alan Kurdi on a Turkish beach shook something in our collective humanity. His family had reportedly been trying to make their way to Canada. Within weeks, the Government of Canada committed to welcoming 25,000 Syrian refugees. Community organizations throughout the country sprang into action. Wanting to do something to help, Zoe and Jeff signed up for their local multicultural association's family-matching program.
Their duty was simple: Help these newcomers adjust to life in Canada, mountains of snow and all. They'd been told they might need to show them things as basic as how to operate a stove. "But these weren't refugees who'd lived their whole lives in refugee camps," says Zoe. "The Wassoufs and other Syrian families were middle-class people living normal lives. Until the war. They obviously knew how to turn on a stove and cook food."
In addition to not being coffee lovers, Zoe and Jeff aren't food fanatics. Jeff is into sports. Zoe is into gardening. But food has become a critical way for the two families to bridge their cultural gaps. Just a week after the families met, Sara and Amjad invited Zoe, Jeff, and their two girls over for dinner.
"We felt weird about it because we didn't know them very well, and here they are refugees!" Zoe says, recognizing the difficulty of juggling between giving and receiving hospitality when your own life hasn't been literally blown apart. "We're supposed to be helping them, and now they're going to feed us. Even though they clearly didn't have much food at that point, they made us a rice dish with canned green peas. It was so delicious. It was flavored so nicely."
Since that first meal, the Wassoufs have given Zoe and Jeff a crash course in Syrian cuisine. Of particular note is Sara's harak osba'o, a Damascus-style lentil stew with noodles and loads of garlic. Amjad's shawarma is also a crowd pleaser. Though Zoe and Jeff make a concerted effort to keep the pressure off the Wassoufs and not show up during mealtimes, they are inevitably subjected to the beautiful Syrian tendency of feeding your guests at all hours of the day.
At the very least, the spread involves chopped cucumbers and tomatoes, hummus with olive oil, yogurt with olive oil, and pitas. Then there are usually olives, cheese, pickles, or some sort of open omelette. Learning to do without plates and to use the pita as a utensil took their two young girls some time. But now this communal way of eating, of reaching across the table, of interacting with the food as well as everyone's hands, has become as much a part of their Canadian ways as eating ketchup chips when watching a hockey game.
The food culture exchange has not been a one-way street. Whenever Sara is over, she studies Zoe's recipes with interest and familiarizes herself with foreign ingredients. The three Wassouf children, for their part, are always scrounging for money from their parents so they can buy the bright red North American-style soda from the nearby grocery store. They're obsessed with the stuff.
One year later, the families' language barrier is thinner than ever. They have inside jokes. They talk about their kids, the weather and world affairs. And they continue to share meals together.
"We went into it not really expecting to make friends," Zoe says. "But we did. It's probably one of the best things we've ever done. At first because we could help this family, but now just because we've made these great friends that we never would have met otherwise. It's unfortunate circumstances that brought them here, but I think that they're happy to have met us and we're certainly happy to have met them. Our kids know Arabic words! And we live in Moncton!"
Note: By request of the story subjects during interviews, all names here have been changed.
Patrick Thibeault is part food writer, part farmer groupie. These days, the writing part happens at humanandrecipe.com. He's a proud Canadian now living in the nation's capital area.