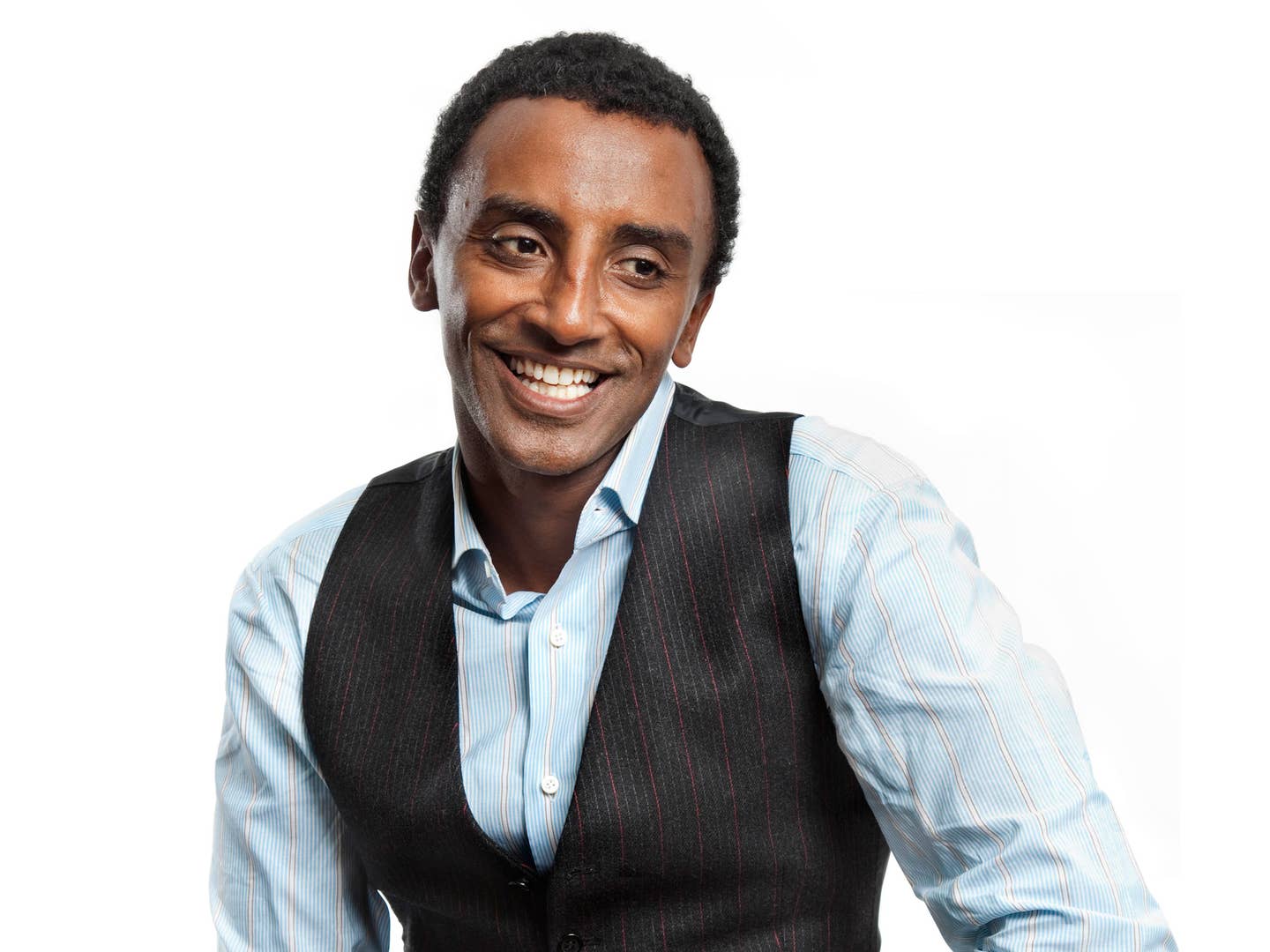 Culture
The Tenth Degree: Marcus Samuelsson
On Daniel Boulud, Sriracha not being so hot anymore, and sneaker collecting
In addition to having the best physical hat collection of any chef we know, Ethiopian-born, Swedish-raised, New York-local Marcus Samuelsson wears at least as many proverbial hats. Chef-owner of restaurants in Sweden and New York, including Red Rooster, Ginny's Supper Club, and Streetbird Rotisserie, Samuelsson is a cookbook and memoir author, slow food advocate, active member of the Harlem community, and just so happens to be the youngest chef ever awarded three stars from the New York Times, for his cooking at Aquavit. He took a breath recently to take the Tenth Degree, speaking thoughtfully about everything from serving Nelson Mandela dinner to sriracha.
What is your favorite sandwich? An oyster po'boy, but I feel like my taste for sandwiches changes based on the place I am in. For example, whenever I am in Barbados I have to have the fish sandwich from Cuz's Fish Stand and when I'm in Bermuda it is the one from Art Mel's.
Your house is on fire and you can only save one thing. What is it and why? I would have to say either my sneaker or cookbook collection. Both are something I've been collecting since I was young and are super important to me.
What book(s) is on your bedside table right now? Right now it is this book called Block Party which is largely a photography book. It has such a great carefree and summer feel and has served as an inspiration to my new spot in Harlem, Streetbird Rotisserie.
You're having a dinner party and can invite three people, dead or alive, and serve them one thing. Who are they, what do you serve, and why? It would have to be my father, my grandmother, and Nelson Mandela. I would likely serve them the meal I made for Obama, because that meal was one of the most important I've made and none of them were able to be there. We would start with potato and eggplant salad with arugula and onion seed vinaigrette and red lentil soup with fresh cheese, and then have roasted potato dumplings with tomato chutney, chick peas and okra, green curry prawns with smoked collard greens and finish the evening with pumpkin pie tart and pear tatin.
What is your greatest fear? I'm always worried about my loved ones. They live so far away and I don't get to spend a lot of time with them so should something happen to them I, like anyone, would be devastated.
What is the most overrated ingredient? Underrated? Overrated: Sriracha. While I do love it and can agree that it has been a huge catalyst in opening up the palate to different kinds of spice, I think there are so many better hot sauces out there. Underrated: less expensive oily fish like mackerel.
You can have any superpower. What is it and why? Daniel Boulud's energy. I have pretty good energy, but his is superhuman for sure.
What's the first thing you learned to cook? Meatballs in my grandmother's kitchen.
What is the best advice you've ever gotten, and from whom? Stay curious, travel, and taste everything. It has been echoed by many people—my parents and a chef I met when I was young and still in culinary school.
What's the last meal you want to eat before you die? I try not to think about it, but I love eating my wife's doro wat.
Want more of The Tenth Degree? Read our Q&A with Jacques Torres here.