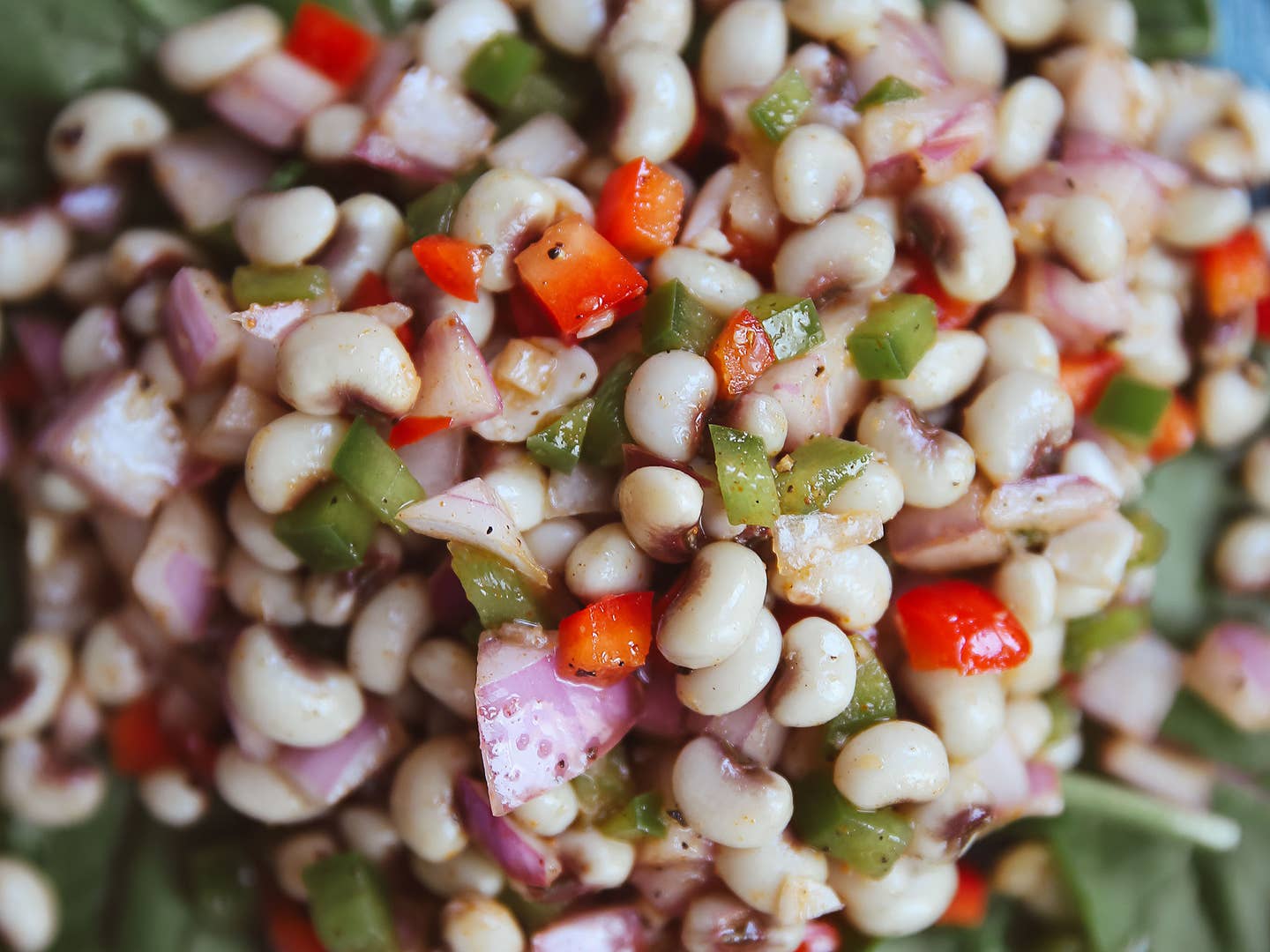 Recipes
Make Texas Caviar for the Perfect Pick-Me-Up Snack
The simple black-eyed pea salad (and sometimes dip) is a munch-able treat any day, any time
Long before my SAVEUR days, I worked a seasonal job at New Canaan Farms, a mom-and-pop jams and jellies kiosk in an Austin mall. In addition to jams and jellies, they sold dip mixes (just add mayonnaise!), salsas, and big ol' jars of black-eyed pea salad called Texas caviar. I'd snack on jars of this stuff out of sheer boredom.
There's nothing appealing about a jar of Texas caviar at first glance, but it really is the perfect snack. The black-eyed peas are mixed in with bell pepper, onion, vinegar, and spices, and you serve it cold, either as a side salad or as a dip with some tortilla chips. I brought jars home to share with my folks, telling them that I had found them the most versatile party snack.
It turns out that Texas caviar is both delicious and practical. After my tenure at the kiosk, I started waiting tables at this southern-style restaurant called Threadgill's. They served about 36 sides on their menu, which included everything from fried okra to mac-n-cheese. These were all great, but it was the Texas caviar towards the bottom of the list that got me excited. Threadgill's' prep kitchen would turn out huge Cambros of caviar, and it was the server's job to keep them stocked at the cold bar. When you work a crazy long double shift slinging chicken-fried steak and don't have any time to eat, a couple quick spoonfuls of Texas caviar can be a lifesaver (it turns out that black-eyed peas are high in protein and low in calories).
Today, I think the real reason I love Texas caviar boils down to nostalgia, but that doesn't mean I don't think it's the perfect snack. Years later, I take any opportunity I can to make Texas caviar, including any picnic or party.