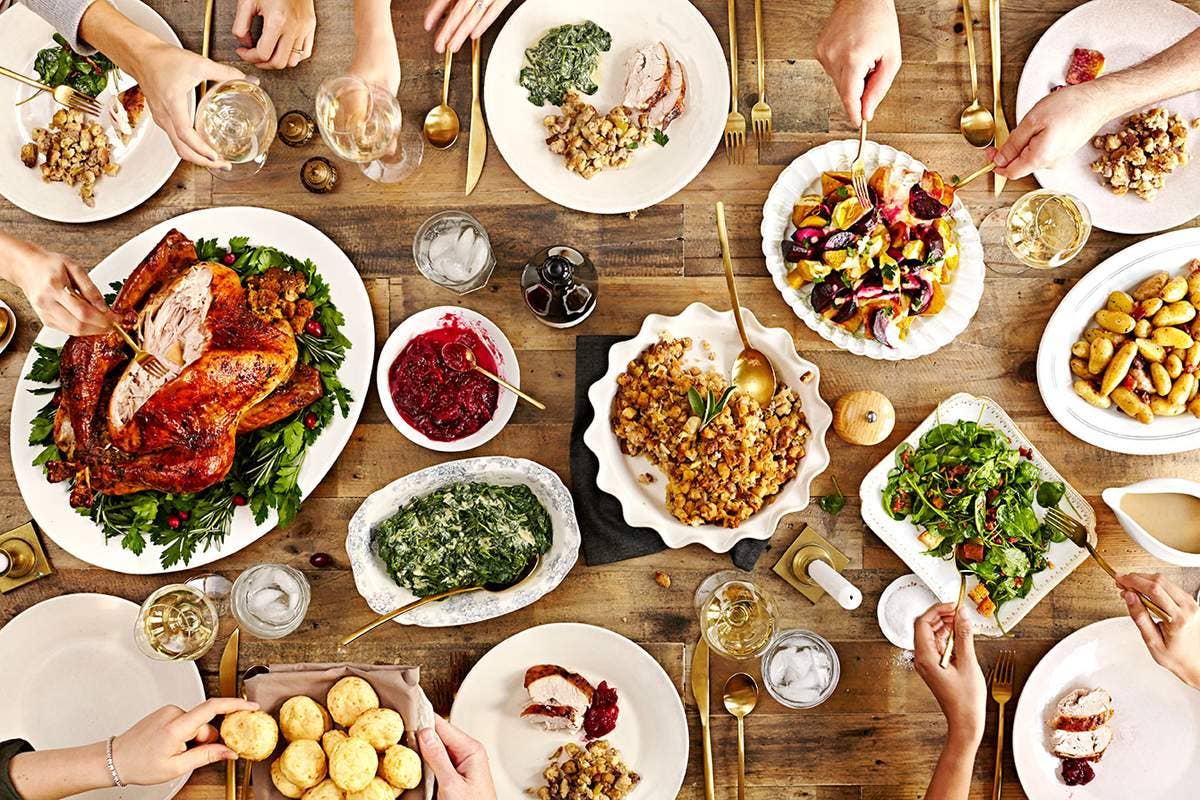 Techniques
7 Essential Entertaining Tips for a Better Thanksgiving
What to drink, the tools to have on hand, and how to serve it all
Get Extra Ice. So Much Ice.
There are two ingredients for Thanksgiving that you can never have enough of: butter and ice. You always, ALWAYS need more ice: for drinks, for chilling blanched vegetables, for soothing first-degree burns from accidentally picking up a hot pan. So in the days leading up to the holiday, max out your ice cube trays and start stocking up. Then pick up a ten-pound bag day-of because hey, you never know.
Zip-Top Bags Are Your Friend
Everything you prep can go in them, from peeled vegetables to marinating meat to soup—yes, soup—and then get stacked neatly in your fridge. They're also ideal for distributing leftovers—no asking after lost containers.
Pack Some Palate Cleansers
After the main meal but before you dig into dessert, it's nice to have something to nibble on to help cleanse your palate. Our go-to snacks? Nuts, olives, orange slices, and raw fennel. They keep you busy without digging into the sweet stuff before you're ready.
And Drink the Ultimate Palate Cleanser
If your second or third Thanksgiving helping has you so full you can barely move, consider the ultimate palate cleanser: Underberg. The cult German digestif is sold in wee 20-ml bottles for a reason: a single swig of the stuff is like a tactical nuclear bomb of herbs and botanicals that goes off in your stomach and climbs all the way back up your throat. Breath freshening, stomach settling, and undeniably restorative, this little drink is just the thing to ready your heart and mind for another round of eating.
What's the best wine to drink during Thanksgiving? Cider. Yes, good hard not-too-sweet cider from England, France, Spain, and increasingly the US. A good cider complements all the Thanksgiving notes: the caramelized crunch of turkey skin, the celery in your stuffing, the richness of your mashed potatoes. You can't say the same for any wine or beer, and a drink made of apples just feels right this time of year.
Whether you're serving wine, cider, or cocktails, you'll want to make sure you keep the booze flowing all night long (this is recommended for most family gatherings). So if you're taking the cocktail route, find a large-format recipe you like, give yourself time to purchase the spirits and juices, then simply combine the ingredients before the big day (leaving out any fizzy elements like Champagne or soda). Store that mix until you're ready to pour it over ice, garnish, and serve. This works especially well when you've got appetizers to plate, a turkey in the oven, and guests milling about in the kitchen waiting to sip on something.
And the Best Thing to Do With Your Thanksgiving Leftovers
Daytime talk shows and food magazines (like this one) seem to think Thanksgiving leftovers are a "problem" to be solved. They seem to think home cooks across America are vexed by that half-eaten turkey carcass, flummoxed by some extra potatoes. "Golly what shall I do with this delicious stuffing."
Nonsense. Because everyone knows that leftovers are perfect for one thing…eating. Yes, just eat them. Eat them right up. Put those leftovers on a plate and heat them up and enjoy them. Do it for lunch on Friday and again for dinner. And maybe breakfast on Saturday too, why not? Thanksgiving foods are special: I never eat stuffing or pumpkin pie (or even a roast turkey to be honest) any other time of year. For one weekend, there's nothing better than eating it all again and again.