These Are Your Best Dream Ice Cream Flavors
Announcing the winner of our Smitten ice cream contest and the many genius runners up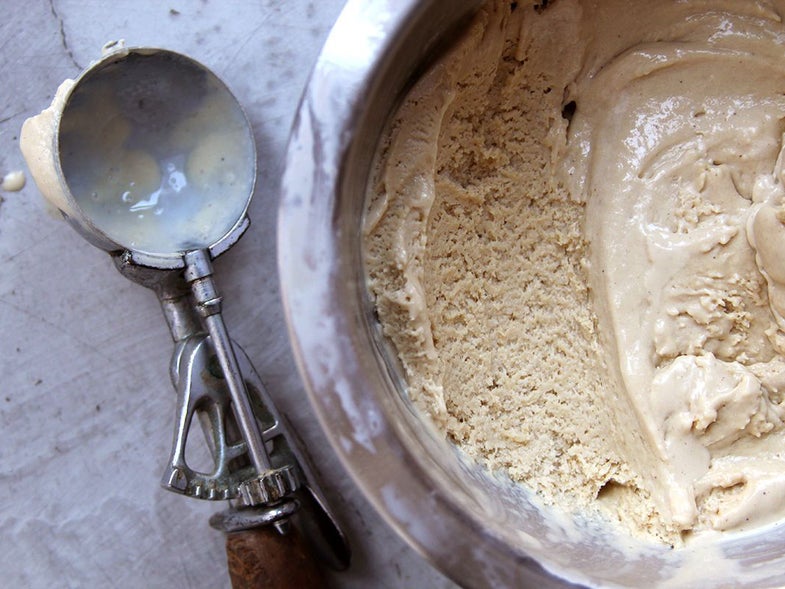 Last week, we came to you with a request for your dreams. Your ice cream dreams, specifically. Tell us the ice cream flavor you've always wanted to see in the world, and we'll partner with California's Smitten Ice Cream to make it happen. Over Facebook, Instagram, and Twitter, over 600 of you answered our call. We're thrilled.
We now have a winner: Angel Holko's Manhattan ice cream, a brown sugar base bolstered with bourbon and cherries for good measure. Congratulations, Angel!
But that's far from the only great ice cream flavor you all suggested. Below, a tiny sampling of our favorites that we might just need to steal for ourselves.
Stephanie Reyna-Rich: Churro ice cream—vanilla base, swirls of cinnamon caramel, and cinnamon-y chunks of churro. Ch-ch-ch-churro!
Natalie Hill-Beyer: Dark chocolate wasabi ice cream with cashew pieces throughout
Sarah Sullivan Brown: Butter apple fritter! Brown butter base with pieces of sautéed apples and fritters (or doughnuts) with a cinnamon-sugar swirl.
Yana Gilbuena: Suman (sweet sticky rice) with mangoes and coconut caramel
Lin Shanks: Medjool date ice cream with crispy bacon bits and swirls of tangy blue cheese cream
Mariam Hosseini: Coconut & caramelized jaggery? Let's call that Lankan Delight. Saffron & Earl Grey with bits of frozen cream? Isfahan Dream.
Sara Hunt: A traditional baklava flavor with honey, walnuts, and sweet phyllo crisps would be lovely
Brian A Keating: An alfajore ice cream would be tasty, especially if the cookie pieces were coated in meringue
Melissa Miller Gunton: Earl Grey Ice cream base, blackberry jam swirl, lavender shortbread or crumble topping mixed in
MeMe Jay: Kettlecorn-flavored base with peanut toffee
@dani_old_fashioned: Fennel, orange, and dark chocolate
@tina_oh: Clementine and cream with saffron
@mimeow: Dirty Horchata—horchata ice cream swirled with espresso fudge
@carissafritts: One of my favorites that i have made: Olive oil, dark chocolate bits, sea salt and rosemary
@rosie.c.posie: Sweet cream with orange blossom and zaatar!
@redfernfarmnh: How about sea-salted Filipino turon—caramelized banana with sugared lumpia wrapper crisps
@sage_thursday: Pavlova ice cream with Manuka honey, fresh berries, and cinnamon toffee chunks
@shananerSweet: Corn with pandan ice cream swirled with blackberry coconut
@jeweles95: Pecorino and pear
Watch: Making Ad Lib Ice Cream With Smitten