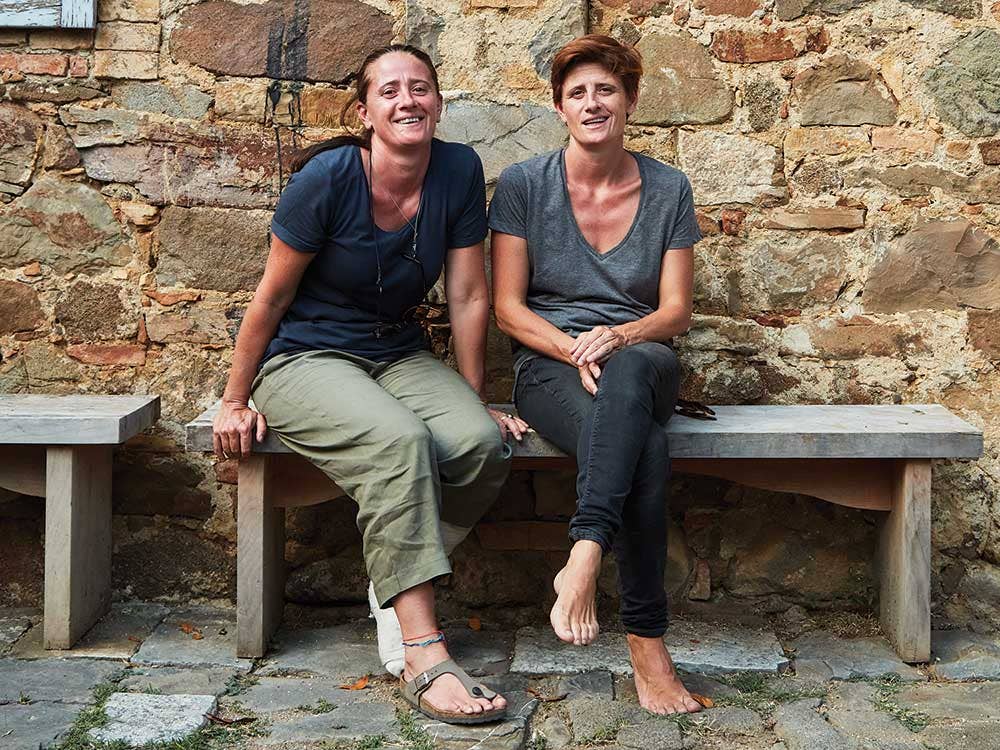 Travel
Meet the Twin Winemaking Sisters of Fonterenza
These women have taken it upon themselves to honor the winemaking traditions of the region
It's not the kind of place where you'd expect great wines were being made. Bras and T-shirts are strewn on a clothing rack, turning dry and stiff in the relentless sun. Children's toys and wooden bikes, temporarily forgotten, are scattered around the stone terrace. And two women, shouting to each other from somewhere in the house, are either really mad or simply Italian.
This is Campi di Fonterenza, a biodynamic winery in the Tuscan hilltop town of Montalcino. It's also home to Francesca and Margherita Padovani, identical-twin sisters who have been making a formidable Brunello di Montalcino since 2004.
"This was our parents' summer home," says Francesca, who moved here from Milan with her sister almost 20 years ago. The sisters Padovani are like beautiful agrarian hipsters—thick dark hair, chiseled features, worn linen shirts, Blundstones—and their rise to winemakers ("I prefer vignaiole," or grape growers, Francesca tells me) was unlikely. Farming didn't run in the family—but it's hard to have a substantial plot of land in Montalcino, even if you call it a summer home, without entertaining the idea of making wine. The women planted some vines, and with no formal training, gave it a shot.
"In the beginning, we made many mistakes," says Margherita. "Once, during my first harvest, I pulled the wrong lever on the tractor, and instead of accelerating, I lifted the back of the tractor, which was full of grapes. I nearly lost them all. Another time, I pulled the wrong gear on the sulfur machine and almost burned down all the vines. But we have had angels."
Some of those angels were people the sisters had known all their lives, and some happened to be casual vintners themselves. "When I was a kid, all the old guys in town—the post office guy, the shop owners, the farmers—would set up a table in the piazza around 10 or 11 every morning." Francesca grows animated as she reminisces about her childhood summers. "Everyone brought something: prosciutto, salumi, fresh tomatoes, homemade bread, Pecorino di Pienza. And they all had their piccino­—a small glass of red wine. They would all sit around the table and talk about the day. Great food, piccino, back to work. That was life here."
But time passed, the world changed, and traditions faded. "The culture is different today," says Francesca. We are standing in the cellar of Fonterenza, surrounded by 10-foot-tall barrels of wine. "We have become careful of wine, scared of it. Back then, wine was food, part of life."
These women have taken it upon themselves to honor that tradition. In addition to their Brunello, they also make two more reds (a Rosso di Montalcino and a blend), one white blend, and a rosato of sangiovese. Each one is grown, aged, and bottled in a way that adheres to the rigorous guidelines of organic and biodynamic farming, a trend the sisters helped accelerate in the region. Today, Fonterenza's is one of only a handful of biodynamic Brunellos you can buy. "The best wine is nothing but grape juice, and that is just as it should be," says Margherita.
Yes, the world has changed since their idyllic childhood spent playing in the piazza in the local village, Sant'Angelo in Colle. But the place has stayed the same; the farmers are still there, the postman too. There are more tourists, of course, a fancier trattoria, a few souvenir shops.
The Padovani sisters still know everyone, and around harvest time, they still sit down for a piccino with old friends. Margherita has two daughters of her own now, and this community that she and her sister have helped sustain—the local friendships, the history, the food, the wine—will be passed down to their children. Francesca pours a glass of Brunello for me. "It's just grape juice—nothing to be stressed about."