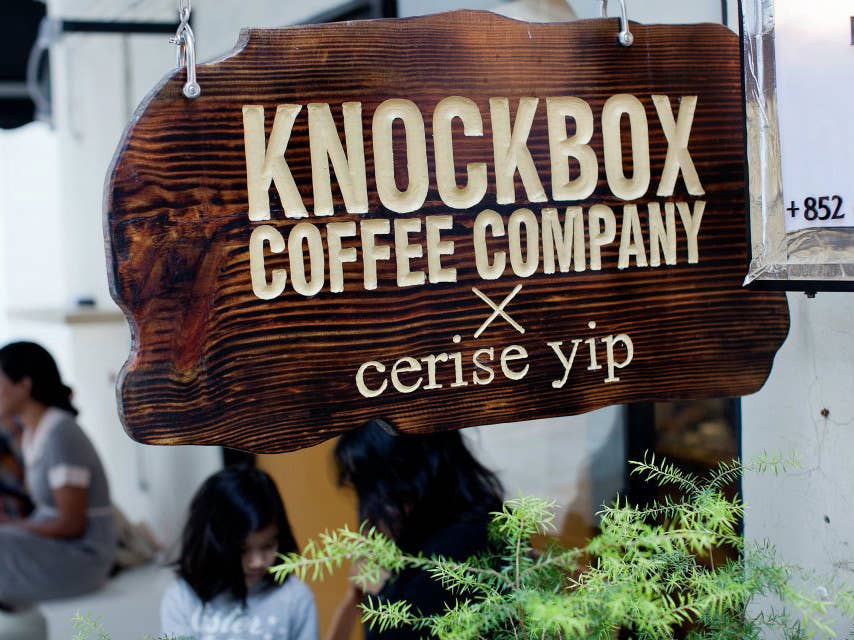 Travel
Dispatch: In Hong Kong, A Coffee Shop Unplugs
Knockbox coffee offers a calmer, more communal sort of café
In a town known for its centuries-old devotion to the delicate art of tea, Hong Kong's recent coffee revolution has hit the city like an early morning espresso kick.
No coffee shop has done more to lead the movement than Knockbox, the city's leading space dedicated to high-quality, sustainable coffee. Tucked into a clustery maze of shops in the legendarily crowded Mong Kok neighborhood, the three-year-old shop (which originally shared a space with an evening gown designer) has become a tinderbox for Hong Kong's explosion of craft coffee purveyors.
Owner Patrick Tam practically radiates when he talks about the importance of a farmer-focused approach to coffee and Knockbox's role in spearheading the true "specialty" movement in Hong Kong. When we met, he sipped a Peruvian blend from an espresso glass decorated with a protruding moose (a gift from some Norwegian coffee friends) as Aeropress machines puffed and tooted around him.
"We roast our own coffee and we source our own coffee," said Tam. "It has everything to do with how we appreciate and respect coffee as a product."
There's a seriousness of purpose at Knockbox that feels almost like going behind the scenes at a high-tech chemistry lab, with the shop trumpeting itself as, "in anthropological terms, a liberator of the public sphere." On the page, this can seem a little daunting. In practice, though, this academic-leaning (almost clinical) manifesto helps to create a space that is deeply committed to interpersonal connection and the sanctity of the coffee drinking ritual.
There are no plugs for laptops at Knockbox, no couches for slumping into while staring dead-eyed into a cell phone. Instead, a smattering of small tables pressed back-to-back and a low-slung coffee bar encourage real-life conversation and a chance to focus on the intricacies of coffee's infinitely variable flavors, without any gussied-up add-ons.
While the shop's schedule runneth over with public workshops ranging from hand drip brewing to sustainability education, it's the Friday night coffee "premiere" that steals the show. In what just might be Hong Kong's finest booze-free happy hour, Knockbox serves up free tastings of their latest beans from across the globe once a week with assembly line-like precision. Buzzy coffee lovers sit shoulder-to-shoulder and cup-to-cup, eager to sip and smell the latest wares.
On one such Friday, I found myself sandwiched between a chirpy middle-aged Australian with a fondness for citrusy beans and an aspiring twentysomething opera singer from Shanghai. While our conversation began simply by swapping coffee geek tasting notes, before too long the future Pavarotti was belting out an aria from Faust and allowing us to swig from his flask of 16-year-old Glenlivet between coffee samples.