Indian Vada Pav is the Ultimate Veggie Burger
A crisp, chutney- and spice-loaded patty on a fluffy roll? There's a reason people in Mumbai go crazy for this sandwich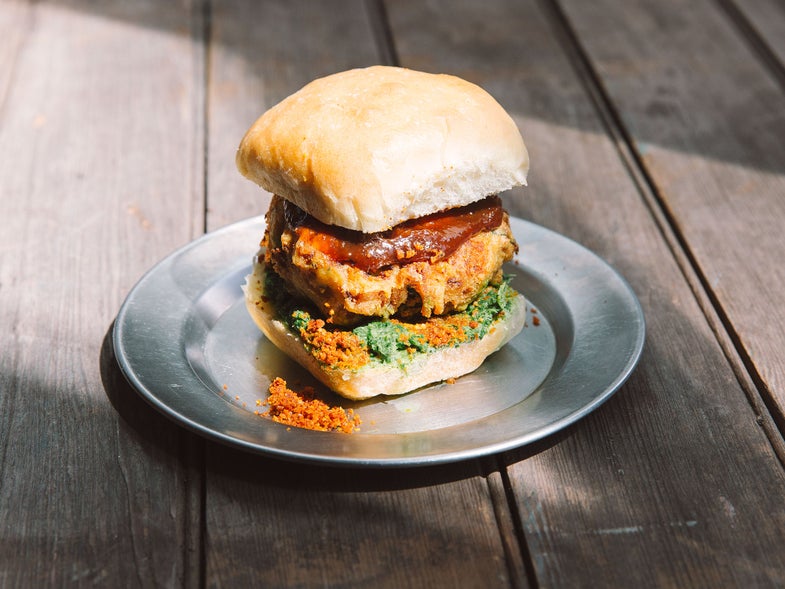 Americans have the burger. Mumbaikars have the vada pav.
The starchy, spicy sandwich consists of a fluffy Goan-style roll stuffed with a crispy fried potato patty that's then dressed with sweet and spicy chutneys. Carby, texturally multifaceted, and packed with flavor, it's no wonder that vada pav (or wada pao) is one of the most popular street snacks in Maharashtra and its capital city, Mumbai.
It is a relatively modern Indian invention. The main components—potatoes and baked, leavened rolls—were introduced to the area by colonizing Europeans, but Mumbaikars have made this fistfull of fried carbs very much their own. You can get vada pav on the street, on trains, and increasingly from brick-and-mortar fast food joints. Even McDonald's India has gotten in on the action.
Fortunately for us, it is also catching on in the States. New York chef Floyd Cardoz grew up in Goa and recalls buying hot, fluffy pao from the local bakery as a young boy. When Cardoz opened his restaurant Paowalla (literally "bread-seller"), he dedicated his menu to India's diverse bread culture. All throughout service, Cardoz turns fresh breads out of a massive tandoor, but he uses a Western-style wood-fired pizza oven to bake pillow-soft rolls for his own wada pao.
"Pão" is the Portuguese word for "bread," and both the name and the recipe are remnants of the 500-year Portuguese presence along India's western coast. As the whole world seems to have a soft spot for fluffy white bread, the Portuguese-Indian rolls have migrated steadily throughout the subcontinent.
Food historian Mohsina Mukadam tells Rathina Sankari of NPR that "the first restaurant to serve the batata (potato) vada is Mama Kane's." Sankari explains that the restaurant first served the sandwich in 1928, but that it was not until the 1960s that vada pav really took off, when Balasaheb Thackeray, the leader of the Hindu supremacist group Shiv Sena, launched a political movement to promote the state of Maharashtra's local delicacies. In the decades since, the vegetarian sandwich has exploded, with local fast food chains Jumboking and Goli Vada Pav giving McDonald's a run for its money all over India.
For our version, I reached out to Cardoz for Paowalla's reliably fluffy pao recipe, but you can cheat with packaged Parker House rolls. I stuck pretty true to tradition for the stuffings: I passed waxy yellow potatoes through a ricer for a tender and delicate patty, then seasoned it with spices, chiles, onions, and herbs. I made a chickpea flour batter and added a touch of baking soda for a softer, more aerated crunch.
Most vada pav-makers sprinkle the sandwiches with a red chile-coconut condiment known as lasun chutney, and some add some sliced raw onion or grilled green chiles. The chutney is an extra step, but well worth making extras of—it's my new favorite topping for french fries, baked fish, and scrambled eggs.
For the tamarind and green chutneys, I went with two reliable recipes from our archives, but bottled brands like Geeta's and Swad are great in a pinch as well.
At the end of the day, vada pav is burger-like treat far greater than the sum of its parts. Make a batch for your next dinner party. I'll bet you a dozen fluffy white rolls you won't miss the beef.