15 Recipes to Up Your Vegetable Intake—for Breakfast
Skip the low-fiber green juice and wake up to one of these green-but-hearty feasts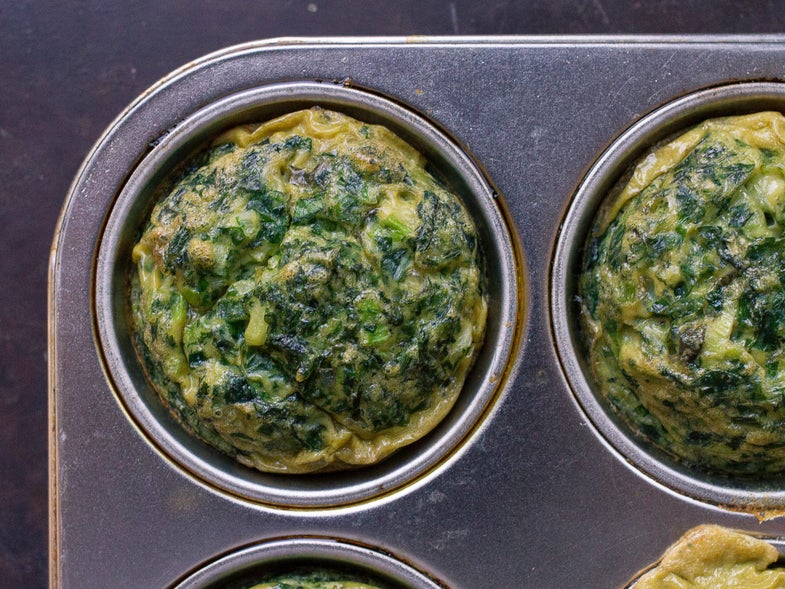 As parents, teachers, and other busybody types always say, "Breakfast is the most important meal of the day." These, of course, are the same types who are always telling you to "eat your greens." So why not kill two birds with one stone by upping your vegetable intake in the AM?
No, we're not telling you to chug some low-fiber, bland green juice as you head off to work. We're talking about the bona fide best breakfast recipes that just so happen to be chock full of heart-healthy, plant-based ingredients that will not only fuel your brain but warm your belly. Love a classic bacon, egg, and cheese? How about biscuits with pancetta and collard greens for a more complex, grab-and-go dish? Breakfast eggs also make the perfect canvas for a colorful, vegetarian-friendly spread: think Persian herb frittatas or Greek fried eggs with wild greens.
So go ahead and indulge. Change your mornings for ever with our collection of best vegetable breakfast recipes, from omelettes to sandwiches and even a breakfast salad.
This classic Israeli dish can be served as a main course for any meal of the day, but it's really made for breakfast. Get the recipe for Eggs Poached in Tomato Sauce (Shakshuka) »
This hearty Azeri egg dish—which can be served in small pieces as an appetizer or side, or cut into larger wedges as a main—is loaded with ground walnuts, onions, and eggplant, giving it a nutty, meaty consistency and color. Get the recipe for Eggplant and Walnut Frittata (Badimjan Kükü) »
In Basque country, this egg-based tortilla is sometimes sliced through the middle like a sandwich roll and layered with cured ham and sheep's milk cheese. If cutting horizontally through the thin, delicate tortilla seems too troublesome, the ham and cheese are just as delicious served on the side. Get the recipe for Tortilla with Ham and Cheese »
This simple potato and cheese omelette, from The Good Cook: Eggs & Cheese, was shared with us by Tim Mazurek to accompany his Back of the Bookshelf column. It's perfect for brunch, and also—accompanied with a glass of wine and a green salad—makes a satisfying, affordable dinner. Get the recipe for Grated Potato and Cheese Omelette »
Alvin Cailan of Los Angeles' cultish Eggslut goes pancetta-crazy in this sandwich, using eight slices on top of his gorgeously marbleized egg and cooking the collard greens in pancetta fat. Get the recipe for Biscuits with Pancetta, Collard Greens, Marbleized Eggs, and Espresso Aïoli »
This easy one-pan dish is just the thing for a fulfilling breakfast that comes together in the blink of an eye. Get the recipe for Spinach, Beef, and Egg Hash »
This variant of the classic Iranian frittata-like egg dish has become a popular street food in London. Feel free to add walnuts, barberries, or raisins to make it your own. Get the recipe for Persian Herbed Frittatas with Fenugreek (Kookoo Sabzi) »
This dish from Epirus, Greece, marries the silky richness of an egg with the pleasing, mild bitterness of wild greens. Get the recipe for Wild Greens with Fried Eggs (Horta me Avga Tiganita) »
Packed with grassy, spicy watercress and plenty of cheese, this frittata-like tart works wonders at brunch. Get the recipe for Watercress Ricotta Torte »
Rich, nutty brown butter perfectly offsets the fresh flavor of sweet peas and mint. Get the recipe for Brown Butter, Peas, and Mint Omelette »
Have some of this basil-laced potato and vegetable frittata for breakfast, then save the rest for lunch. Get the recipe for Potato, Spinach, and Red Pepper Frittata »
Zucchini bread is the perfect way to use up an abundance of the summer vegetable. This version is with raisins and toasted walnuts, which gives it extra flavor. Get the recipe for Zucchini Bread »
Bacon and eggs get the salad treatment complete with a zingy espresso vinaigrette and toasty croutons for crunch. Get the recipe for Breakfast Salad »
The recipe for this take on the classic Mexican egg, bean, and tortilla dish—a favorite weekend breakfast of Mel Brooks—comes from chef Alejo Grijalva of Brentwood, California's Kay 'n Dave's restaurant. Get the recipe for Kay 'n Dave's Huevos Rancheros »
Inspired by the rustic brunch offering at April Bloomfield's Breslin restaurant in New York, this atypical dish would also make for a nice, simple dinner. Get the recipe for Curried Lentils with Poached Eggs »