Recipes
Vegetarian Samosas with Potatoes and Peas
Nani's secret to the crispy tiffin treasures.
Serves

makes 20

Cook

3 hours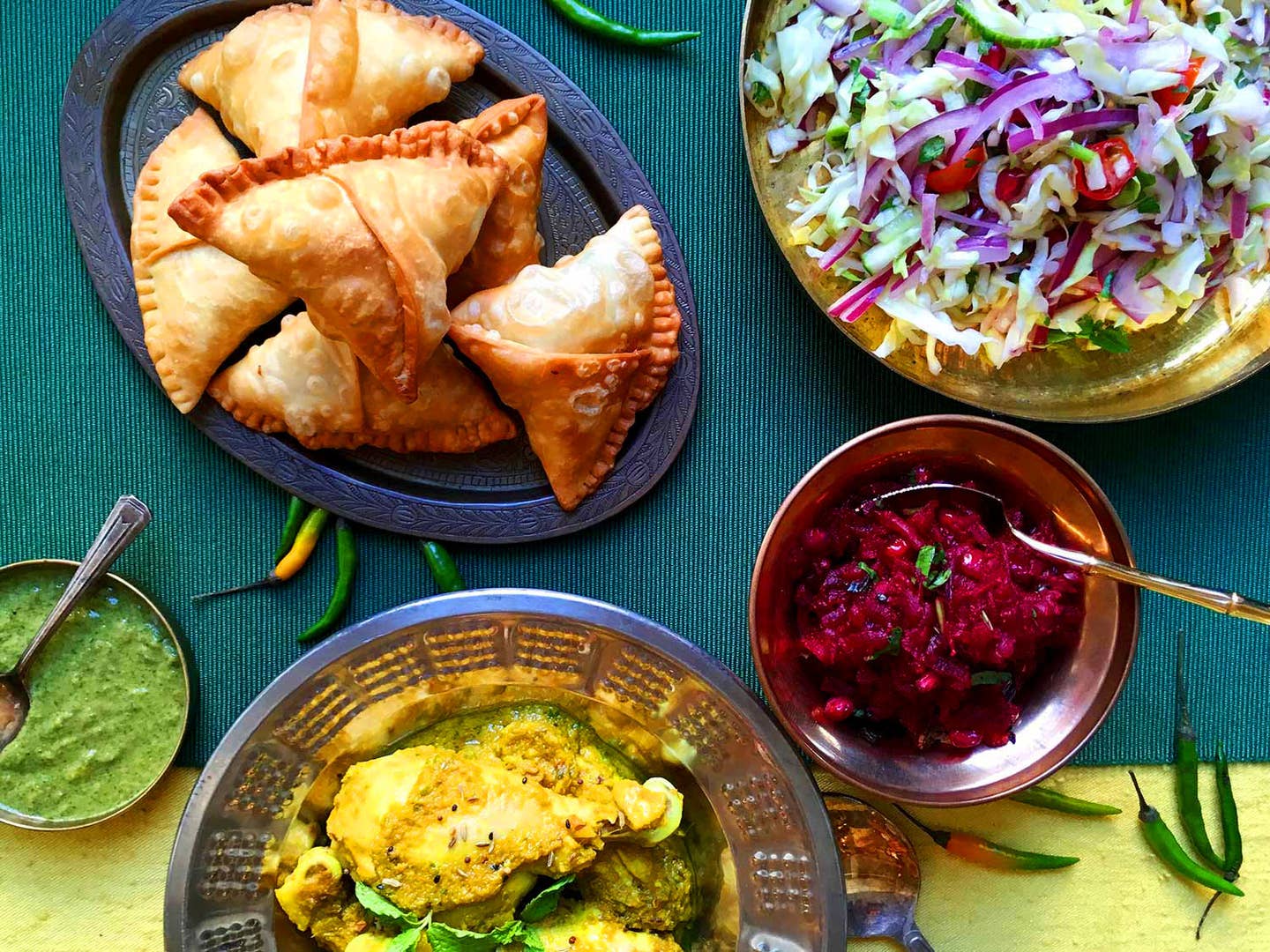 Chef Romy Gill credits her grandmother for the clever technique used to shape these samosas. Parcooking the wrappers renders the dough less absorbent and malleable, making them easier to fill without becoming gummy (and easier to make ahead). The assembled samosas can be refrigerated for up to 48 hours before frying. Explore more of India with all of our Indian recipes from saag paneer to urad dal to rogan josh.
Ingredients
For the dough:
3 cups all-purpose flour, plus more for dusting
1⁄4 cup canola oil or sunflower oil
1 tsp. kosher salt
For the filling:
Kosher salt
3 medium Yukon gold potatoes (12 oz.), peeled and cut in ½-inch cubes
2 tsp. canola or sunflower oil, plus more for deep-frying
1 tsp. cumin seeds, plus 1 tsp. ground cumin
1 tsp. fennel seeds, coarsely crushed in a mortar and pestle
1⁄3 cup fresh or thawed frozen peas
1-2 bird's eye chiles, stemmed and finely chopped
2 tsp. ground coriander
1 tsp. finely grated fresh ginger
1⁄3 cup coarsely chopped cilantro leaves and tender stems
Mint or tamarind chutney, for serving
Instructions
Step 1
Make the dough: To a large bowl, add the flour, oil, and salt. Rub the oil into the flour with your hands, then add ⅔ cup cool water. Mix with your hands until a dough forms.
Step 2
Turn the dough out onto a lightly floured surface and knead until it forms a smooth, soft ball, 4–5 minutes. Cover the dough with a sheet of plastic wrap or a clean, dry kitchen towel and set aside to rest at room temperature for 1 hour.
Step 3
Meanwhile, make the filling: To a medium pot of generously salted cold water, add the potatoes. Bring to a boil over medium-high heat and cook until the potatoes are tender but not mushy, 12–15 minutes. Drain, then transfer the potatoes to a large bowl and set aside to cool slightly.
Step 4
To a large skillet over medium heat, add the oil. When the oil is hot, add the whole cumin and crushed fennel seeds. When the spices begin to sizzle and pop, 10–20 seconds, stir in the peas and cook just until they are coated in the spiced oil and heated through. Stir in the chiles, coriander, ground cumin, and ginger; cook for 1 minute. Add the potatoes and cook, stirring frequently, just until the mixture is heated through and well mixed, 2–3 minutes more. Season with salt to taste and stir in the cilantro, then remove from the heat and set aside until cool enough to handle.
Step 5
While the filling cools, divide and parcook the dough: Cut into 10 evenly sized pieces, about 2 ounces each. Roll each piece into a ball, then use a rolling pin to flatten each ball into a thin disk about 8 inches in diameter.
Step 6
In a medium skillet over low heat, cook the disks of dough one at a time, searing each side to slightly dry out the surface (3–5 seconds per side). When all the disks are cooked, cut each in half (you should have 20 half-moons).