Pro Tips: How to Make Brown Butter
Pastry chef Mindy Segal teaches us to make toasty, nutty brown butter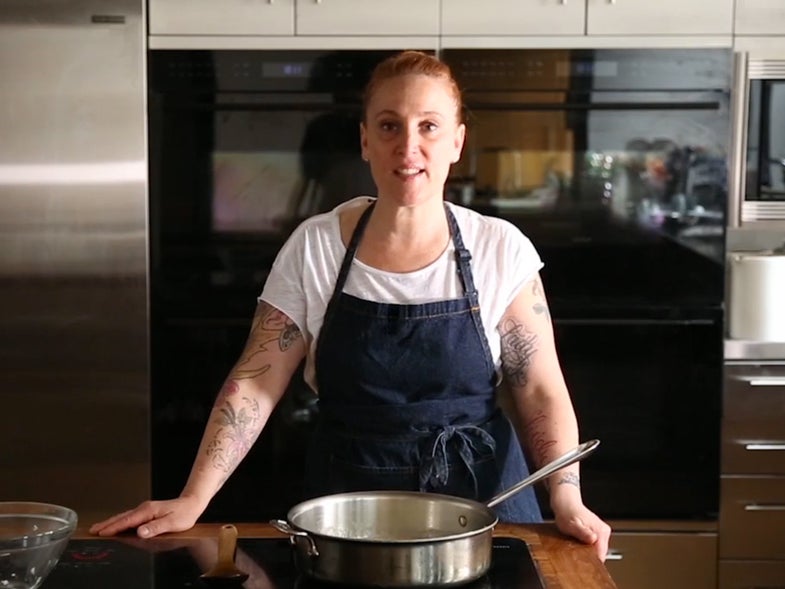 Brown butter is one of those simple-but-magical ingredients that can completely transform a dish; it can be used in place of regular butter to add depth and a toasty, nutty character to sweet and savory recipes alike. And it's dead-simple to make, requiring only heat and a few minutes of patience.
When Mindy Segal, chef-owner at Mindy's Hot Chocolate and author of Cookie Love, came by our kitchen to show us how to properly roll cookie dough, she also had some strong opinions on the ideal way to make brown butter. So we asked her to demonstrate her method.
Segal heats the butter gently, constantly stirring and scraping the pan to get all the good bits. And then she listens carefully: when the crackling starts to quiet down, she knows it's ready. Once the butter is browned and she's scraped all of the remnants from the pan into a bowl, she puts it in the refrigerator until it solidifies, where it's easy to grab a tablespoon or two while cooking. (Segal is of the no-strain school of thought, the thinking being that all those little brown bits from the bottom of the pan add a ton of flavor.)
Once your brown butter is made, try adding it to pasta dishes, tart doughs, even omelettes.