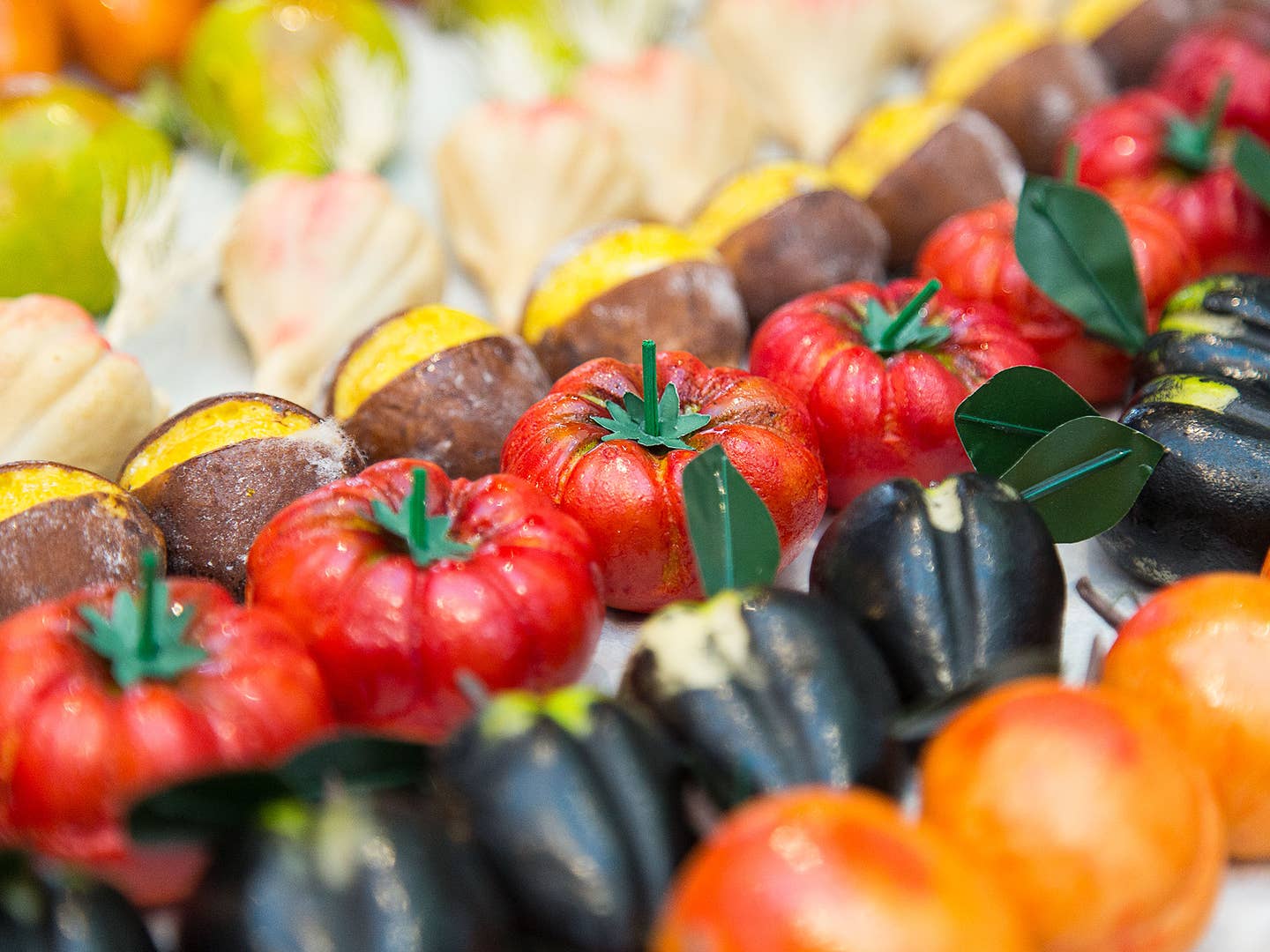 Culture
The Italian Tradition Behind These Shockingly Beautiful Marzipan Sculptures
Frutta martorana—crazy realistic hand-painted fruits made of marzipan—are a dying art, but this Sicilian bakery in Brooklyn won't quit making them the old fashioned way
Villabate Alba, a spacious Italian bakery in Bensonhurst, Brooklyn, is above average for many reasons. The crisp, fresh cannoli are filled with sheep's milk ricotta from Palermo. The tall cakes are garlanded with candied fruit. And the cookies sold by the pound are, despite such cookies' reputations, never dry or dull.
But most astonishing, especially for the unprepared visitor, is a long shelf of sweets rarely seen outside of Sicily: the brightly painted marzipan fruits and vegetables known as frutta martorana.
In Sicily, particularly Palermo, it's difficult to find a bakery that doesn't sell frutta martorana, which were supposedly invented some time in the 12th century by the nuns of La Martorana, a church in Palermo. As the story goes, the nuns originally decided to sculpt fruits from marzipan and hang them from their empty trees to impress the visiting archbishop. The archbishop was summarily impressed, so they kept making the confections and started selling them to parishioners.
Local pastry shops eventually picked up the art, and now with the convent long gone, they carry on the tradition, with a few modern upgrades. Now frutta martorana sculptors use molds made from wood or plaster instead of sculpting everything by hand, and their vibrant colors come from modern powdered food coloring, which they mix like watercolors. The fruits also get a polished, realistic shine from a finishing lacquer of gum arabic or benzoin (an edible resin).
At their best, the palm-sized sculpted sweets are remarkably realistic: apples with blotches, peaches with a fine coat of fuzz, strawberries with seed dimples, mandarins demurely part-peeled to reveal the pithy fruit, or the occasional Sicilian spleen sandwich for kicks. This kind of detail can only be achieved by painstakingly hand-painting each piece with multiple layers of color, right down to a pear's freckles. And because each layer must dry before the next is added, making a single piece can take an hour or more. The most exacting sculptor may even wait a day between one coat and the next.
Though even in Sicily, frutta martorana is a dying art, according to Emanuele (Manny) Alaimo, Jr., whose father and grandfather opened Villabate Alba in 1979. "Only the old timers still make them," he says, and many bakeries now just carry smaller, mass-produced fruits in pre-wrapped boxes. In the U.S., even in a city like New York with a rich Italian culture, a mere a handful of bakeries carry proper handmade frutta martorana; most of the marzipan sweets you find are mass-produced and hardly artistic. Meanwhile, at Villabate Alba, the same guy has been molding and painting beautiful marzipan fruits for nearly 40 years.
That guy, the marzipan master at Villabate Alba, is Giacomo Mauro, uncle of Manny and his two siblings, Anthony and Angela, who now help run the bakery. Mauro started learning the art of molding and painting marzipan when he was 10, working in the family bakery back in Sicily. Now he's been doing it for over 50 years, the last 37 of those at Villabate Alba. He makes about 45 pounds of frutta martorana every two weeks or so, more during holidays like Christmas and Easter. That's a relaxed schedule compared 30 years ago, Manny notes, when "the neighborhood was all Italians," and "he had to make everything every day."
For a full two days, Mauro works at long a table in the basement, entrenched in corn starch, plastic jars of pigments imported from Italy (American powdered food coloring, he insists, isn't as bright), and the sticky-sweet smell of almond paste. Starting with a 45-pound pile of marzipan the size of a small boulder, he spends the first eight hours kneading piece after piece until it's smooth and free of wrinkles, then pressing it into the chipped, yellowing plaster molds he stores in a plastic bucket.
These molds, which are at least as old as the bakery itself, come from Sicily, and many have been cast from actual fruit and vegetable specimens—hence the delicate pores on the mandarin skin, the richly detailed cauliflower floret. The process takes time, because the molds are only one-sided, so as Mauro presses fistfuls of marzipan into each, he must shape the other half of the fruit by hand. He knows just by look and by feel how to mirror the molded half, and works carefully to make sure that each piece comes out identical, and without a seam around the middle.
Mauro then lets the marzipan dry out overnight so it loses its Play-Doh texture and becomes firm enough to hold its shape when handled. He paints like a watercolorist, picking up powdered pigments with his ragged brush (or sometimes a finger) and swirling them into a dish of clear, alcohol-based imitation vanilla diluted with a little water.
Most pieces get a base coat of yellow, which makes the top colors brighter, then Mauro adds one layer of color at a time. He begins with green, which on most fruits just peeks out from lush, ripe hues of orange and red. He dabs a little green on the tip of each mandarin, then the stem end of each lemon. He adjusts to a lighter green and coats some of the apples with rapid, back and forth strokes, then darkens the paint with a dab of brown for the banana stems. "All the greens can't be the same," he explains. That's how they are in nature, so that's how he paints them.
By the time he mixes the next color and returns to the beginning, the green paint has dried. He adds a coat of orange to the mandarins, streaks of red to apples, and with a smooth swoop draws the curve where the watermelon flesh meets white rind. "That's one of the hardest things to do," Manny points out. "I could do this with my eyes closed," Mauro says as he grins.
The little details come last. Mauro uses a food coloring marker (his only concession to modern convenience) to draw streaks on the banana and seeds on the watermelon. Flicking the bristles with his thumb, he spritzes brown freckles on the apples and pears. Where necessary, he pushes in little wire and paper stems and leaves (imported, like the paints, from Italy). When everything has dried, he'll coat most of the pieces—except those that are naturally matte, like the heads of garlic—in benzoin, to give them their telltale sheen.
Once coated, the fruits keep forever—Manny says some customers have had theirs as decoration for 20 years—but this kind of beauty is meant to be eaten.
Marguerite is a baker turned writer living in Brooklyn, NY. She has written for Bon Appetit, the Village Voice, the Sweethome, and more, and is the former editor of Eater New York, where she still writes a column about the making of great pastries.