Watch Chef Vivian Howard Bake the Ultimate Southern Tomato Pie
How the first lady of Carolina cooking makes the most of summer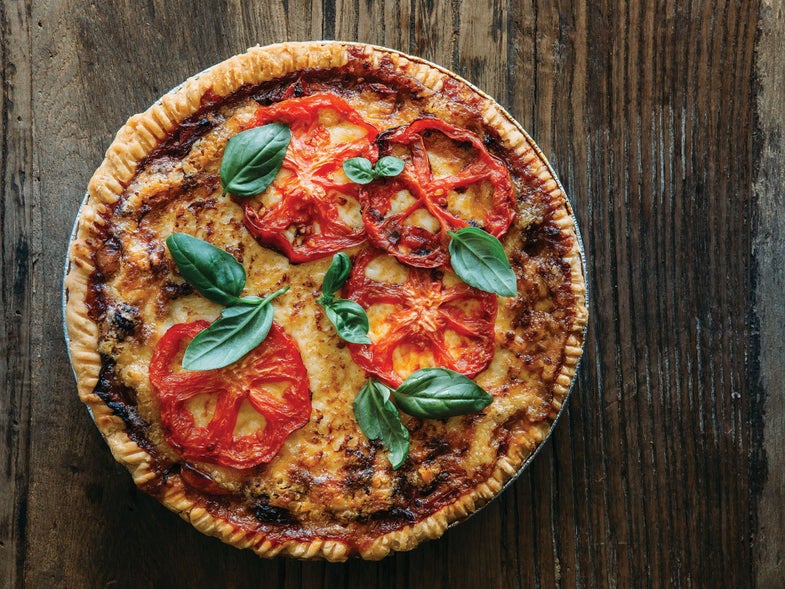 Video: Fatstache
Come high summer in the South, when tomatoes pop up by the truckload, tomato pie is a common way to celebrate the best of what these chin-drippingly juicy fruits have to offer. And no one makes a tomato pie like Vivian Howard.
"I joke with my husband that we're going to close the restaurant and just sell tomato pies," Howard told a crowd of fans at the SAVEUR test kitchen last week. Howard is the chef of Kinston, North Carolina's Chef & the Farmer and the author of the new cookbook, Deep Run Roots, and her tomato pie is indeed worth a business all its own.
In that flaky crust is a whopping three and a half pounds of tomatoes, cooked down with caramelized onions and herbs and cozily blanketed with an oh-so-Southern hit of mayo and a not-so-Southern-but-really-really-good dose of fontina and parmesan. More tomatoes sit on top—fresh instead of roasted—for a pretty visual touch alongside some leaves of basil. It's a gorgeous pie, and to be perfectly honest, one of the best things to come out of our test kitchen all summer.
Watch Howard make her pie in the video above, then read on for more about her approach to Southern cooking in this story from our summer issue. Your dinner plans are made.
Get the recipe for Vivian Howard's Fresh and Roasted Tomato Pie »