The 20 Dishes We're Cooking in June
Cook along with us as we kick off summer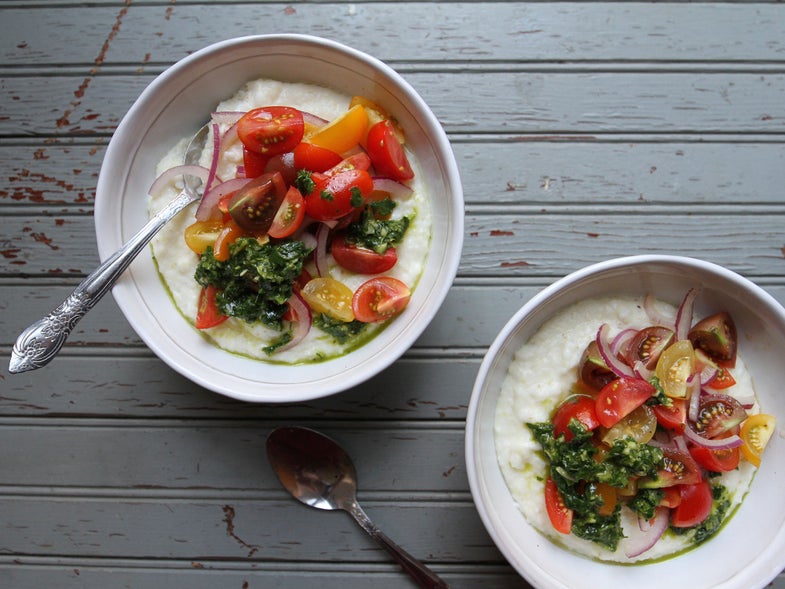 There are so many edible ways to celebrate the start of the warm season. Come June, we're firing up the grills for outdoor cooking (and eating). Arm yourselves with the best grilling gear before you take on our grill recipes, from skewers to lamb chops.
Looking for something a little more refreshing? Summer's also the perfect time to cool down with light salad recipes. Here at SAVEUR, we're embracing a broader meaning of "salad": leaves are great, but we love cold noodle salads and ceviches as well. And don't forget to cook with lobster, the clawed king of the season. We've got the tips for breaking down and cooking the crustaceans just right.
Then there's summer dessert. The season's bounty of fresh produce offers ample inspiration for fair-weather fruit bowls, pies, and cobblers. Ready to go? Stick with us this month as we cook up these summer-ready recipes.
For this comforting roasted eggplant salad, Sergey and Ivan glaze the eggplant with kvass, a traditional Slavic drink made from fermented rye bread. Get the recipe for Warm Eggplant Salad with Hemp Seed Sauce »
These crustless tarts, adapted from Ana Sortun and Maura Kilpatrick's book Soframiz, are inspired by a yogurt and semolina custard that is traditionally baked inside cooked grape leaves in Greece. The authors say that, even though the grape leaves aren't rolled and filled cigar-style, the filled tarts are still a version of a dolma, a word that means "stuffed" in Turkish and Greek. "I love this version because the grape leaves get crispy and a little caramelized," Sortun says. They work equally well in ceramic ramekins, fluted or non-fluted tart pans, muffin tins, or small cast iron baking dishes. Get the recipe for Spicy Lamb and Grape Leaf Tarts With Orzo and Feta »
These crunchy empanadas, featuring shells made with masa, lard, and salt, are filled with tender shredded beef tossed in a spicy salsa. You can prepare the masa and filling in advance, but don't fill or fry the empanadas until just before eating. Adding baking powder and using an electric mixer are two secrets to light, puffy empanada pastry. Get the recipe for Fried Shredded Beef Empanadas »
Made with mezcal, grilled pineapple, jalapeño, and lime, this take on the classic margarita is smoky, sweet, and spicy, with an herbaceous kick from cilantro. Get the recipe for Mezcalita de Piña »
This simple but delicious dessert, served at L'Enclume, features ice cream made with a fresh mascarpone cheese that is lightly sweetened and set without eggs, which makes for a lighter texture. Syrup-soaked apricots and fresh raspberries add some sweetness. Get the recipe for Mascarpone Ice Cream with Apricots, Raspberries, and Honey Granola »
Hot coals char the lobster shells and impart a subtle smokiness to the sweet meat. You can upgrade the classic sides, too, by blackening the corn a bit and adding tangy grilled tomatillos and briny raw oysters. Squeeze seared lemons or limes over everything. This feast can be prepared quickly and is meant to be casual—eaten with fingers and the occasional fork (bib optional). Get the recipe for Coal-Grilled Lobsters with Charred Corn, Tomatillos, and Blue Potatoes »
Chimichurri and a tomato-onion salad are perfect for offsetting the richness of creamy polenta. Get the recipe for Summer Polenta with Chimichurri and Tomatoes »
This lemonade is rendered smoky-sweet with the juice of grilled lemons and limes and toasted simple syrup, which has a mild caramel flavor that does a lot to complement the grilled fruit. Get the recipe for Smoked Lemon-Lime-Ade »
Sweet pomelo pairs beautifully with chiles, peanuts, and mint in this recipe for a classic Thai salad from Talde in Brooklyn, New York. Get the recipe for Thai Pomelo Salad (Dtam Som Oo) »
This pibil recipe, inspired by one used at Chando's in Sacramento and prepared in a Dutch oven, pops with earthy achiote paste and citrus juices, yielding a luscious, spicy pulled pork. Get the recipe for Yucatán-Style Shredded Pork Tacos with Achiote (Cochinita Pibil Tacos) »
Kokoda is Fiji's version of ceviche, enriched with coconut milk to balance out all the acid. In this version, the fish "cooks" not in citrus juice but plain old white vinegar, which saves on limes and the time it takes to squeeze them. Get the recipe for Fijian Ceviche»
This Cambodian chicken salad is bolstered by crisp green mango, roasted peanuts, and fresh herbs with a signature Southeast Asian sweet–sour–savory dressing. Get the recipe for Chicken and Green Mango Salad »
To cook these ribs indoors, brown them in a 12″ cast-iron skillet and then roast them in a 350° oven until the meat is tender. Get the recipe for Grilled Beef Ribs with Charred Vegetables »
Sliced ripe avocados add a silky bite to an elegant salad tossed with lobster and juicy grapefruit segments. Get the recipe for Lobster and Avocado Salad »
If you are lucky enough to find yourself with an overabundance of blueberries, this easy-to-make crisp is a delicious way to prepare them. Get the recipe for Blueberry Crisp »
After stumbling upon fresh rambutans, test kitchen assistant Jake Cohen used this Malaysian tropical fruit to make this spicy and sweet summer curry. Get the recipe for Summer Rambutan Curry »
Sour cream gives this ice cream a tang that's balanced by a rich rum, strawberry, and brown sugar swirl. Get the recipe for Sour Cream Ice Cream with Strawberries and Brown Sugar »
A medley of thinly sliced vegetables is piled up with a mound of cold buckwheat noodles. Get the recipe for Korean Cold Buckwheat Noodles »
This cream-topped pie is filled with a thick coconut milk custard that perfectly complements the zip of fresh lime juice and grated zest. Get the recipe for Coconut Lime Custard Pie »
A fragrant mix of oyster sauce, cilantro, and ginger pulls double duty here as both a marinade and dipping sauce for lamb rib chops. Get the recipe for Grilled Lamb Chops with Ginger Sauce »