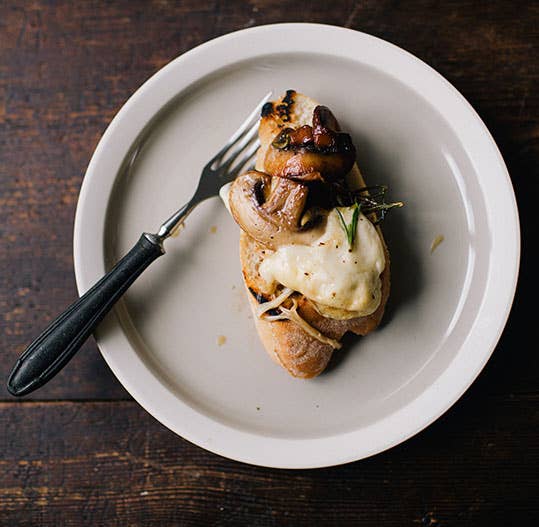 Culture
Sites We Love: What Should I Eat For Breakfast Today?
Gorgeous photos? Check. Engaging writing? Check. Seriously inspiring recipes, tips, and culinary curiosity? Check, check, and check. The best food blogs all seem to have a lot in common—but what separates them out are the strong personalities behind them. In our Sites We Love series, we sit down with some of our favorite bloggers to find out how they do it—and why it's as much fun for them as it is for us.
Marta Greber's food blog and sometimes travelogue, What Should I Eat For Breakfast Today, is a lovely account of life as expressed through the morning meal. From buckwheat muffins to polenta cakes with ricotta, she shares recipes for the sort of leisurely, satisfying breakfasts we envy, accompanied by subdued, moody photography. Based in Berlin, Marta has spent significant time in Barcelona as well, which influences her posts. Here's what Marta has to say about her site:
Posting rate: When I am not traveling 3, otherwise 2 per week.
Geographic location: Berlin is my base. I have a tendency to move around and since I've had my blog I've been posting from Amsterdam, San Francisco, and Barcelona.
Why is the site called "What Should I Eat For Breakfast Today"? Because it used to be the question asked in my home almost every morning. My blog is all about celebrating mornings, nice cups of coffee, good meals, and enjoying everything around during these precious moments. When I started blogging in 2011 this was the name; I didn't even consider different ideas.
What's been your most popular post? I think it was a cinnamon roll. I was a bit surprised, as it's not very innovative, but I think that Pinterest had a big part in its success.
What's your favorite post? Fried mozzarella with mushrooms on toast. It has a rich flavor and an interesting texture, and it was a great morning in general. Maybe I am a bit sentimental with this one, but it was one of these perfect mornings with my partner Tomasz: enjoying a nice meal with good coffee, our cat hanging around, and talking about how beautiful life can be when you want it to be this way.
What's something great that you've learned or that's happened to you since starting your blog? I've learned a lot, that's for sure. I've discovered types of food and ingredients I didn't know existed. I probably shouldn't share it, but my beginnings were pretty "green" and I did not know much about food. I used to stay in my comfort zone. I remember when I discovered that I could actually make an oat flour at home by grinding oats. I went wild and for a week we were eating anything and everything made from it. But personally it's all about people I've met thanks to my blog. I've made friendships with creative and talented people all over the world. It made me want to work harder and start new projects. And in general it made me believe that anything is possible.
What's the usual process for developing one of your posts? It usually starts the evening before when I'm discussing with my partner what we would like to eat for breakfast the next day. I have a big collection of ideas and recipes, so there's a lot to choose from, if we're not sure. I get up in the morning, have a bite of something small and a nice cup of coffee, turn on the radio, and start preparing it. As it's a breakfast, usually it's not very complicated. Then, I call Tomasz and we eat together—or at least, he eats while I am taking pictures of him doing it (after two years he does not even notice it anymore). And then the real blogging starts—working on pictures, writing, simply sharing our morning. And this is my favorite part.
What are your favorite ingredients and tools? A wooden spoon is tool number one. I do not have much equipment; I was even living without a fridge for a year, which gave me a unique possibility to use only fresh ingredients. I am also crazy about my iron skillet as it makes food look so much yummier. I love fresh organic products, like most food bloggers, but quinoa and oat flour stole my heart for the longest. You can be very creative with these two. I remember making blueberry pancakes using just a flour I made out of oats. My friends were surprised by how tasty it was.
What are your favorite food and cooking resources (books, stores, etc.)? I enjoy visiting local farmers' markets and talking with the people there; their experience is a big inspiration. In Berlin we have many of them, but of course I have my favorite one. There's one place I particularly enjoy going to, Frische Paradies, where I can find unique ingredients from all over the world. I am kind of addicted to food magazines as well, like Kinfolk, Cereal, and Gather, as they're all about food and people.
What photography equipment do you use? Canon 5d Mark III and in most cases 50mm f1.2. I should use a tripod more often, but it's still something I need to learn.
What food blogs do you follow? This is a difficult one. I find great blogs almost every day. Right now I am influenced by Just One Cookbook as I want to be a master of bento like Nami, Love and Lemons for beautiful pictures, and Anecdotes and Apple Cores for Monet's passion for baking.
What is one thing that sets your site apart from others? My blog is about my mornings. I do not only share recipes but also my travels, experiences, happy moments, and dilemmas as well. It's a celebration of life, with all the beautiful things, as well as mistakes I've made on the way. It's all about my life really.