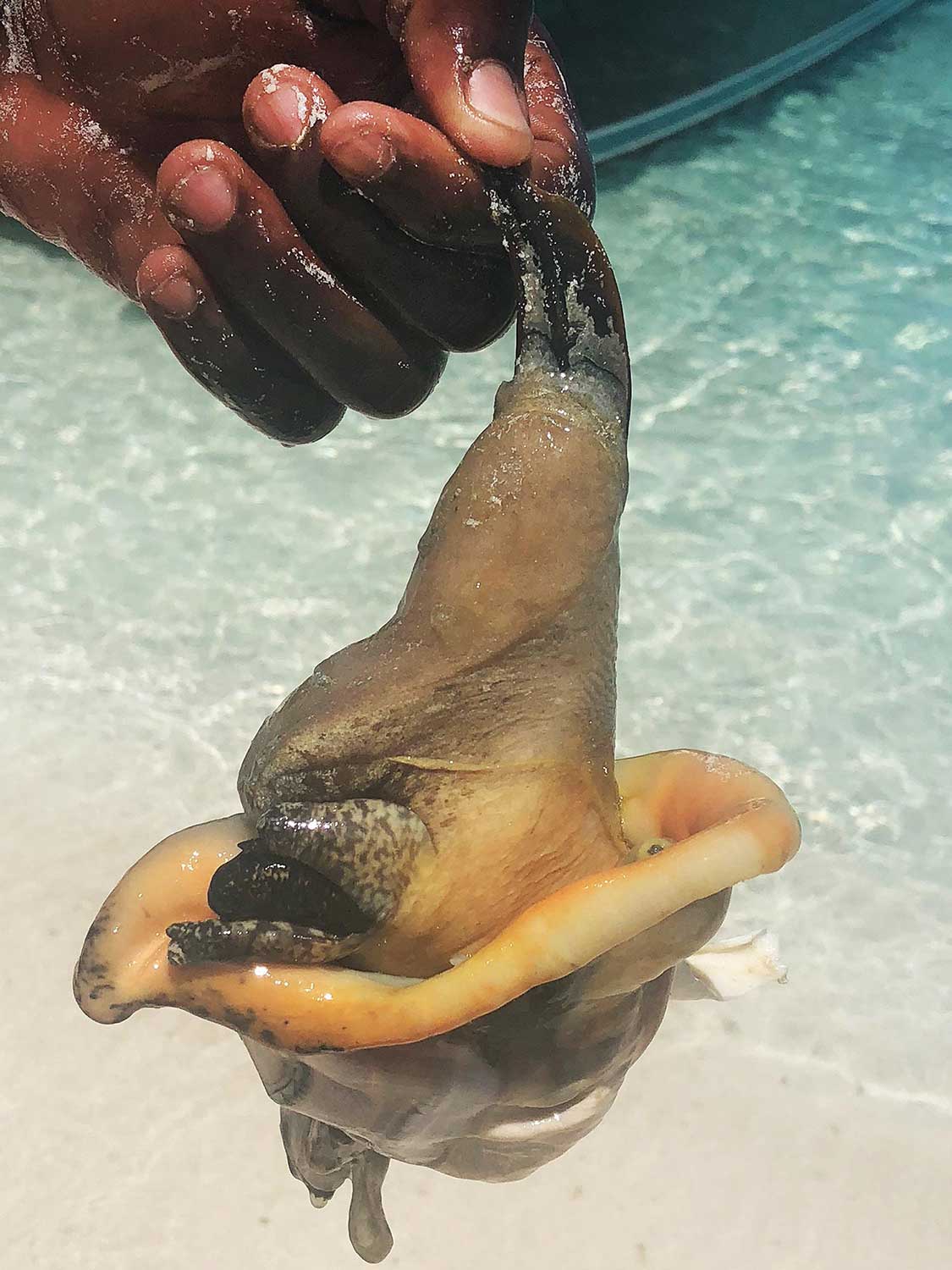 Culture
In Turks and Caicos, Conch Is Queen
Edible queen conch is everywhere on Turks and Caicos, but overfishing might mean big changes for the islands' future
On a balmy evening on Providenciales, the largest island in the Turks and Caicos archipelago, the sea brought a wind inland, and with it, boats of fishermen who'd been diving in the shallow waters for conch. With the mollusk's edible muscle removed, David Bowen's grandfather, Julius, brought a curved, pink shell to his lips and blew into it three times—two short, one long—a call that would inform his wife that he'd returned home.
"There's so much more to the conch shell than just food," said Bowen, a community leader who served as the Turks and Caicos Islands' director of culture for 14 years, and now works as a wellness and culture director at Providenciales' Grace Bay Club. It was one of the first resorts on the Turks and Caicos Islands (TCI), which are now endlessly lined with upscale hotels, resorts, and restaurants to meet the demands of the tourists that fuel the islands' economy.
But when Bowen was born on TCI in 1958, there were no resorts. There was no electricity, no running water, and no indoor toilets. It was life stripped bare, but it was beautiful. The dusty rocks and trees leaned into the turquoise waters abundant with the islands' sustaining force: queen conch.
Along with their Christian religious practices, conch was at the center of most everything for Turks and Caicos islanders, Bowen explained. The church was a hub for culture, and the island's popular games, music, and events were all affiliated with the local church. Today, prayers are still spoken before most activities: government meetings, school events, shows, and especially meals, most of which involve conch.
In addition to being the staple cuisine, according to Bowen, conch was also a source for trade. It was an instrument for music and dancing, a tool for digging, and a material in building and design. It's the country's number one export, and its significance is illuminated on both the country's crest and national flag.
For years, the inhabitants of TCI, many of whom are descendants of African slaves brought to work on the island's cotton and salt plantations, traded conch with Haiti, a half-day boat ride away, for fruits and vegetables, which Bowen said were difficult to grow in TCI's limestone-rich soil. They would remove the conch from its shell and beat it with a stick called a conch bruiser, made from a tree called the lignum vitae (Latin for "wood of life"), until the meat was flat. They then laid the conch in pieces two-by-two in the open air until it was naturally preserved by the sun and wind.
"Conch jerky," as Bowen calls it, was easy to trade and did not require using the island's other primary resource—salt—which workers scooped in heaps using empty conch shells. Turks watermen boast about how rebels of the country's British colonizers smuggled salt to George Washington's troops, enabling the men to survive on preserved meat and, purportedly, win the Revolutionary War. Throughout history, Bowen says builders collected conch shells, stacking them to be burned and then mixing the ash with sand and water to create lime, which could be used in building construction.
Although most new buildings do not use the conch anymore, The Shore Club, TCI's newest luxury resort on Providenciales' isolated Long Bay Beach, incorporated the shells into its infrastructure. Rather than waste the thousands of shells it spent years clearing in pre-construction, The Shore Club used them to build its sprawling property. While the hotel's tiled floors were hand painted and imported from Portugal, its sturdy walls and towering, soft arches reflect the shell's purity and place in TCI as a natural resource.
Today, conch is on nearly every menu across the islands. Coconut conch fritters is a signature dish at Bugaloos Conch Crawl, where diners can get drunk on rum in boats parked on the sand. Grilled conch with rice and peas, conch chowder, and conch ceviche are dished up by the hundreds at Providenciales' Fish Fry, a beacon of entertainment for tourists and locals alike. And nearly every resort restaurant, from swim-up pool bars to high-end dinner spots like the Japanese-Peruvian Sui Ren, give diners a taste of the iconic dish.
But with tourism increasing the demand, conch is becoming more at risk. It was placed on the U.S. Fish and Wildlife Service endangered species list in 1992 and has already been overfished in neighboring islands like the Bahamas.
In 2010, in an effort to reverse the endangered status of conch, a company called Trade Wind Industries invested $20 million into the Caicos Conch Farm, the only commercial conch farm in the world. The farm would raise and harvest conch, educating tourists, students, and locals in the process. But in 2017, Hurricane Irma tore through the farm. Its CEO, Richard Berke, said the farm is still pending a decision on whether or not they will rebuild. For now, all the islands' conch is being sourced from the wild.
"Conchs were easy to locate in earlier years, but increased tourism has put a huge demand on conch meat," Bowen said. Just 20 years ago, live conchs were plentiful in the shallow waters just off the beach.
"Dive for conch—that's what we grew up doing on the island before tourism," said Island Vibes Tours leader, Emanieo "Manny" Williams. "We find them, clean 'em up nice and good, package them up by the 50s and bring them to the fish market [for export] mainly to Florida. The female conch lays 20,000 eggs, but it's so hard to keep. [There are] always lots of predators, the locals being the biggest."
In 2011, the Department of Environment and Maritime Affairs declared that no conch could be exported from TCI between July and October, which Bowen says is the conchs' "spawning cycle" during which they "reproduce and replenish" in numbers. There are also limitations on size so that young conchs can grow to maturity before being fished.
"Sometimes development is a two-edged sword. People want conch and conch and conch, but we have to mindful… You may not make as much money on this catch, but your children, your grandchildren will have it," Bowen said.
If the waters continue to be overfished, conch will not only be pushed out of local culture but will also put a strain on the island's principal economic means: tourism. Bowen said he has watched the price of conch increase over the last 20 years as fishermen spend longer days going offshore to collect it from deeper waters. If the numbers keep depleting, he fears conch could become too expensive, and even have to be imported from other waters.
"I hope that the restaurants [and] the people see this; it's not infinite," Bowen said. The future may be unclear, but TCI is doing its best to carry on. In honor of the conch, the country hosts a festival every November in Blue Hills, one of the original settlements on the north end of Providenciales. So long as the conch are available, visitors eat and dance and celebrate as restaurants from around the islands compete to win the title for best conch dish.
Besides a stretch of sand that feels untouched by development, one can hear the conch horn echo as it did when Bowen's grandfather returned home from the sea, a reminder to islanders that the sound, the shell, and the culture of the islands is still very much alive.