Postcard: A Rare Tea Harvest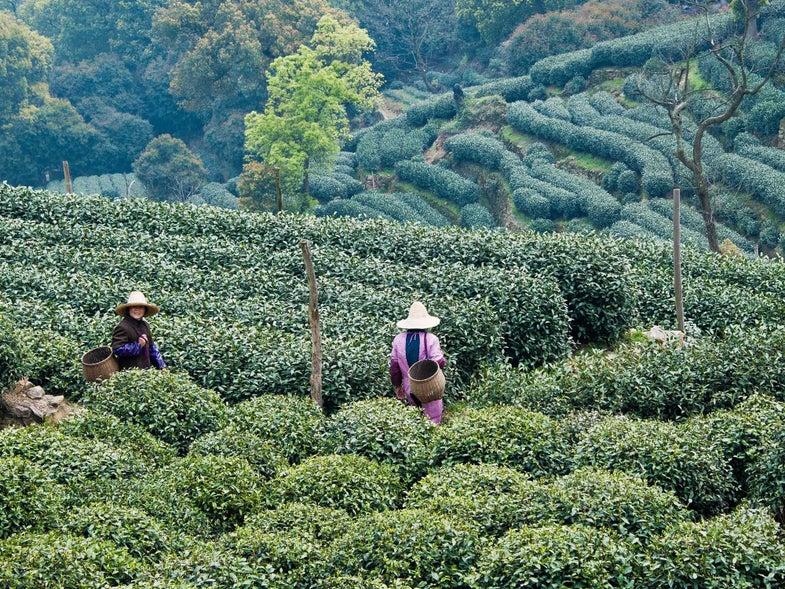 Every Spring, the harvest of China's most famous and expensive green tea begins: longjing cha, or Dragon Well tea. The best leaves, mingqian cha, are harvested in the fifteen days between the Spring equinox and China's Qingming festival on April 5th, when Chinese families pay respects to their ancestors by tending their graves.
This first flush of pre-Qingming leaves is thought to be the most tender and possess the most refined taste; it can fetch a price upwards of US$1000 per kilogram. The price drops gradually with subsequent harvests as the weather warms up and the leaves become more robust and slightly bitter. Tea-pickers start at first light before the dew has dried, deftly removing two leaves and a bud. The leaves are then roasted over low heat in a brass wok, which folds them into their characteristic needle shape. When brewed, the resulting tea is clean and light, but complex too, with notes of chestnut, fresh-cut grass, and spring flowers. If you're lucky enough to get your hands on some (available from specialty tea purveyors like Seven Cups), steep them with water heated to 180°F until the leaves fall to the bottom and unfurl, preferably in a clear glass so the pure jade color of the leaves can be appreciated.