Sallad på Rostade Grönsaker (Grilled Vegetable Salad)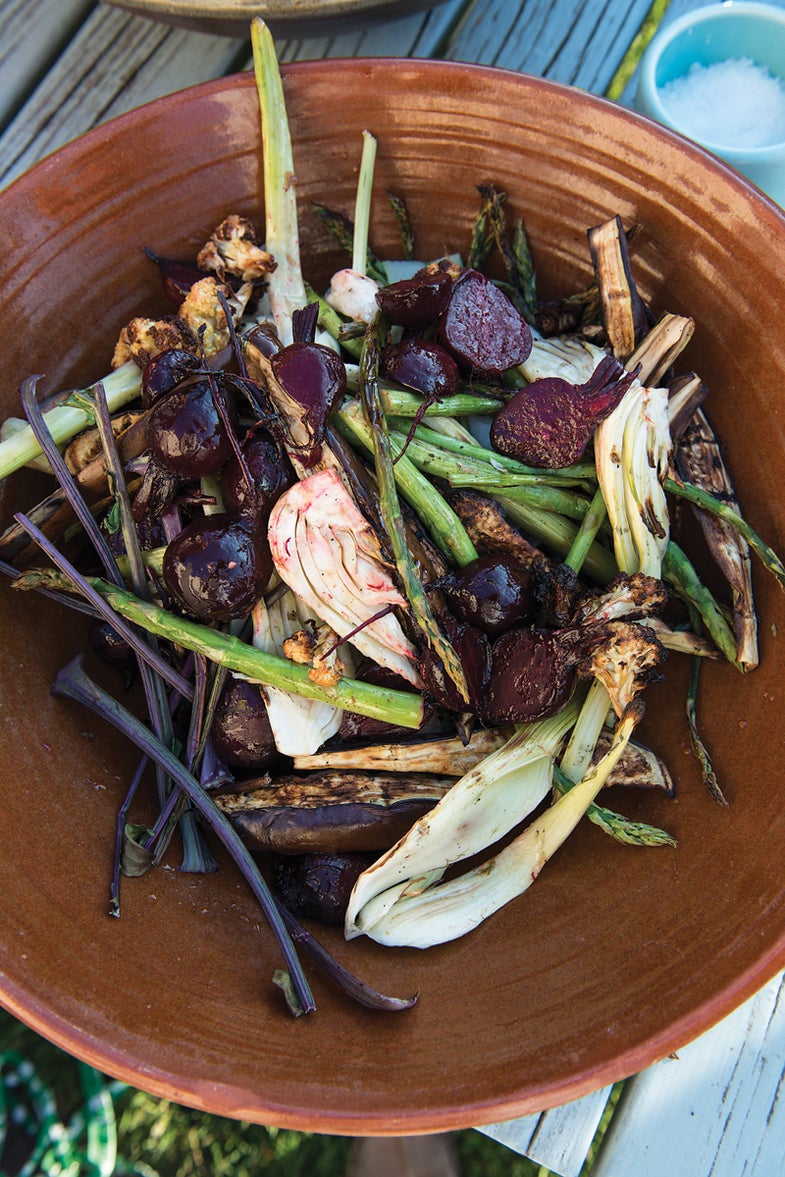 Beets, asparagus, eggplant, cauliflower, and fennel are slathered in olive oil and grilled, then tossed with lemon juice and zest to make this warm, smoky grilled salad served at writer Per Styregard's Midsummer dinner in Vickleby, Sweden. Any combination of vegetables, such as carrots, turnips, and zucchini, can be incorporated into the dish. This recipe first appeared in the tablet edition of our June/July 2014 issue with Styregard's story "A Midsummer's Dream."
Sallad på Rostade Grönsaker (Grilled Vegetable Salad)
Beets, asparagus, eggplant, cauliflower, and fennel are slathered in olive oil and grilled, then tossed with lemon juice and zest to make this warm, smoky grilled salad.
Ingredients
3 medium red beets, scrubbed
2⁄3 cup olive oil
Kosher salt and freshly ground black pepper, to taste
1⁄2 head cauliflower, cut into medium florets
1 sprig thyme
2 bulbs fennel, cut into ½" wedges, ¼ cup fronds reserved
1 small eggplant, sliced crosswise ½" thick
1 bunch pencil asparagus, trimmed
Zest and juice of 1 lemon
Instructions
Heat a charcoal grill or set a gas grill to high; bank coals or turn off burner on one side to create an indirect zone. (Alternatively, heat a cast-iron grill pan over medium-high heat.) Rub beets with 2 tbsp. oil, salt, and pepper; grill over indirect heat, turning as needed, until slightly charred and cooked through, about 45 minutes to an hour. Let beets cool slightly, then peel and cut into wedges; transfer to a serving platter and keep warm.
Toss cauliflower with 3 tbsp. oil, thyme, salt, and pepper on a double thickness of aluminum foil; seal closed and grill over indirect heat until florets are tender, 18–20 minutes; unwrap, discard thyme, and transfer to platter with beets. Toss remaining oil with fennel, eggplant, asparagus, salt, and pepper in a bowl; working in batches, grill vegetables over direct heat until slightly charred and tender, 6–8 minutes for eggplant and asparagus, and 10–12 minutes for fennel. Transfer to platter with beets and florets. Drizzle with remaining oil and the lemon zest and juice; toss gently to combine and serve warm.