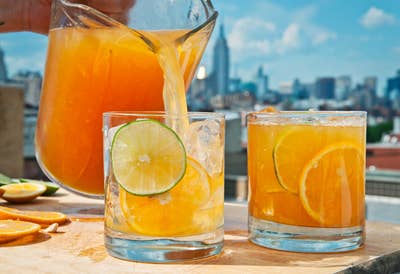 Culture
Sites We Love: The Way We Ate
Gorgeous photos? Check. Engaging writing? Check. Seriously inspiring recipes, tips, and culinary curiosity? Check, check, and check. The best food blogs all seem to have a lot in common — but what separates them out are the strong personalities behind them. In our Sites We Love series, we sit down with some of our favorite bloggers to find out how they do it — and why it's as much fun for them as it is for us.
This week's site we love is The Way We Ate, an image-based blog where photographers Noah Fecks and Paul Wagtouicz take a retrospective turn in the kitchen, time-travelling through the past century as they recreate and photograph recipes (and fun vintage advertisements) from all 815 issues of Gourmet magazine. Here's What Noah and Paul have to say about their site:
Blog Name: The Way We Ate
**Geographic location: **East Village, New York NY
Why is the site called The Way We Ate? Besides Barbra Streisand, we're both music nuts and love the 70's AM radio classics. In a few words, the name evokes that nostalgia and a longing to recall a simpler time.
What's been your most popular post? Pedro Ligero's White Sangria Azulete (Gourmet, June 1987) garnered thousands of "likes," many from young viewers mistaking the drink for orange juice. The view of the New York skyline from our rooftop on a beautiful June day made up for a colorful though otherwise lackluster booze-bomb. It was one of the few recipes we've tried that neither of us could recommend, but we had fun shooting it.
What's your favorite post? Noah: Teacher's Scotch Advertisement (Gourmet, November 1968). One of the best parts about collecting Gourmet is the advertising. We love going through the vintage ads and the context they give to the prepared recipes, making up half of the content on TWWA. This 1968 scotch ad, from the chilling premise and copy to the jewelry and that look, takes the cake for the strangest example of "art directors gone wild!"
Paul: Piña Colada Ice Pops (Gourmet, August 2000).What began as an ordinary popsicle became an extraordinary, minimal composition when bitten, beginning to melt and held aloft against a perfect summer sky. A surprising convergence of circumstances, shot with natural light. Equal parts nostalgia and rum, and incredibly delicious.
Photo: Noah Fecks and Paul Wagtouicz
What's something great that you've learned or that's happened to you since starting your blog? From ribboning to stiff peaks, course chop to fine mince, it's all about technique. We've both become much better, more knowledgeable cooks than we were a year ago and enjoying the spoils thoroughly. Vintage recipes are less calorie-concious than their modern counterparts, but we feel as though we're eating better overall, selecting only the freshest, most wholesome and unaltered ingredients of the season.
What's the usual process for developing one of your posts? Every Monday, we pull an issue of Gourmet magazine from the shelves that line the walls of our tiny East Village kitchen which contain every issue of the magazine ever published, jumping decades from week to week. We'll bring the issue to one of our favorite lunch spots and pore over the recipes, marking pages of kitchen contenders and ads that make us laugh or are incredible in some way. Then, it's a trip to the local markets, and then the fun begins... cooking, choosing props, shooting, then enjoying and sharing what we've made. We're getting better at selecting recipes that are both fun to cook and interesting to photograph, and have been inviting guests more frequently, often preparing recipes from the year they were born. Lady Gaga has yet to return our tweet.
Photo: Noah Fecks and Paul Wagtouicz
What are your favorite food and cooking resources? Cook's Illustrated and Julia Child always have our backs. Between them, there's nothing you can't attempt with confidence. All ten seasons of The French Chef are streaming online now, and America's Test Kitchen has terrific online resources. Prop shopping in New York City is endless fun, but where to put it all?
What photography equipment do you use? We are both professional photographers who shoot every single day, using a stable of equipment and dozens of cameras. We're paying more attention to how we shoot than what we shoot, though it doesn't hurt to have some of the best quality optics and equipment on hand.
Where else can we find your work? We're each grateful to have our work featured in dozens of publications and campaigns around the web and in print. Noah's blog can be found here, and Paul's blog here.
What food blogs do you follow? At our house, it's 1963 this week... what's a blog?
Do you know a blog or blogger who deserves to be featured in this space? Email a nomination — including a link to the site and a few sentences on why they're worthy of love — to siteswelove@saveur.com.