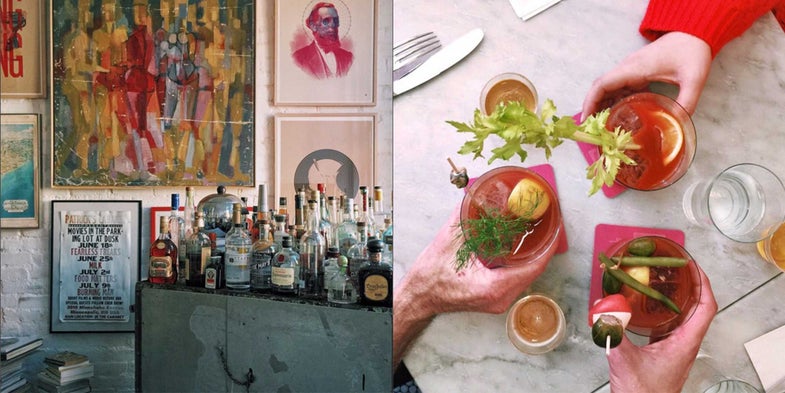 Whether your cocktail tastes hew toward minimalist Sazeracs or 12-ingredient concoctions, drinks these days look more and more like art. If you need proof, look no further than Instagram, where countless bars, bartenders, and spirited obsessives give daily views of what they're drinking and tinkering with. Here are our favorite 10 for cocktail-mixing inspiration and no small amount of drinks envy.
Take a step back in time at Brooklyn's seminal oyster house and cocktail bar. Behind the faded facade is an ode to the watering holes of yore, inspired by the drinking fashions of yesterday's Paris, New York, and New Orleans.
Daniel Krieger's work has been featured in the New York Times, Food & Wine, and Eater. Though it's not exclusively cocktail-related, his feed is sure to make you swoon.
The building Ice Plant Bar calls home in St. Augustine, Florida was originally used, shockingly enough, as an ice plant. There are nods to this throughout the bar's Instagram feed, and you'll find a mix of black and white photos with colorful posts of the bar's latest cocktails.
Punch is an online magazine for all things wine, spirits, and cocktails, and their Instagram feed will keep you up to date on the who's who and the what's what of the industry.
See what lower Manhattan's multi-level cocktail destination the Dead Rabbit is up to, and learn how to make certain drinks at home with occasional recipe images posted to the bar's account.
The Parched Penguin is all about the art of drinking. Their account celebrates this with images of elegant bar gear, classic cocktails, and suggestive ways to open Champagne.
Tales of the Cocktail started in New Orleans in 2002 and has grown into one of the world's leading cocktail festivals. The Tales of the Cocktail feed, with images of drunk men giving chickens booze, classic cartoons tweaked for the 21+ demographic, and happy apes supporting your next pint, is all about promoting cocktail culture.
The Liquor Cabinet, where "every bottle has a story," was founded last year by the Janelle brothers; Patrick, Peter, and Sean. Get lost in the feed and scroll through shots of beautiful backbars, classic cocktails, and the occasional video. With a mobile app coming in spring this year, the Liquor Cabinet aims to teach you everything you need to know about the drinks you love.
If you're looking to scroll through perfectly made cocktails all day, do so at Meredith Kalmes and Chris Clark's Tuxedo Number Two. If you're looking to know what's in these wonderfully shot drinks, head over to the Tuxedo Number Two website, where each drink photo includes a bit of history on the drink in addition to a recipe and instructions on how to make it.
Women and Whiskies was started in 2010 by Campari America with, according to the website, "the goal of providing women with knowledge so they are comfortable tasting, talking, and buying a spirit that has been traditionally marketed and advertised to men." For all things tablescapes and whiskies, this is your feed.
Take a peek at what Trick Dog, the three-year-old Mission District bar in San Francisco, is up to. The occasional food photo shows up alongside photos of drink updates to the bar's always enchanting cocktail menu.