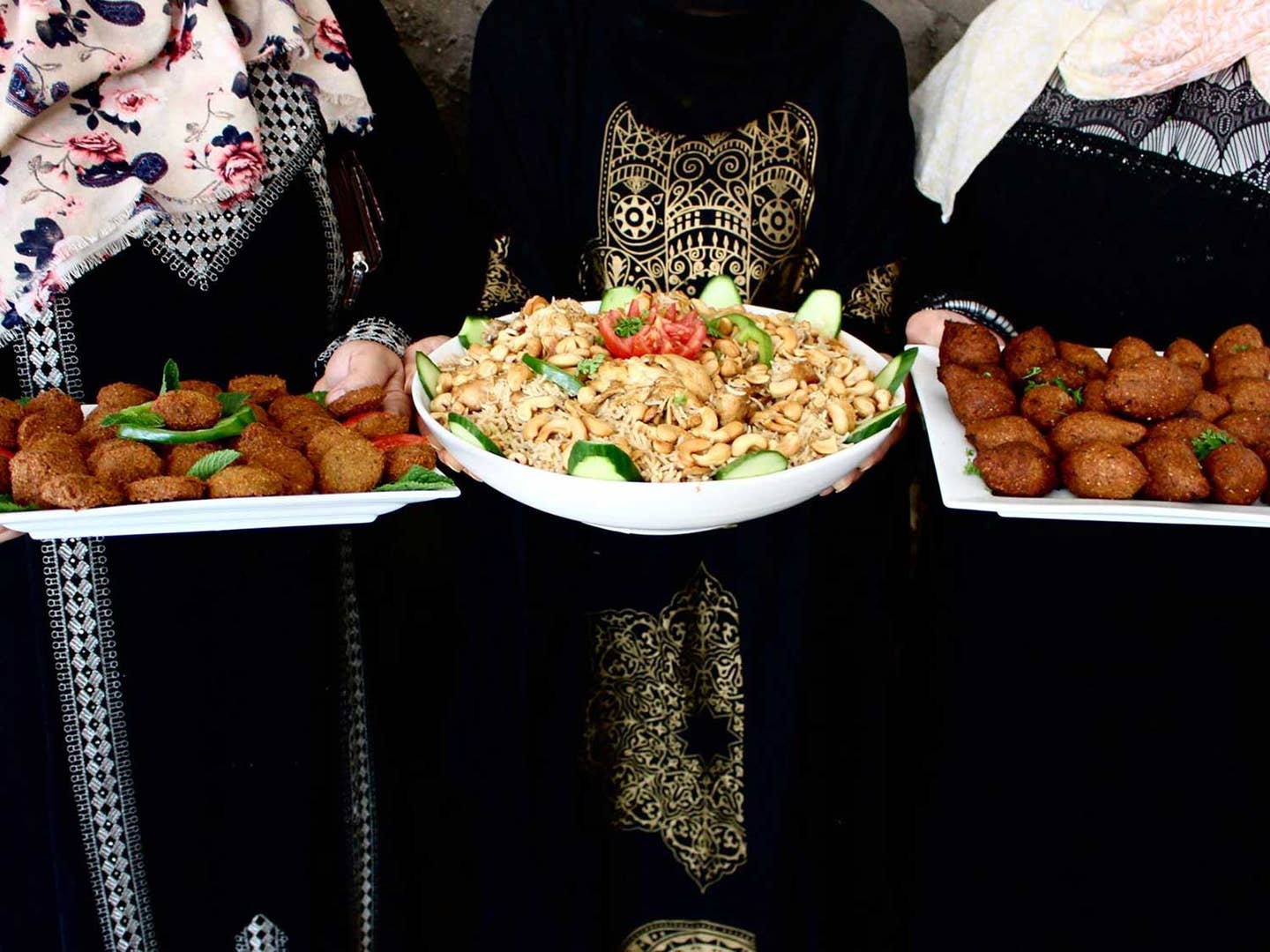 Travel
An All-Woman Team of Syrian Refugees Has Become Canada's Hottest New Catering Company
Karam Kitchen is taking over the city of Hamilton, Ontario with yogurt sauce for a good cause
When Brittani Farrington volunteered to help throw a welcome dinner for a handful of displaced families from Syria in Hamilton, Ontario, she intended on preparing the food—until three of the refugees asked if they could do the cooking instead.
Rawa'a, Dalal, and Manahel, three women who had resettled in Canada a few months before, knew they couldn't communicate in English, but they could introduce themselves with their pillowy homemade pitas and mutabal, a yogurt-thickened cousin of baba ghannoush. Moved by the meal, Farrington opened up Google Translate to communicate with the women, and she slowly gleaned that they were interested in selling their food. So in July, she created a Kickstarter to fund Karam Kitchen, a catering business run by the women, and set a goal of just over $4,900 USD to cover the bare-minimum basics. Start date: July 24, with 30 days to reach full funding.
Little did Farrington expect to see the project nearly half-funded in the first 24 hours, and fully funded in just four days.
"The women were so excited [when I told them it was funded], though they were much more excited about being on the front page of The Hamilton Spectator," Farrington says. "They felt like they were famous."
Marketed as a catering company that "seeks to empower Syrian newcomers to build a new life in Hamilton and contribute to [the city's] vibrant community," Karam, which translates to generosity in Arabic, currently has over twice the amount of money it projected as a goal and nearly 200 backers—and there's still a week left. With help from business partner and co-founder Kim Kralt, who has catering experience and a degree in social work, Farrington has lead the women through all the necessary steps, like earning their food handlers' certification, and the more exciting tasks, like creating their standard catering menu.
Kralt found herself running around the kitchen, scrambling to keep up with the women who cooked each dish by feel. After finally convincing the women to measure how many cups of yogurt went into their smoky mutabal recipe before mixing, she and the team settled on a menu with both recognizable dishes to locals, such as tabouleh and hummus, and others that are less so, like meat- and rice-stuffed eggplant and zucchini. Their first official catering gig is September 8th for a meeting of the city's Task Force on Refugee Resettlement, a group of 25 to 30 people who have supported Karam Kitchen from the start. From there, Karam already has a few packed months ahead. It's an impressive schedule for any catering business, let alone one that's only half a year old—and to say nothing of the language barrier.
Just as Rawa'a, Dalal, and Manahel were new to Hamilton, a Canadian port city with a population of half a million, so was Farrington. Born in the Midwest, where she went to college and gained experience doing marketing for catering companies, she found herself uprooted a year ago to Ontario for her husband's PhD program. Well aware of United States' shaky reception of Syrian refugees, Farrington was shocked to find herself in a city with a global department dedicated to making the city welcoming to refugees, and with a large task force behind it. In the past year, Hamilton alone has welcomed 1,000 displaced Syrians.
Since the outbreak of the civil war in March 2011, the U.N. estimates that nearly 13.5 million Syrians are in need of humanitarian aid, and more than 50% of the population is displaced—but only 3.6% of those who are displaced have resettled in another country.
While the U.S. hasn't been that receptive to Syria's refugees, our neighbors north of the border have proven to be especially welcoming. In the past few months, both the New York Times and the Washington Post ran features on Canada's programs. According to Global Affairs Canada, the governmental department that manages the country's diplomatic relations, Canada has taken in over 25,000 refugees since November 2015 and has spent over $1 billion in "humanitarian, development, and security assistance."
"It's been so refreshing here in Canada to be living in a city that is generally incredibly welcoming to refugees," Farrington says, emphasizing that though displaced persons are obviously grateful to be welcomed in foreign countries, leaving their home is bittersweet. "Rawa'a, Dalal, and Manahel were always serving me cookies and tea [when I visited their homes], despite their limited resources, so I've been so pleased to see the city rally around newcomers."
Now that Karam has exceeded its $4,900 USD goal, they're hoping to reach just over $11,600 by August 24th, an amount that will allow them to purchase more equipment and packaging, as well as fulfill all rewards for Kickstarter donors. But beyond supporting the women, Farrington stands behind the food; she doesn't want people supporting Karam solely because of the cause, but also because she believes in the crisp-fried falafel, the savory-sweet cabbage and pomegranate salad, and every other dish on their menu.
"We believe so strongly in the women, which might be why someone initially orders from us," Farrington says, "but it's such quality food that we feel confident that if we can get people to try it, they'll be hooked."