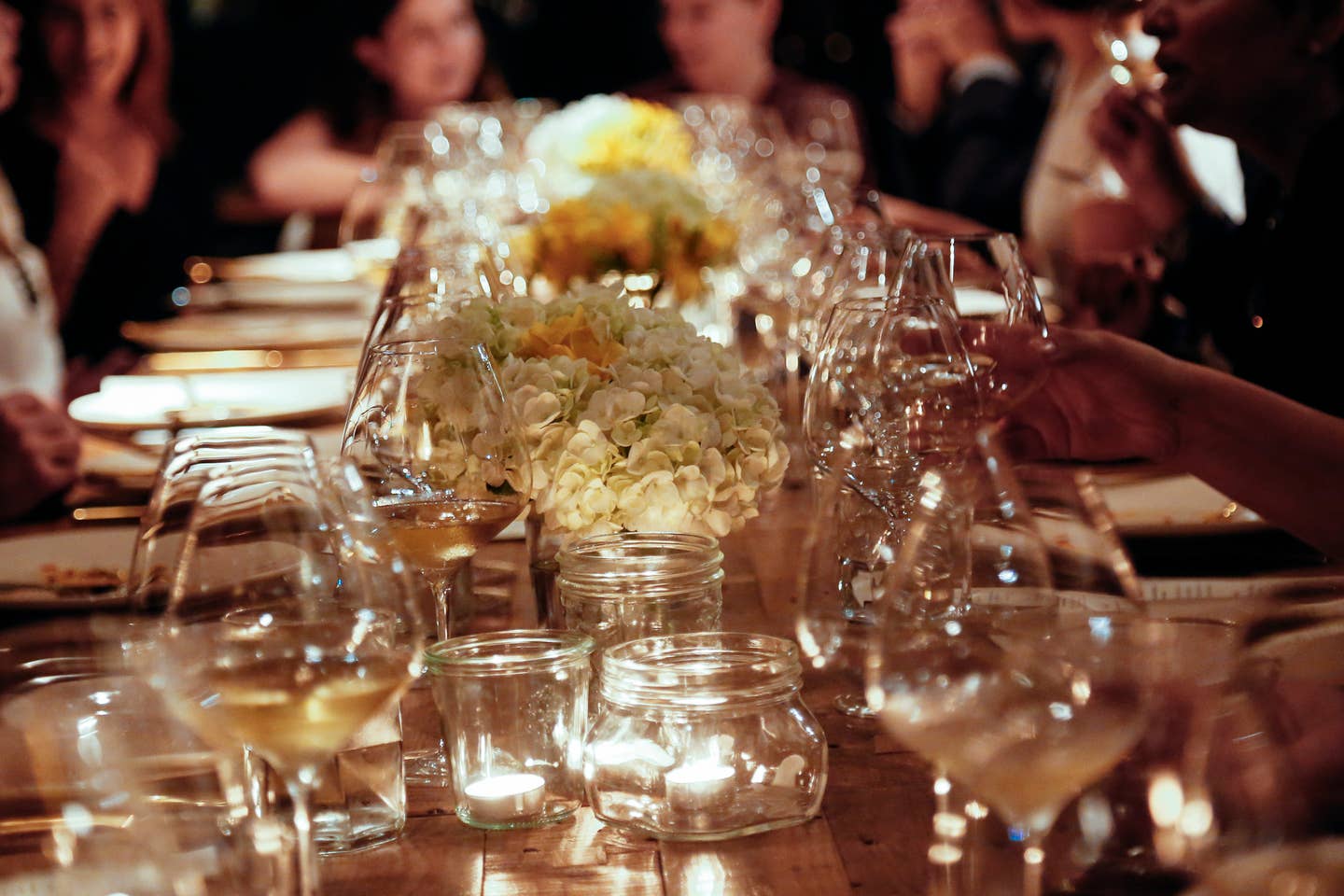 Culture
How to Build a Winery From Scratch
Lynmar Estate's Lynn Fritz talks luck and terroir in the Russian River Valley at our latest Saveur Supper
It was a stroke of pure luck that led Lynn Fritz to discover his love for winemaking. A lifetime oenophile, Fritz acquired a plot of land with small, 14-acre vineyard in 1980. For 10 years, he would sell his grapes to nearby winemakers, realizing over time that the wine made from those harvests was some of the best he'd ever tasted. Along with his wife and business partner Anisya, Fritz purchased six contiguous properties near the original land to create what is now the Lynmar Estate.
At our latest SAVEUR Supper, featuring The ONE stemware provided by master sommelier Andrea Robinson, we were treated to a pairing menu featuring some of Lynmar's finest bottles—the winery mainly produces chardonnay and pinot noir—along with dishes prepared by estate chef David Frakes using produce grown on that same land. (Fun fact: Frakes discovered six years ago that he had a long-lost brother named Chris, also a chef, and the two cooked together for the very first time last night at the SAVEUR test kitchen).
During the dinner, a 2013 Old Wente chardonnay was matched with a chilled zucchini salad slicked with heirloom tomato-ginger glaze and goat feta, while a red-fruit–forward 2013 Susanna's Vineyard pinot noir offset a grilled sirloin of Niman Ranch lamb encased in an herbed crepe and served alongside a confit of estate olives, fire-roasted pepper, and roasted bronze fennel.
For dessert, caramelized pears nestled on a pecan frangipane puff pastry highlighted the ample sweetness of a 2011 Divinity Late Harvest chardonnay. Naturally, this is a typical meal for guests at the Lynmar Estate tasting room, which is fitted with a picnic area and covered patio.
We sat down with Fritz to talk about how he built his experimental operation from scratch, grew a dedicated customer base sans distributors, and created a space where food and wine can be celebrated and—more importantly—lingered over.
What was located on the land when you first bought it?
There was a small vineyard in 1980 of about 14 acres. There was nothing else, no winery. It was all apple orchards where we were—it was considered good for apples because it was cool and temperate. In those days, everyone was drinking cabernets and zinfandels. And you need a lot of heat for those, so they related that to Napa Valley, which is east of us.
You weren't a winemaker at the time—what made you buy it?
I bought it as a place in the country for me and my family. But I come up from a very middle class ethic, and I couldn't bear the idea of buying something just as a possession. It needed to have a purpose. It happily had vines on it, but I would have bought it if it had hay on it!
When did you know you had struck gold?
After 10 years of selling the grapes, I said, "Oh my god, this is making unbelievable wine from two fabulous winemakers." This is like a prodigy child. Let's try to buy whatever's available, over 30 years, then we'll build a winery and a tasting room.
I understand the estate is located in a considerably cooler "micro-climate," which helps with the kind of wine you produce. What other factors would you point to?
The soil, the terroir. In our case, the soil is kind of a sandy, well-drained soil. Then there's aspect, which means facing east or west in different categories. It's just the perfect property. I saw the potential for us to have a grand cru-type California wine. That's why we've been on this "petri-dish," experimental journey for 35 years.
Explain the petri dish.
You have the soil, the terroir, and the climate. So now there's a question of: How do you genetically put together the perfect situation? You do it by taking certain selections of chardonnay and pinot noir grapes—these are called clonal, with different clone materials and different rootstocks with different characteristics. You plant them in a particular way, a particular angle, and with particular spacing. We went to the best growers around California, and we actually got their budwood from their vineyards, and we planted it on our land. People were highly supportive—it was an opportunity for them to see what their budwood would do under ideal conditions a few miles away. It's ongoing experimentation.
How did you settle on just pinot noir and chardonnay?
Through a lot of research. We found that other grapes could grow here, but in my estimation, it's ideal for pinot noir and chardonnay. So instead of going through a lot of other things, I said let's just take these two and just keep calibrating them over a long period of time to see if they come up to the highest potential. Two was more than enough.
It seems like things more or less fell into place—what were the biggest challenges?
People's ideas of running a winery consisted of: putting all your wine into distribution, sending it to New York or California, and hoping to do the best you could. But I said, "How could I go through the trouble we're going through and have the good luck that we have, and not know my customers?" I couldn't do it. I had to create a community that believed in the "why" not just the "what" of what we do. The biggest challenge was creating this community of believers.
But you were sure from the start that it was going to work?
Absolutely. I knew the quality and value of what we were doing. So it was just a question of being able to expose it to people, who would in turn share it with their friends. I love the idea, in my soul, of getting references. It's how you make believers. We call our wine club the Advocates' Club because we wanted advocates, not customers. I was totally, totally convinced this was very doable. That's why we moved into the winery, and I took over the winery with my wife. I have to say, things have gone extremely well.
There's certainly a huge appeal to your grape-to-glass operation.
Yes, it's rare now in California for the owner of the land to be the operator of the land. Ours is totally estate-driven. We own the land, we're on the property, and we have full-time staff doing all the farming as opposed to part-time and outsourced labor. We do all of the wine on the property, with our own people. It's a totally controlled environment.
Wine and food have always and will always go hand-in-hand, but the relationship seems to play an even bigger role at Lynmar. Can you explain that philosophy?
The only way we could really feature our wine to its highest level, in my estimation, was to do it with food. We didn't want to be a place you would just pass by for 20 minutes; we wanted to be somewhere you could sit and stay. And if you're going to sit and stay, you're going to want to eat. We also have a garden where we can grow the best food back to seed. So we got Chef David Frakes—he came to us from Barringer, a large winery in Napa Valley—, because he wanted to be a part of slowing it down. Wine should be about slowing down. Food should be about slowing down. The best life? Slowing down. I wanted to enable that sensibility. So to answer your question, there's a very meaningful, philosophical part, but also a functional one.
See more scenes from our dinner below.