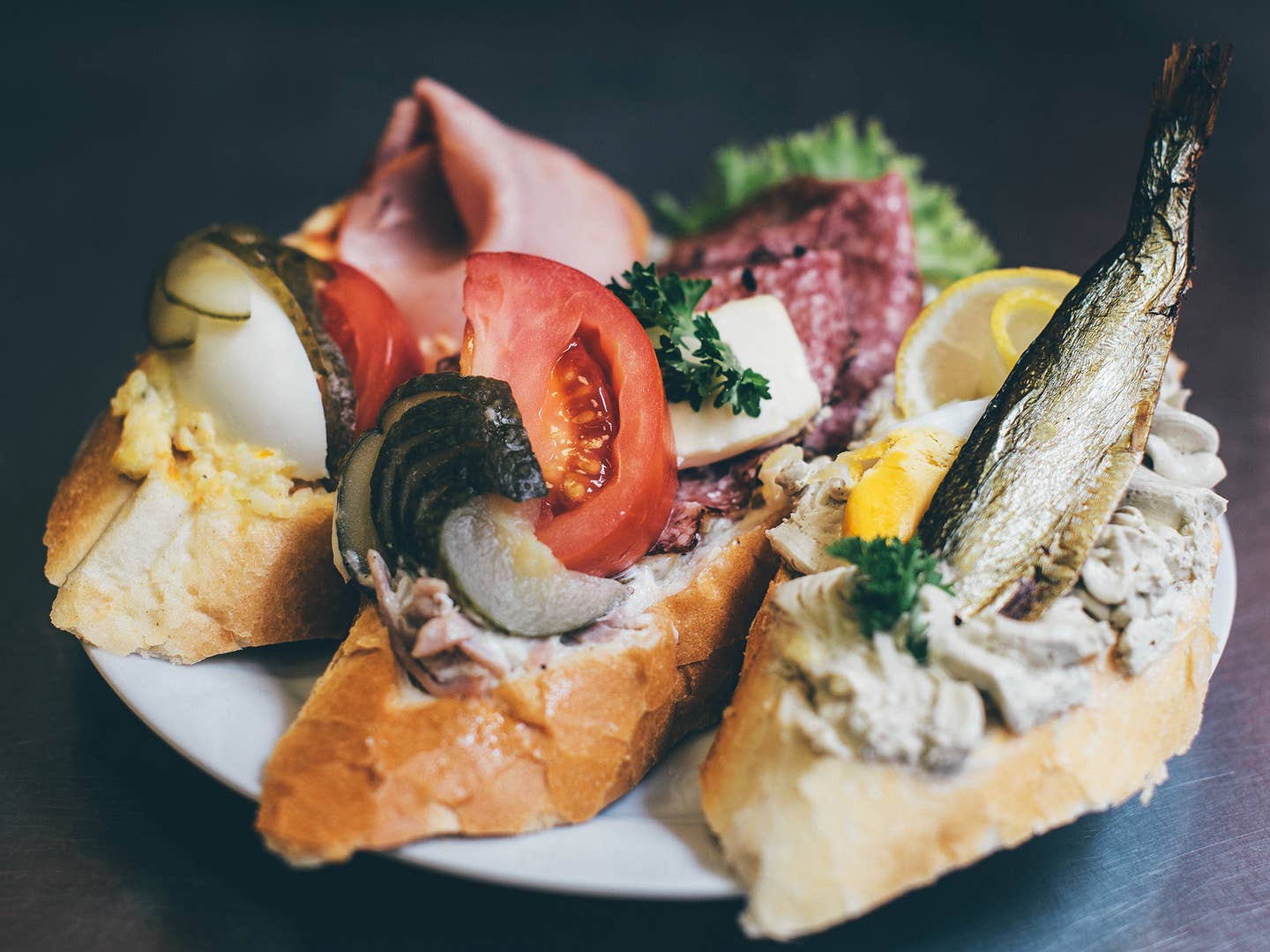 Travel
Visit the Century-Old Deli That Makes Prague's Favorite Sandwiches
Czech chlebíčky are the country's bite-sized cure for bitter winters
It's hard to feel more like a local in Prague than at 1 p.m. at Zlatý Kříž, a hundred-year-old delicatessen just steps from the city's Old Town. In the shop, a line of employees from the nearby municipal office curves around tub after tub of creamed salads, among them egg, carp, and "Hungarian mousse," a concoction of waxy salami puréed with butter and melted cheese. A generous bowl of tripe soup, a cafeteria staple, goes for 30 Czech crowns, or about $1.22. But the stars of the show are the chlebíčky, open-face sandwiches on rounds of cheap hero bread.
The open-face sandwich has a storied history in Europe, from the hearty medieval trencher to the delicate Danish smørrebrød, the French tartine, the British whatever-on-toast. But many of the ingredients that top those Western specialties were largely unavailable during the Czech Republic's communist years. Instead, Czech sandwich-makers made do with inexpensive proteins folded and fussed into greatness. In a country marked by its stark winters, fat is how you eat through cold weather, and fatty ingredients get piled on each oblong sandwich: pillows of yellow-hued mayonnaise, tufts of buttery herring paste, oily ham in origami folds, and red salami rosettes.
Czechs take pride in their chlebíčky, and the story goes that in the early 20th century, a painter purportedly commissioned Prague deli owner Jan Paukert to devise a snack that could be eaten with one hand. Paukert's famous shop shuttered its doors early this year, but the sandwich continues to thrive at delicatessens and butchers around town, most notably at Zlatý Kříž. The deli sells some 50 varieties in-store and for bulk ordering online, from the standard meat-and-mayonnaise fare to riffs with markedly Central-European names ("Debrecen sausage," "Westphalian heart," and the rather un-PC "gypsy back"). They don't speak English here, but a point and a nod will do—order two or three snack-sized sandwiches and sidle up to the aluminum counter for a standing lunch with the masses. Whatever you choose, it'll be salty and fatty and will stick to your ribs, even in the midst of an interminable winter. Trenchers and tartines be damned—this is pure Czech.
Morgan Childs is an American writer living in the Czech Republic.