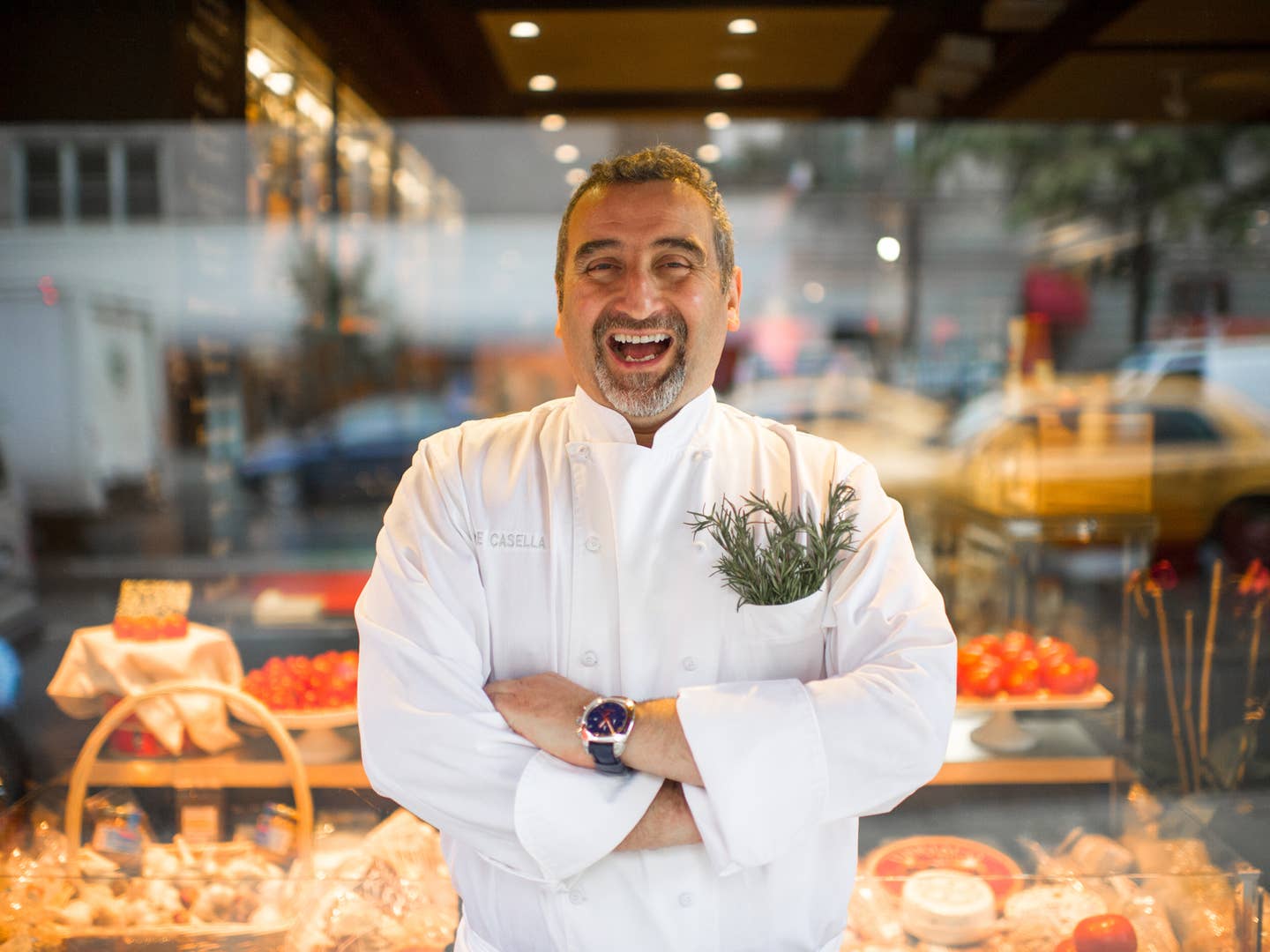 Culture
The Tenth Degree: Cesare Casella
A Renaissance man wants a Renaissance banquet for his last meal
To understand Italian chef Cesare Casella, just go to his Salumeria Rosi website, where the featured photo is one of him playing a leg of prosciutto like a fiddle; he doesn't hold a bow, but instead, a large slicing knife. The bombastic Casella loves his Italian cuisine, especially its porkier elements, and his resume is as rich and varied as the charcuterie menu at his restaurant (19 varieties). Born into a restaurant family in Vipore, Italy, he later earned his first Michelin star in this region before moving to the United States. There, in addition to opening restaurants, he became the Dean of Italian Studies at the International Culinary Center, a noted cookbook author, and a sustainability activist. We were able to grab hold of this whirlwind chef to listen to some surprising confessions, like how he's not always been a pasta-making pro.
What is your favorite sandwich?
Porchetta. I like it with grilled Tuscan bread, good porchetta, provolone cheese because it has the right amount of spice and saltiness, pickle, and salsa piccante (spicy red pepper sauce).
Your house is on fire and you can only save one thing. What is it and why?
My knives. Having a knife that you are comfortable with is very important…and most of mine are connected to some memories. A few of them from Italy are handmade and some belonged to my mother.
What book(s) is on your bedside table right now?
Nourishing Traditions by Sally Fallon and Farmacology by Daphne Miller M.D. As you can imagine, I am most comfortable in the kitchen and also with farming because of how I grew up, but nutrition is where I know the least. That is where I must continue to learn and educate myself.
You're having a dinner party and can invite three people, dead or alive, and serve them one thing. Who are they, what do you serve, and why?
I'd have my mother, my father, and Giorgio Onesti, who's the person who taught me about ingredients—especially salumi. I would serve great salumi, cheese, and bread. My mother's comfort food is mortadella; the perfect snack or dinner for her was mortadella with good bread. My father loved cheese and would drive more than 100 miles to get the best.
What is your greatest fear?
That my customers will be disappointed. I always want to make sure that my guests have a perfect experience every time they come to my restaurant.
What is the most overrated ingredient? Underrated?
Underrated: fresh herbs and good quality sea salt. Overrated: cheap balsamic vinegar.
You can have any superpower. What is it and why?
To make everyone respect and understand good, healthy ingredients.
What's the first thing you learned to cook?
Pasta. I watched my mom cook pasta, but she would never let me do it because she didn't want me to learn to cook. Instead one day my mom's kitchen assistant Adele let me cook when my mom was out. She didn't correct me and I overcooked the pasta, but I finished it in the sauce and pretended it was okay. When my mom came home, I told her that [my pasta] wasn't as good as hers, and that it was better if she continued to cook. I think I told her I would never cook pasta again. Of course I was wrong.
What is the best advice you've ever gotten, and from whom?
I don't remember who it was but someone told me when I was young to always be curious, ask questions, and taste everything.
What's the last meal you want to eat before you die?
I want an abbodanza. It's a big Renaissance banquet with an abundance of food. I think if it's your last meal, you want to enjoy everything to the fullest and not miss anything. Great wine, lots of food, big beautiful flowers, meat cooking in the fireplace—everything. This is happiness.