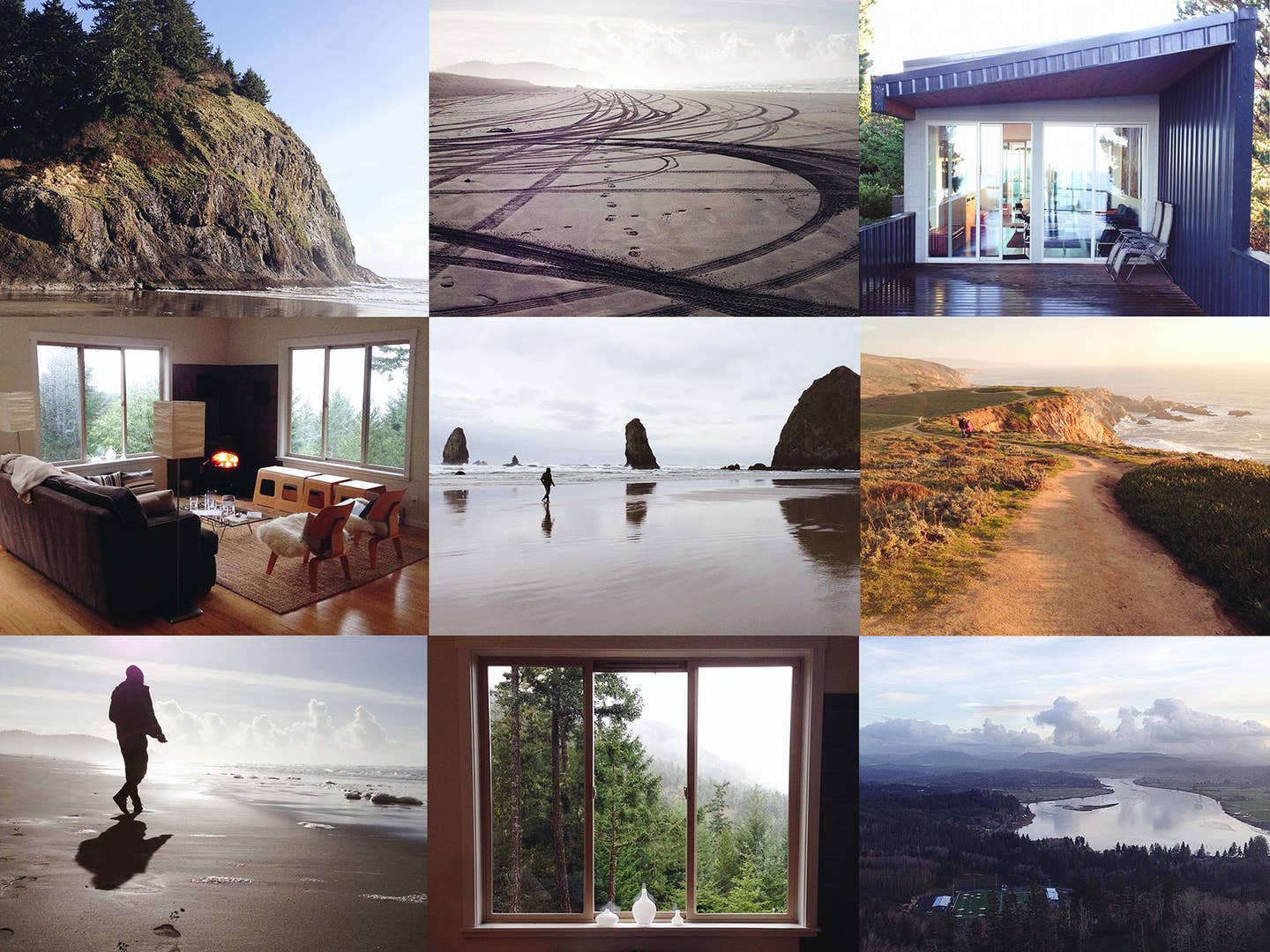 Travel
Why Impromptu Road Trips Are Easier Than Ever
Thanks to a variety of apps, taking a last-minute road trip is no longer such a crazy idea
I'm standing on Cannon Beach in Oregon with sand shimmying toward me like knots of snakes that form, slip past me, and quickly disappear. In the three hours I've been here, I've seen almost no one, besides the snakes and my soon-to-be fiancé Mike, who's running ahead, Google image searching "Goonies final scene", holding up his phone, running some more. We haven't figured out exactly where Chunk and the gang escaped the Fratellis, probably because the landscape has been pummeled by wind and spray and sand for 30 years and couldn't possibly look the same. I send our AirBnB host in Portland a message through their app, like I'm texting an old friend, to let her know we're going to be late.
"See you guys then!" she writes back a minute later. "Keep me updated if there are any changes!" (AirBnB's ratings system rewards hosts who are both irrepressible and prompt.) When we finally drive up, I ping her again. She and her three-year-old daughter come back from the ice cream shop across the street and give us the keys to their home, laundry machine, shower, and HBO Go account. The three-year-old recommends the olive oil ice cream, and her mom emails me a list of 45 of her favorite local shops, restaurants, and bars.
We spent three weeks this way in January, having made exactly zero bookings before getting in the car. We knew nothing about our route other than the vague rumor that you can drive Highway 1 all the way up the West Coast to Canada (fact check: you can't) and that the Pacific Northwest is pretty and marginally warmer than the snowblanket of New York City, (fact check: both true). It all made us feel pretty badass, until we thought about how easy this sort of travel is now, compared to when our (skeptical) parents were our age—or even five years ago.
Mike and I started traveling this way out of necessity—the blessing of getting time off, without much time beforehand to plan—but now we do it on purpose. Because not having plans and instead relying on our modern interconnectedness to carry us can be a better way to travel, and easier to do now than ever.
As long as we humans have had cars, we've had serendipitous, last-minute road trips. But until a few years ago, they required a trip to AAA to stock up on maps, the making of mix tapes, and the weight of deciding where to stop for the night—without ratings, or discount booking apps, or knowing when the next Vacancy sign might appear.
Now, we have Google Maps and Waze and other GPS devices. We have Foursquare and Yelp and TripAdvisor and scores of new ratings apps to tell us about hidden gems. We have aux cables and iTunes and Spotify on our smartphones, plus converters for cars both old and new. (This, in fact, was the only inconvenience of borrowing Mike's mom's aging minivan—there was no audio input, so we had to use one of those drugstore gadgets that taps into the radio. We were fine.)
Without watching for the glow of a Motel 6 sign, we now have all kinds of new ways to crash—AirBnB, VRBO, HovelStay, and HotelTonight, to name a few. Through the AirBnB app alone, we stayed in cabins on oceanside cliffs—some rustic, others modern architects' experiments. We spent one night in a ziggurat healing center with mirrored ceilings, but no cell phone reception or wifi (something to do with energy); three nights in a Kinfolk stylist's studio; three more in a cottage on the top of a mountain on Orcas Island. We booked each spot a day or two ahead, and we got to pretend it was our home for a little while. Our hosts made sure we ate well too: Thanks to their recommendations and, in one case, personal phone calls to the restaurant, we had fresh fish and chips in Port Orford, chicken pot pie in Yachats, and smoked prime rib and the best barbecued oysters I've ever had (sitting in warm pools of sherry butter) outside the tiny surfer community in Trinidad.
But the most powerful tool we have now might be Instagram and other social media, where—should you choose to post—you will get recommendations, whether you solicit them or not. As soon as you allude to a change in location, friends and followers will tell you to go to their uncle's diner, or the brunch spot where their friend makes all the ceramics. To many, this is a bit unnerving; I felt the most comfortable posting not-quite-live, but while I was still in the area and could take advantage of tips.
In this new vision of easy road tripping, maybe some of the romance and serendipity of who-knows-what's-coming! and literally-anything-could-happen-next! is lost, but—especially for obsessive researchers like me—even more is gained. I can comfortably not know where I'm sleeping tomorrow night, which means that I can opt to stay where I am longer without consequence, or head a different direction entirely, depending on my whims, and what I discover along the way. I can talk to the locals and my hosts and actually take them up on their favorites, instead of feeling locked in. These are all rare and joyous freedoms, and exactly what road trips are meant to be.
A few tips for taking a road trip without a plan:
Talk to people. Chat up shopkeepers, your taxi driver, your hosts—most AirBnB hosts love a good visit.
Charge your phones (especially before leaving, but also in the car—they even make double car chargers nowadays so you and your driving buddy won't have to take turns). Don't panic if you lose reception—just keep going till it comes back. (But do make sure the gas tank needle never gets near the red.)
Find apps you like and don't get too committed to any one—sometimes an area will have sparse recommendations on one app but much more on another.
If you're comfortable doing so, post on social media in relatively real time so that you can take advantage of the tips you get (but don't spend all your time gramming either—no one will hate you if you do intermittent bursts of latergrams).
If you do get recommendations along the way and want to indulge your inner planner, make a custom Google map with pins to keep track of them. This was mine.
Give up on seeing everything—what you do see will be better, and with relaxed check lists, you'll have more room for spontaneous adventures.