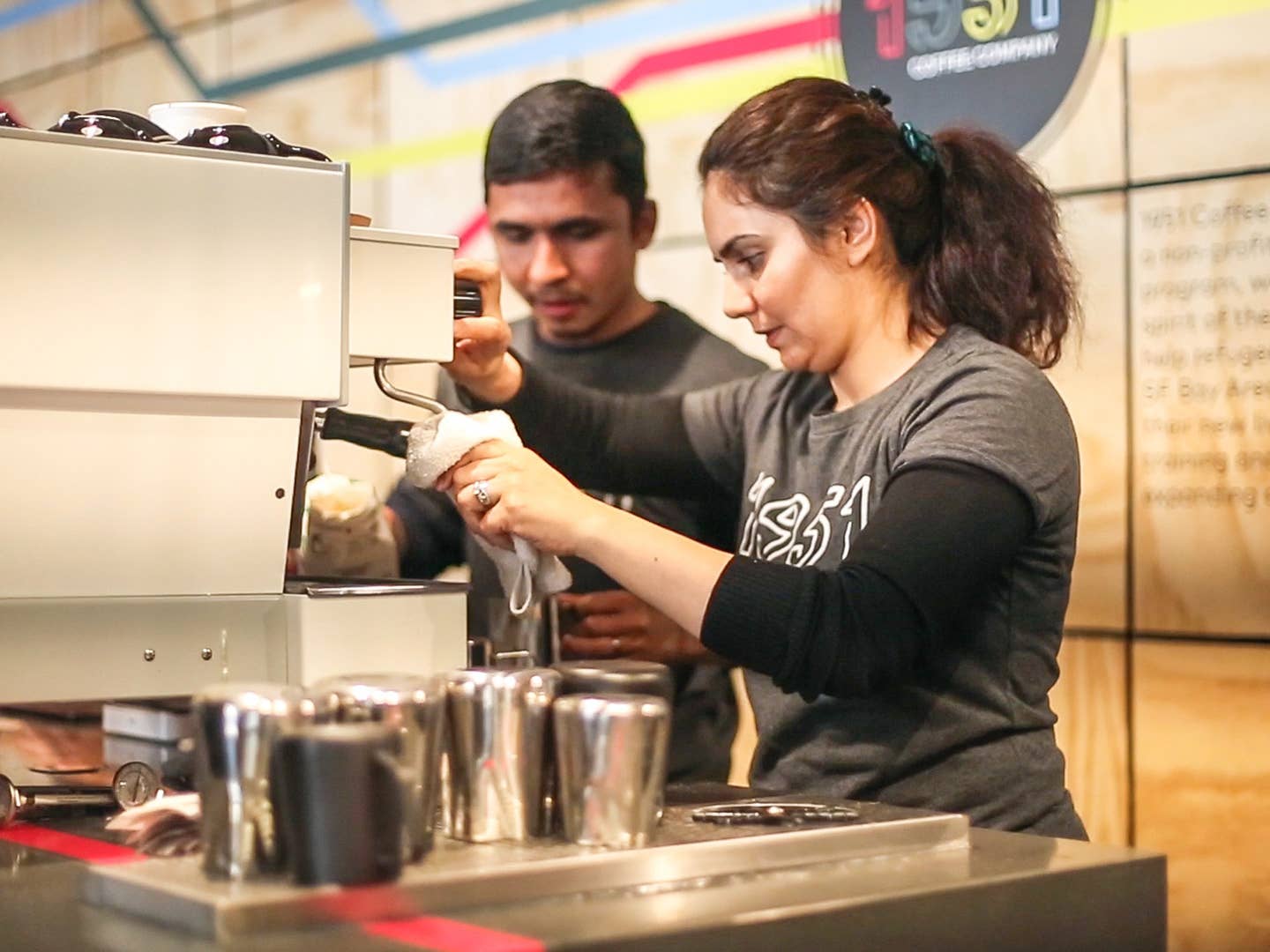 Travel
Inside Berkeley's Refugee-Run Cafe, Building New Lives With Coffee
People are lining up around the block at 1951, a non-profit training program that's helping immigrants adjust to American life
Latte art, Meg Karki and Peter agreed, was tough, and save for the two-week training session they'd attended before 1951 Coffee opened in late January, neither man had made a latte before, let alone tried to draw leaves with milk.
Back in Malaysia, where he'd paid an agent to smuggle him from his native Myanmar, Peter had worked in a bar with a coffee machine, but it wasn't anything fancy. And in the Nepali refugee camp where Karki had lived for 20 years after fleeing Bhutan with his family, there was only tea. But here in Berkeley, lattes were popular—"it's one of the favorite drinks," Karki told me. A small, wiry 27-year-old with a kind, steady gaze, Karki isn't a coffee drinker; he prefers the cafe's Assam tea. "But I am still learning," he said. "And probably I'll get into coffee one day."
1951 Coffee is most likely the only the only third-wave coffee shop in the Bay Area where a lack of prior experience isn't an impediment to employment; if anything, it's expected. The cafe is the first from 1951 Coffee Company, a Berkeley-based nonprofit that provides job training and employment for refugees, specifically within the Bay Area's ever-growing coffee industry. All of its ten employees are refugees, and about half are graduates of the nonprofit's two-week barista training program. They each earn $13 an hour, and together represent Syria, Uganda, Eritrea, Afghanistan, Bhutan, Burma, and Iran.
While their command of English varies, their shared experience of strife and upheaval has created its own language. "Feeling like we are all refugees, it's an amazing feeling," Karki said. "We understand each other."
Karki himself arrived in the Bay Area in 2011, following a two-year application process for resettlement through the United Nations High Commissioner for Refugees, which among other things requires a referral from the U.S. Refugee Admission Program, and an interview with a U.S. Citizenship and Immigration officer. He joined his parents, who were already living in the East Bay with an uncle who had sponsored them. The family subsequently relocated to a one-bedroom apartment in Oakland, where Karki slept on the couch.
Compared to the refugee camp, where he'd moved when he was two, life here was easy: food was plentiful, and he no longer had to worry about the near-constant threat of disease, flooding, or fire. But finding work was hard, regardless of the English he had learned at school in the camp. So he began volunteering at the Oakland chapter of the International Rescue Committee (a global humanitarian relief agency) where he met another volunteer named Doug Hewitt. The two men formed a rapport, and Hewitt found Karki a job packing coffee for the coffee consulting firm where he worked as a roaster.
When Hewitt subsequently took a full-time job at the IRC as an employment specialist, he helped create the Chipotle Class, a short program that taught refugees skills like how to chop vegetables and roll a burrito. Impressed by the difference pre-job training could make for someone like Karki, who had by this point found his own job with Chipotle, Hewitt began brainstorming with Rachel Taber, another IRC employee, about how to teach refugees other valuable skills.
Taber, whose background is in fundraising, found the answer one morning while having coffee at Blue Bottle: a cafe, she realized, could form the foundation of a sustainable social enterprise, while the Bay Area's robust coffee industry could provide jobs for the refugees they trained. Eventually, she and Hewitt realized that it wasn't just coffee, but high-end coffee that was the means to their end: The goal, Taber told me at the cafe, "is to show people that refugees can make as great a cup of coffee as the one you get at Blue Bottle."
So 1951 follows the same aesthetic mandate as the typical high-end Bay Area coffee shop, with clean lines and blonde-wood accents. It brews coffee from Verve, a boutique roaster in Santa Cruz, and serves kouign-amann from Emeryville's Starter Bakery. And although Taber's father lobbied hard for the cafe to be called the Human Bean, "we wanted something that was, I don't know, on a different level," Taber said.
Since it opened, 1951 has drawn both press and customers; on a typical morning, a line extends from its counter and its tables host a mix of Berkeley students, laptop jockeys, and friends chatting over coffee. Business, Hewitt said, had been "beyond our expectations," thanks in part to the executive order on immigration that President Trump signed just three days after the cafe opened. "It's been nuts," Taber said of the numbers of people who had stopped in to show their support. "But good nuts."
1951 takes its name from the year that the United Nations first set forth guidelines for the protection of refugees, a detail that is explained on a wall behind the espresso machine. Statistics about the world's refugee population are scattered throughout the cafe, which rents its space from Berkeley's First Presbyterian Church, and its visual centerpiece is a wall-length installation that details the typically arduous resettlement process. It's bold and visually compelling, and since Trump's executive order has provided the backdrop for numerous customer selfies.
Trump's stalled ban hangs in the air at the cafe, but for many of its employees it is just one of a litany of more pressing everyday issues. "Life is really difficult here," said Nazira, a soft-spoken Afghani who arrived in early December. "We had challenges in our own country, but when we come here we faced another kind of challenge. We don't know the language, the system, the rules. We have to start from the first step here."
Back home in Kabul, Nazira, who is 27, had been a journalist; her husband had worked with the United Nations and the American embassy. Though they had good jobs, they feared for their safety: Nazira is Tajik and her husband is Pashtun, and their mixed marriage made them vulnerable, as did their work.
Still, when her husband applied for and got a Special Immigrant Visa, Nazira didn't plan to follow him to the U.S. The country's capitalist system didn't appeal to her—"the rich people just go up," she said, "and the middle, it has always faced problem." But when her situation in Kabul further deteriorated, she decided to join her husband in San Leandro. She spent her first few weeks in a state of homesickness and culture shock; with her husband working at IKEA all day, she had no one to talk to, and she cried all the time. So she sought help at the IRC, where she met Hewitt and Taber.
Working as a barista had been a difficult adjustment, Nazira admitted. "I come from a very high background of career, I was working differently there. But after one week it was really great. I see many people, different cultures." She'd even encountered some acquaintances from Afghanistan, now living as refugees in nearby Fremont, who came in after seeing her picture in a TV segment about the cafe.
Despite the uptick of Islamophobia in the air since the election, Nazira feels safe in the Bay Area; the IRC recently finished preparing documentation for her and her husband's green cards. But she worries about its broader implications for the world. "Muslim will be against Christian, Christian will be against Muslim, all these things it will start from small things," she said. In countries like Afghanistan, the combination of religion, politics, and a lack of education has always led to war, she continued. "But here, people are educated. We never think that they gonna do like this."
She and her coworkers worry about those who have been left behind; Peter thinks a lot about his parents in Myanmar and his friends in the refugee camp in Malaysia—Kachin asylum seekers like him who fled the Burmese civil war. "Hopefully," he said with a tentative laugh, "Trump change his mind."
But he doesn't have a lot of time to think about it: in addition to his morning shifts at the cafe, which he learned about through the IRC, he works nights at a medical manufacturing company in Alameda. His free time is spent ferrying his wife and two small children to various appointments. His wife's nursing degree is no good here; she'd like to go back to school, but can't with two small children to care for and very little money to spare.
Peter himself would like to own a Burmese restaurant one day, but in the meantime, his goal is to learn more English; Americans talk too fast for him, and sometimes there are misunderstandings with customers. But he likes working at the cafe; he's reputed to be a natural with latte art, and when people walk through the door, he often calls out, "Thank you for coming in!"
Berkeley, everyone agrees, has been good to them; business has been brisk enough for Hewitt and Taber to begin thinking about opening new locations, and the customers are patient and understanding. "A lot of people, especially senior people, they say, 'Thank you for being here,'" said Karki, who left Chipotle to become 1951's senior barista. He stood up to return to his shift. "Whenever they say that, I feel really happy. And I will say to them, thank you for being here, too."