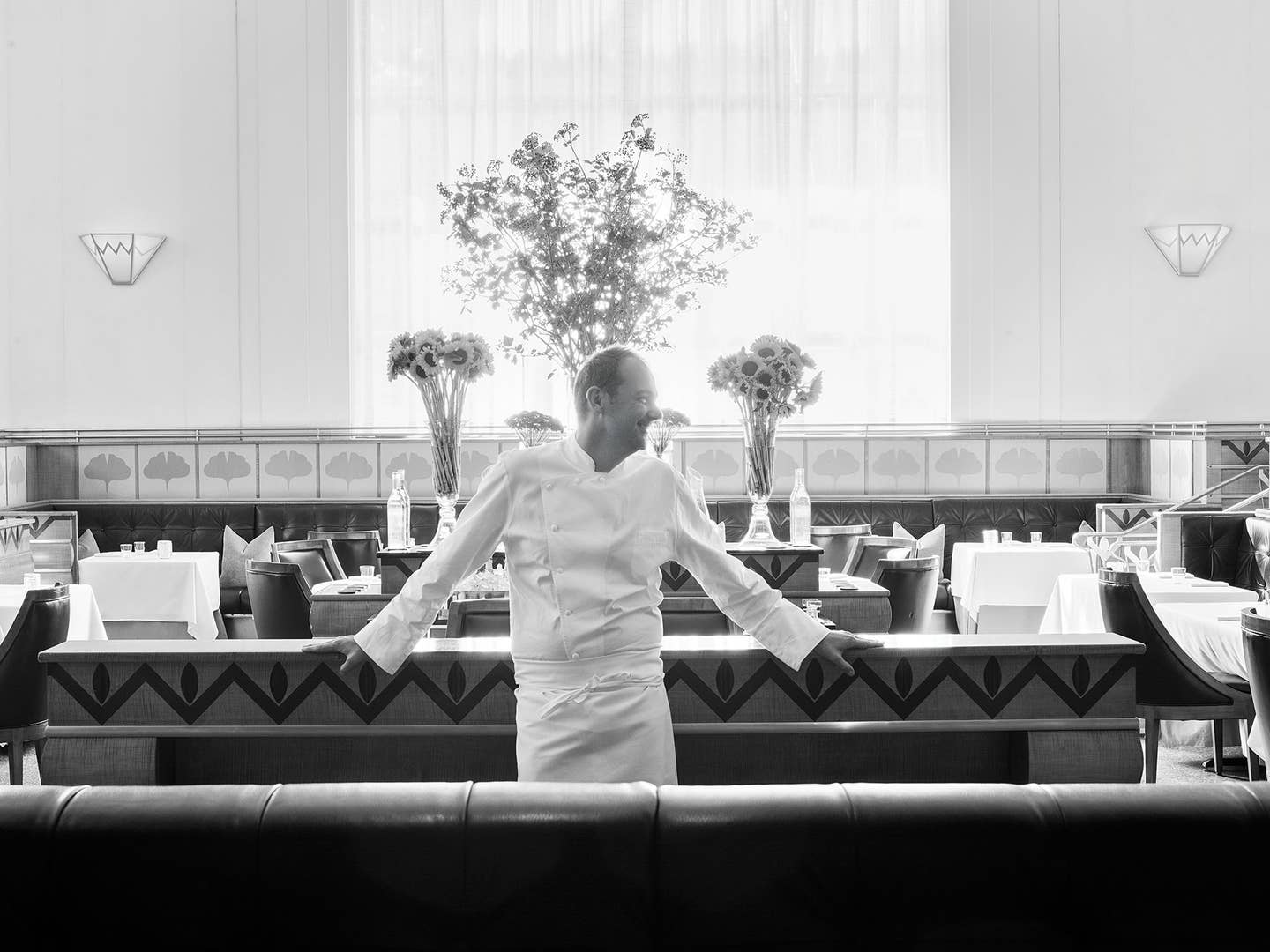 Culture
Our Favorite Chef Food Resolutions for 2016
Including: more offal and breaking out the pasta machine
A new year brings a clean slate, and the chance to nip those bad habits in the bud, so for his editor's note in the January/February issue, Editor-in-Chief Adam Sachs reached out to chefs and culinary enthusiasts to ask them about their food resolutions for 2016. Food folk aren't too concerned with yoga and sit-ups; these resolutions are all about upping offal intake and yelling less in the kitchen. Here are even more 2016 food resolutions made by some of food's finest, from making more pasta at home to learning how to cook Sichuan food and getting kids to eat more hot sauce.
Eric Ripert
Le Bernardin, New York City
"I resolve to commit to eating at least three pieces of dark chocolate every day and to not steal macarons from the pastry department, which I have been doing for too many years to count!"
Alon Shaya
Shaya, Domenica, and Pizza Domenica, New Orleans
"There are few things I love more than making pasta. So I want to get a fresh pasta extruder for my house and make rigatoni with bolognese sauce on Sundays with friends and family. I also want to delve into the world of smoked, cured, and pickled fish. I dream about having space for a smoker in the kitchen at Shaya and it being filled to the gills (HA!) with fish from the Gulf of Mexico."
Amanda Cohen
Dirt Candy, New York City
"Yell less, play more. My kitchen is open and surrounded by counters, so customers see everything: break-downs, scuffles, blood, sweat, and tears (all appropriately restrained by hairnets and gloves, of course). I sometimes come home at night with my voice completely blown, and in the new year I want to try a softer touch with my line. I also know that the best moments in the restaurant come when we play more, whether it's with new ingredients, weird vegetables, funky equipment, or strange chemicals."
Dan Kluger
"I have three resolutions. I want to work on milling some of our own flour for the restaurant, teaching my wife to cook more, and getting my kids to start using a little hot sauce here and there!"
Dorie Greenspan
Author and baker
"This year, I'm going to try—and 'try' is the important word here—to keep to whatever menu I plan. I seem to be incapable of having an idea and waiting a day to try it out, so I'm always making one more thing and I'm always frazzled when the doorbell rings. In 2016, I'm not going to make changes right before friends are meant to turn up and add another dish at the last minute."
Curtis Stone
Maude, Los Angeles
"Ever since I started working as a chef, I quickly clicked onto the fact that farmers are the true unsung heroes of the restaurant industry. However, as the average age of small commercial farmers rises in the U.S., we are at risk of losing balance in the agriculture industry. We have never been more in need of young farmers to enter the industry, but they are facing a variety of limitations that are holding them back, things like student debt, access to land and credit, and complicated water conservation issues. This year, I want to help our next generation of farmers succeed, so I'm planning to work with the National Young Farmers Coalition to support their campaign #FarmingIsPublicService and shine a light on their hard work."
Marco Canora
Hearth, New York City
"I resolve to serve more offal at Hearth. I've always found it difficult to argue with instincts as they exist in nature. Animals are not thinking creatures; their actions and food choices are born from years of evolution and survival. If a cheetah, when it takes down a gazelle in the wild, chooses to eat the guts and leaves the rest of the animal for animals lower on the food chain, I think that there's a lesson there. We should be eating more offal."
Thomas Keller
Thomas Keller Restaurant Group
"We often talk about the importance of generating new ideas at our restaurants. New ideas can be scary, ugly and messy. They can feel like jumping off a ledge into an unknown pool far below. But change—and new ideas—can become something beautiful. I am now celebrating my sixth decade, and the fear is still there. It lives on the emotional side of things, but not the intellectual. Every year, I better understand the idea of risk and reward. So take risks. Be bold. Eat chicken. Don't be chicken."
Daniel Humm
Eleven Madison Park and NoMad, New York City
"In the New Year, I would love to focus more on simplicity, both in cooking and in dining. Over the years, I've found myself drawn more and more to simpler meals, to dishes that are focused, and to experiences that strip away the excess. This focus on simplicity will be professional and personal, too. "I want to also introduce my kids to some of the greatest and most simple pleasures I know, by teaching them about gardening and the joy you can get from just watering a plant or picking a few basil leaves. I learned this when I was a child and it's never left me. I am excited to see them cultivate their little green thumbs. They already enjoy helping in the kitchen, but I believe it's important to go even deeper and show them where ingredients come from and how they can be a part of making that happen."
Anita Lo
Annisa, New York City
"My New Year's resolution is to fill in some of the holes in my culinary travel experience. I've never been to Rome for example, or anywhere in southern Italy. And I really want to try rigatoni con la pajata—the milk-filled veal intestine dish. It's like the Italian, more-readily-available version of the wild boar intestine dish described in Tampopo, so it's highly romanticized in my head."
Sam Calagione
Founder, Dogfish Head Brewery
"I want to go for a paddle board or bike ride at least six days a week outside in Mother Nature. I like to drink numerous beers most days and eat great food, both of which are usually not low-cal propositions, and I hate gyms."
Sean Brock
Husk, Charleston
"The great thing about a New Year's resolution is that it is always a challenge. This coming year I'm going to focus on learning how to cook Sichuan food. It's a shame I don't know how to cook one of my favorite cuisines and one that I constantly crave."
Massimo Bottura
Osteria Francescana, Modena
"Since September 2015, Osteria Francescana has been closed on Mondays. I spent the first Mondays not knowing what to do with myself. Then on Monday, November 2nd, I decided to visit Lidia Cristoni, my first culinary mentor back in 1986, in her house in the countryside. I brought along a few interns and we rolled out the dough for tagliatelle together with Lidia while Taka Kondo, our sous-chef, prepared a shiitake-porcini ragù in Lidia's tiny kitchen. We cooked, ate, and talked. I was reminded of why I had begun this adventure nearly 30 years ago. My 2016 New Year's resolution is to go to Lidia's to roll out the dough on as many Mondays as I can."
Ben Pollinger
Oceana, New York City
"I'm resolving to revolutionize Dutch oven campfire cooking and give it some flair on the Boy Scout camping trips I take with my son. I also resolve to create a great ramen dish for Oceana, and make everything from scratch including the noodles and kamaboko!"
Tony Mantuano
Spiaggia, Chicago
"I want to go to Australia and eat Italian food there. I want to experience Italian food on a different continent, made with different products and served from different viewpoint. I also want to play the trombone again and form a band of chef friends."