Watch This Indian Food Hero Make Curry With 500 Quail Eggs
He calls it quail egg gravy, and he's feeding the entire village with it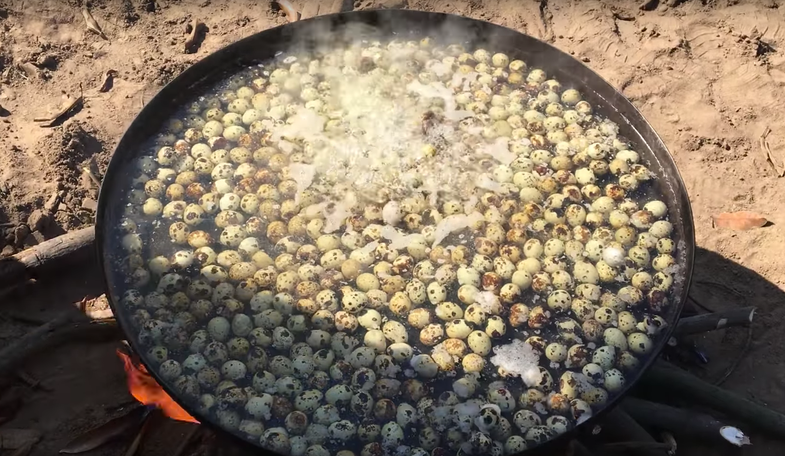 At the very top of my list of "badass stuff I wish I had known about sooner" is the Indian food mastermind behind the Youtube channel My Money My Food. Well, sir, I'd put my money on your food any day because what you do is nothing short of incredible.
It's unclear where exactly this culinary savant lives, although posts from a Blogspot page of the same name contain tags for "Chennai" and "Chennai street food." Several Youtube commenters have also noted that the dialect heard in the background points to that southern region of the country. In any case, our hero seems to specialize in what he calls "village food," which means cooking large-format feasts that would, quite literally, feed a village.
In the most recent video, My Money My Food boils and peels 500 quail eggs before cooking them into a saucy mixture made with oil, chopped onions, tomatoes, peas, and garlic. The video closes on a group of men sitting barefoot on a tarp enjoying the "gravy" and white rice, served on banana leaves.
Beyond quail eggs, the channel's dishes have run the gamut from whole stingray and 40-pound shark to 101 chicken legs and goat intestine. The common thread between all the videos is that everything is done by hand, from scratch, and the finished food always gets shared and distributed with the entire village, including friends, passersby, and even the lucky farm animals and household pets nearby.