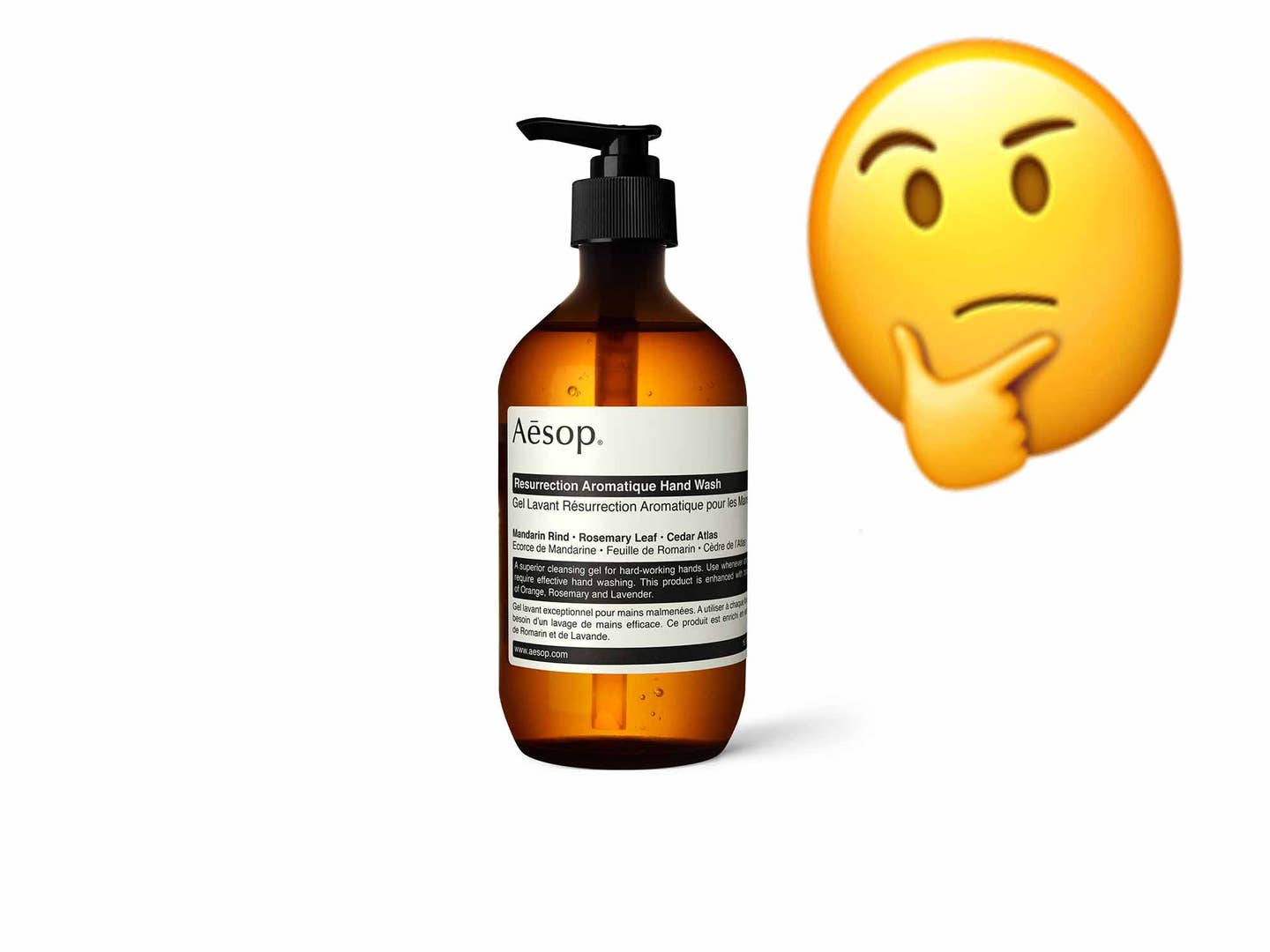 Culture
Why is This Soap in the Bathroom of Seemingly Every Fancy Restaurant in the World?
An Aēsop fable
Unsurprisingly, dinner at Septime was perfect. We ate simple, beautiful things at a communal table next to a (real!) Parisian who struck up a dinner-long friendship based on the wine pairing that we ordered and he regretted not ordering. There was a candied egg yolk with black truffle followed by edible flowers and the tiniest of carrots dancing around our plates. But what I remember most clearly was the bathroom. Or, more specifically, how it was stocked. That meal marked the third time in as many days that I found myself pumping soap from the same brown bottle while considering whether I was giving the diactric ē in Aēsop its due. Ay-sop? I wondered. Or is it Ah-ey-sop?
However it's pronounced, Australian skincare brand Aēsop makes the soap du jour for fancy restaurants. From Katz Orange in Berlin to Spring in London to Trois Mec in LA, frequent urinators and regular hand washers can expect its heavenly combination of lavender, orange and rosemary. On any given night, diners all over the world are walking back to their table thinking, I should really get a bottle of that.
That's exactly what LA chef Ludo Lefebvre thought when he visited Septime a few years ago to do an event with fellow chef and friend Bertrand Grébaut. Now, two of Lefebvre's LA restaurants stock it. At Oriole in Chicago, the bottle sits in the same bathroom as the restaurant's handmade mints.
As it turns out, a bottle of Aēsop goes for $39. At Buvette in New York, an order of poulpes aux olives followed by coq au vin is still cheaper than buying what's in the bathroom. First I was casually curious, then I became somewhat fixated on the Aēsop thing. Within six months, I was outright obsessed; rushing to the bathroom as soon as I arrived anywhere with a nice tablecloth and returning to whisper "There's Aēsop in the bathroom" with my eyebrows raised conspiratorially. When I started positing soap theories miles from any formal meals, I knew I needed some answers.
To find out more, I spoke to the co-founders of New York's high-profile hospitality interiors firm Parts and Labor Design. Jeremy Levitt happened to be on vacation, but piped in to say that he was wearing Aēsop deodorant and staying in a Nantucket rental stocked with the brand. Andrew Cohen was not on vacation and not wearing Aēsop deodorant, but he is also a fan. Of the brand, he said, "When something is modern and timeless, you can integrate it within any design concept. That's the beauty of Aēsop, it's 100% adaptable." The soap comes in a brown apothecary-style bottle with modern, minimalist label design that dresses up fine-dining restaurants, but is equally at home in a farm-to-table spaces that fuss over pork belly.
Unsurprisingly, Aēsop the company works hard to appear both modern and timeless, or, vaguely perfect without much brand baggage. Their meticulous control of image extends over everything from the toilet paper in company headquarters to banning salespeople from discussing the weather with shoppers. Instead of sinking money into traditional advertising, Aēsop partners with architects and interior designers to make sure no two of their stores are the same. They're in the business of telling stories, not just selling soap—appropriate enough for a brand that took its name from an ancient Greek fabulist. More accurately, they're telling stories that sell a lot of soap.
I started to feel more like a voyeur and less like a journalist when I got hung up on three times in a row when trying to get some stats from U.S. restaurants. Reservationists apparently don't take to kindly to being asked what's in their WC, and website photo galleries rarely give a glimpse, so a true count of nice restaurants with Aēsop in their bathrooms is difficult to come by. But it's safe to say that it's many of the world's fancy restaurants.
So what, ultimately, will be the lesson of the Aēsop fable? It's easy to see how "The Tale of the Amazing-Smelling Soap" becomes "The Restaurant Toilet and the Depressing Global Sameness of Taste." But right now, upscale places and their monied customers still hunger for that brown bottle, so much so that in most bathrooms, a bottle of Aēsop is locked into a industrial-strength contraption meant to thwart diners with sticky fingers.