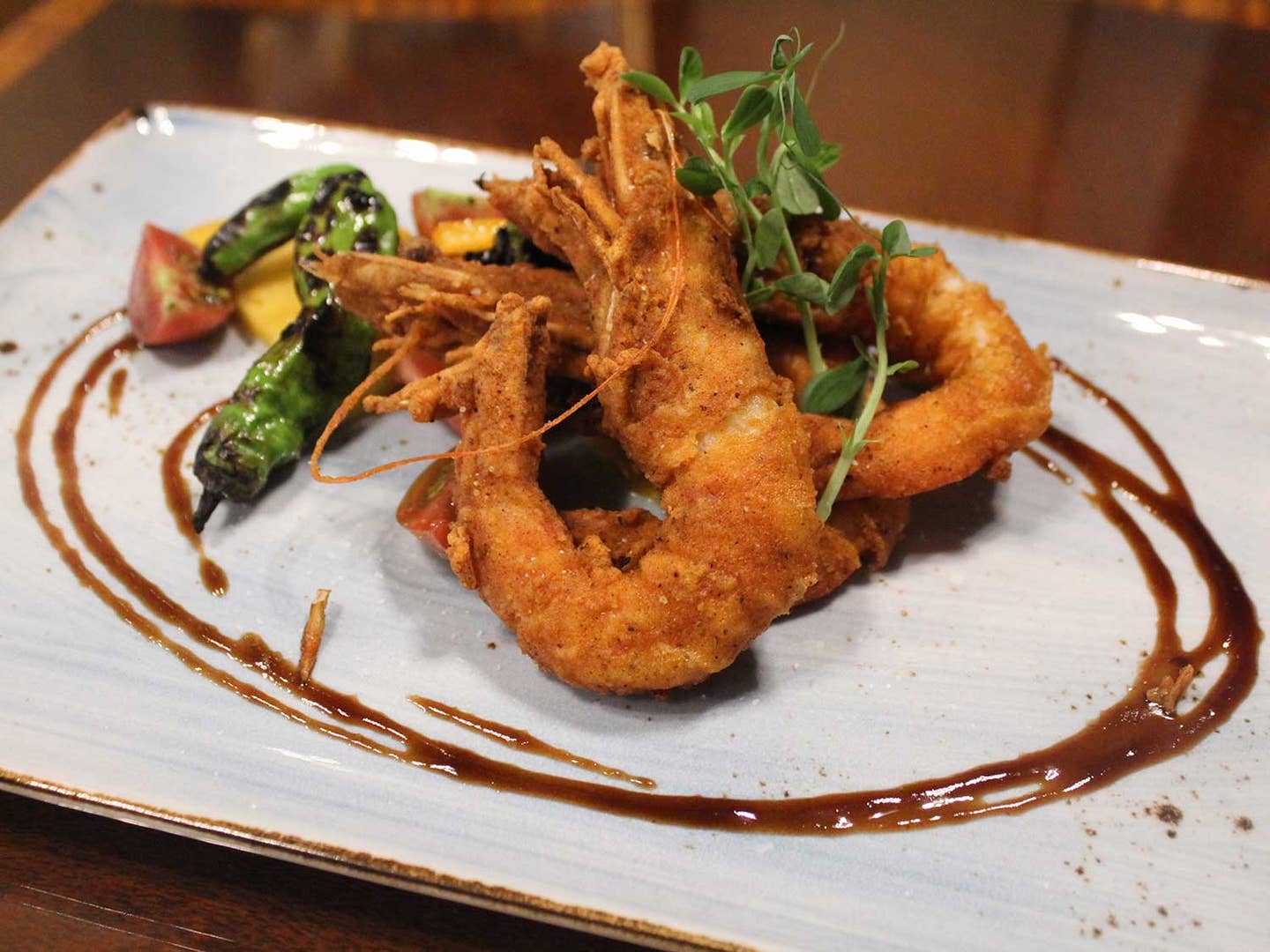 Travel
How African-American Chefs Are Revitalizing The Baltimore Food Scene
The Maryland city is getting an upgrade from a wave of Black entrepreneurs
The city of Baltimore has been through a lot—it has received a reputation for violent crime over the past few decades, and has been the center of a battle against police brutality since the death of Freddie Gray in 2015. But amidst the civil unrest, Baltimore residents have been working to sway the city's rough image to that of a place filled with opportunity: Within the past couple years, the restaurant scene in particular has grown significantly, and Baltimore has given birth to a food scene to rival New York, Boston, and its other east-coast neighbors. Local Baltimore chefs are taking advantage of the new scene, and many who left the city for opportunities elsewhere have returned to their hometown to grow their ideas into new businesses.
The food industry has its barriers when it comes to black entrepreneurs running their own restaurants or taking on top positions. "The biggest barrier is policy," says Kendrick Tilghman, President of the Greater Baltimore Black Chamber of Commerce. "If there was policy in place, the state that would change the trajectory of small businesses and how they scale." It is the reason why initiatives like Eat Black Baltimore are important to exposing Black chefs on the rise. "There is a great network of African-American chefs [in Baltimore]. We [want] to highlight chefs that need more exposure and build more relationships to expand their business." says Tilghman. We spoke with five African-American chefs in Baltimore right now—from chef David Thomas redefining modern soul food at Ida B.'s Table to chef Jasmine Norton introducing the community to something a little different at the Urban Oyster—to see how they're using their talents to flourish in their city.
Shalonda Berry, Executive Sous Chef at the Hotel Revival
In the hospitality industry, cooks work tirelessly for the role of a top chef, and minority representation is hard to come by. But at Hotel Revival, in Baltimore's Mount Vernon neighborhood, Shalonda Berry (pictured above) runs the show—at Topside, the hotel's chic rooftop restaurant, and at Square Meal, their farm-to-table eatery. Barry worked in Chicago, her hometown, for a while, before moving to New Orleans, where she spent nine years as a pastry chef. She started making a shift to the savory side, creating fusion dishes from the various cuisines she enjoyed cooking, and ultimately found a home in Baltimore as the executive sous chef at the Hotel Revival. She represents a shift in the industry, where more women of color like Berry are claiming top-level positions in the kitchen. For her, it was about showcasing a range of foods with a variety of flavors that go beyond soul food. The menus at Topside and Square Meal are a reflection of her love for foods with global influences, including dishes such as curried butter cauliflower and ceviche with house-made potato chips.
"I feel like Baltimore is at a point where [it's on] the come up," says Berry. "When I put things on the menu, it's kind of like I'm putting more ethically focused foods and making the flavors stronger to try and challenge [diners'] ideas. There's so much great seafood here, so much great produce, and great farms. That's [what we want to] highlight, the experience of things that come directly from here."
At Khepera's Kitchen, in the Charles Village neighborhood, chef Taueret Khepera has created a communal space where the locals come for weekend brunch to dine in an open-air-style kitchen on Khepera's appetizing dishes like shrimp and grits or brioche French toast—but that wasn't her original idea. When Khepera's Kitchen first opened back in 2016, she did catering for private events and private cooking classes in the space. "It was by accident," says Khepera. "I've been a culinary educator for over 20 years." In 2015, she left education to rebrand herself with a personal chef business. "I was looking at some spaces for a small commercial kitchen for preparation for my clients. My mentor found this on Facebook." She wanted to create a dining experience that is both warm and inviting, with a soulful music playlist in the background. She didn't start serving brunch until 2017, when she held her first open event for Mother's Day that ended in a huge success. Since then, her festive, soulful brunch have become apart of the community.
"I think Baltimore can certainly rival a lot of other cities and communities," Khepera says. "We have an awesome food scene—anything and everything you can get here. I came out at a time where I was one of very few Black women working in a fine dining establishment. We were invisible, I didn't see us in magazines … but we have a lot of talent. We've always been in a kitchen. We've always been around food."
For Jasmine Norton, shucking your own oysters is a rite of passage. It brings up fond memories of her and her father sharing a unique bond over food that wasn't quite popular among the rest of her family. Inspired by other cities and festivals like Smorgasburg in Brooklyn, NY, Norton was determined to bring those hip, innovative concepts with her. When it came time for her to build a place of her own, she wanted it to be dedicated to her first love—oysters. "When I was younger that was our [my dad's and my] way of bonding," Norton says. "He taught me how to shuck [my first oyster]. When I think of seafood or oysters, I think of fellowship. It's about coming together and breaking bread with others. Food is the center of everything, especially for Black families."
While Maryland may be known for its fresh seafood, oysters are an acquired taste, and that's Norton's specialty—inviting strangers to her table to try something that she loves. The Urban Oyster is a pop-up restaurant that can often be found at the farmers' markets in East Baltimore or at the R. House food hall in Remington on the north side. "I wanted to meet people halfway on their reservations," says Norton. "Trying to get my friends to go to an oyster bar was unheard of—but they'll eat the char-grilled ones because they're fully cooked!" She combines the traditional raw bar on her mobile food truck with things like char-grilled oysters, oyster taco specials, and other unique creations like the bacon-and-cheddar-cheese oysters that delight your senses while paying tribute to her upbringing.
When your restaurant is attracting politicians and notable celebrities, you're surely going to capture the attention of the locals, too. The Land of Kush is dedicated to incorporating West Indian and Southern American cuisine into healthy, vegan-friendly entrees. For Greg Wright, becoming a chef came from wanting to create more tasty vegetarian options. When he met his wife, Naijha Wright, she also wanted to change her eating habits but didn't want to give up the food she grew up loving. In 2011, the married couple wanted to changed the way you think of soul food by using health-conscious ingredients. "I was [already] vegan and my wife likes soul food," says Greg. "We went after an African American demographic, introducing them to vegan food using foods that were familiar to them." They opened their restaurant with the goal of encouraging more African Americans to embrace vegan foods by swapping in healthier, plant-based ingredients without sacrificing flavor. "We try to create really interesting and savory dishes that can challenge that palate," Greg says, and that's exactly what happens when trying their sweet candied yams, collard greens, or barbeque soy riblets that transport you back to your mother's kitchen.
"Baltimore is more of an eclectic city, so you can get a lot of different styles of food," Greg says. "You can see big restaurants that have made a name for themselves, but locals are looking for different experiences. You can see the engagement of people that want to support Black-owned businesses."
Modeled after a classic Southern home from the early 1900s, Ida B.'s Table serves a more modern take on soul food classics. The recent winner of the Food Network's "Chopped" Thanksgiving competition used his 25 years of experience in the kitchen to open Ida's B.'s in September of 2017. "I owned two restaurants before this," says Thomas. "We started working on [Ida's] in 2016." The space is co-owned with the Real News Network and is a tribute to the journalist and activist Ida B. Wells. All the ingredients are locally sourced from the Baltimore area and everything down to the signature sauces is made in-house.
"Baltimore has changed quite a bit," says Thomas. "The restaurants that are coming in are a lot different than what most people are used to. Whenever you have an influx of cultures come in like that, it changes the culture. It's time we started looking beyond [seafood], there are a lot of unique restaurant opening. Our food scene is really coming into its own."