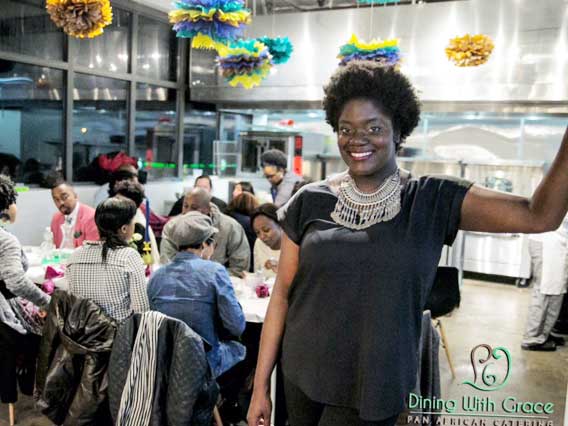 Culture
New York's Ambassador of African Food
Nigerian chef and caterer Grace Odogbili is on a mission to push Africa's regional cuisines on the rise
When Americans talk about African food, the discussion is usually about food security—recognition of food shortage issues in parts of the continent. Left out of that discussion is African food as cuisine, not just sustenance, but food to be explored and celebrated. Which is exactly the goal of Grace Odogbili, a New York-based chef and caterer introducing New Yorkers not just the food culture of her Nigerian roots, but to cuisines across Africa.
As Odogbili has watched Thai, Indian, and other cuisines rise in America, she's stood firmly behind her own as a caterer and event host, acting as what can only be described as an ambassador of African food. And as one of the few people chosen to participate in New York City's first-ever African Food Festival August 13th and 14th, she'll be there as the event's rising chef, serving dishes that reflect traditional African food while showing their place in the modern world.
"People are always excited to try new cuisines because the ones that were new eight years ago aren't new anymore, so [African food] is new territory," Odogbili says. "I want to create a platform for it to be seen in a more positive light instead of just as sustenance food."
As the chef and founder behind Dining with Grace, a pan-African catering company that also offers nutrition and African food history classes, Odogbili passes her days not only stirring fufu and mashing plantains for mofongo, but also researching the foodways of the African diaspora. Born in south Brooklyn to Nigerian parents, she didn't grow up fully aware of what it meant to be a Nigerian-American; while she ate her fair share of her mother's cornmeal fufu, a staple at any Nigerian meal, she actually cooked much of her family's dinners. And as a young kid who just wanted to eat what all the other kids were eating, she'd throw together lasagnas and dishes she'd watch TV chefs prepare.
"One of the first dishes I made was angel hair pasta in an Asian style, when all we were eating was African dishes," Odogbili says, laughing.
But seven years ago, after losing her job at an investment bank during the Great Recession, she decided to follow an old dream and cook for a living. A few months after she was let go, she started Dining with Grace as a cake catering business, as she knew that was a paved route that seemed successful. But after having spent years doing work she didn't love, she was finally following her dreams and reevaluating her a life, which led to her curiosity about her roots.
She started spending hours in libraries around Brooklyn, poring over books about African cuisine, discovering that not only she had so much to learn, but that she also was in a position to share that knowledge with a wider audience. She quickly realized that not only had African cooking been influenced by Portugal, France, and countries around the world, but that African cuisines have critically shaped the cuisines of the Caribbean, Americas, and elsewhere.
Now she shares those insights with people from all over New York, whether she's preparing a banquet for local homeless shelters (her passion project) taking a small group of eaters to Martinique so they can discover Africa's roots in their food culture together. Ask her to cater an event or attend one of her African Table dinner pop-ups and she'll bring out bowls of creamy West African peanut stew, spiced with ginger and chiles that cut through the richness, and the customer favorite jollof rice, vibrant red from tomatoes and chiles. Or let her argue African food's place in the America's modern food landscape and she'll made beignets with the Caribbean's staple salt cod, or take classics like Nigerian egusi soup, a savory stew thickened with ground squash seeds, and put it in a wonton with shrimp and spinach.
"Nigerians will eat it and go, 'how'd you put ugusi in a wonton?'" Odogbili says. But that's the reaction she expects: she knows people, African or not, don't expect to see pan-African cuisine interpreted in a new, untraditional way.
And at the African Food Festival, Odogbili will do just that. On Saturday, she'll host a vegan brunch that introduces diners to foods of Africa and the Caribbean, adding Cajun spices to jackfruit and turning cassava root into hash, showing the depth and range of these underappreciated ingredients. And just two hours later, she'll serve a five-course dinner of pan-African foods, taking traditional dishes and presenting them in a fine-dining environment, such as turning curried goat into delicate ravioli. She realizes she probably can't get New Yorkers to want a Nigerian take out restaurant on every corner, but if she can get people talking about African food as a cuisine to celebrate and explore, she'll consider it a victory.
"When I first started, I was one of the first young women trying to elevate [African food] and make it modern," Odogbili says. "I still constantly have to explain [pan-African] food, but I think people are excited."