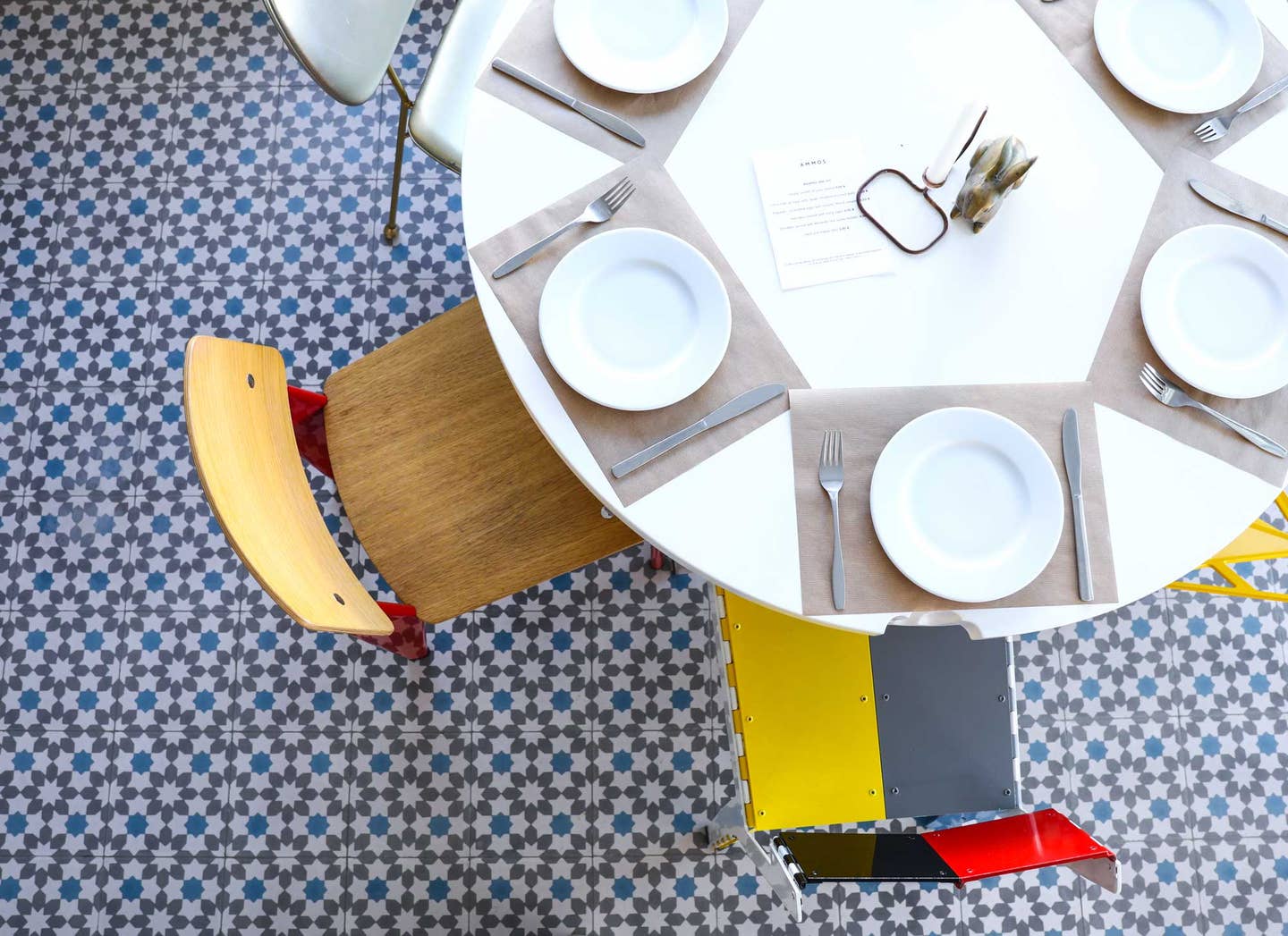 Travel
How This Hotel in Crete Does Greek Design Without the Shtick
In the beach town of Chania, Ammos touches up the typical Greek blue and white with something way more contemporary
When you first pull up to the Ammos Hotel in the Cretan town of Chania, it looks like the standard seaside Greek place: whitewashed walls with brilliant blue accents on the windows and doors. Then you walk inside to a kaleidoscope of color.
There you'll find modern bleached-wood and painted chairs, boldly patterned floors, and lots of vivid color. It's still Greece, but it's far from the telltale Greek tropes.
It was an intentional departure for owner Nikos Tsepetis, who has run the hotel for over a decade, since his early 20s. Tsepetis is constantly moving through the hotel, talking with guests and looking for Johnny, a Boston terrier with a penchant for running out any open door. And he's always on the lookout for ways to tweak the design.
Before Tsepetis took over, the hotel belonged to his parents, who bought the beachfront plot in 1976. Back then, the area was totally undeveloped, so the Tsepetis family decided to put up a wooden shack as a place to hang out with friends and family. But as tourism picked up, the Tsepetis family decided to turn their beach hut into a hotel. It took 10 years (with, as Tsepetis puts it, "many long interludes when the money ran out") until the beachfront hotel was fully finished.
In 2005, Tsepetis gave the hotel a new look based on his own tastes, which he calls "a seemingly incoherent juxtaposition of different styles, museum-class original chairs, good-life vibes, wild flowers, an amazing location." It's certainly eclectic—high-backed angular wooden chairs paired with blush-cushioned seats that wouldn't be out of place at a tea party—but it works.
"There's no special process here," he tells me. "If I like something, I first buy it and then try to find where to place it." His constant search for pieces spans fairs, magazines, and the internet, and his current favorite piece (which, he says, is always his latest purchase) is a vintage Ekstrem Chair he bought from 1stdibs. "It's not only an amazing design, but also unexpectedly comfortable," Tsepetis says.
Since Tsepetis is always on the hunt for new things, he's never really done decorating, and every year he decides to start over completely, picking new floors and artwork for the walls (and, yes, chairs). What's coming up next? "We want to make a rooftop urban garden inspired by the Cubist Gardens that Gabriel Guevrekian designed for Villa Noailles in southeastern France," he explains.
The one thing that stays consistent (and traditional) is the menu, which features Greek favorites like moussaka, Greek salad, and snails, a Cretan specialty. Even the breakfast options include freshly-made Greek pastries and salads, along with tomatoes on dakos bread and plenty of Cretan cheese. Tsepetis has lived all his life in Crete, and so he knows where to get the best local produce, meats, and even wines, and getting the food right is essential. "I am big eater and wine drinker, and I eat almost all of my meals at Ammos," says Tsepetis. "And almost every night I host a few friends, so good food is very important."
If you want to design like Tsepetis, here are some principles to keep in mind.
White backgrounds + bold colors = strong accents. Ammo doesn't shy away from the classic Greek white and pale backgrounds, but there's color where it counts, such as in those chair cushions. These accents draw the eye and keep otherwise minimal spaces interesting.
Keep it functional. Clean lines are great, but it doesn't matter how chic your chairs look like if your dinner guests don't want to sit in them. Make sure to take them for a road test and don't sacrifice comfort for design—that wouldn't be Greek at all.
Sweat the small stuff. Tsepetis creates striking motifs through small details, such as matching a flower arrangement to the lipstick-red hue of a chair. You don't need to go overboard, but look to small design objects—and mundane items floating around your home—for big impact.